By
for on June 2nd, 2022
'Magpie Murders' & 'Annika' Anchor A Fall Female Detective Lineup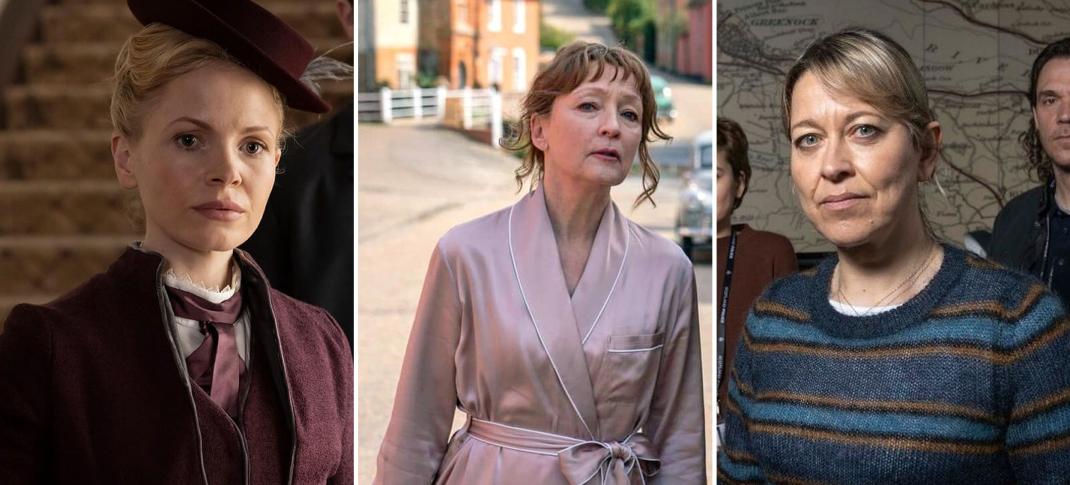 The summer TV season is here, and with it, the usual "Summer of Mysteries" that PBS has been reliably airing for the better part of a decade, save last year when pandemic delays upended the schedule. But 2021 wasn't short on mystery series; instead of the usual Endeavour/Grantchester cold-blooded murder for hot summer nights, the fall lineup wound up crime heavy, with Grantchester Season 6 and Baptiste Season 2 airing back to back until the holidays arrived. It looks like that formula has been successful because, in addition to the usual summer mystery block for 2022, PBS will sport an all-female detective lineup this fall.
PBS already revealed Miss Scarlet and The Duke Season 2 would debut as part of the Masterpiece Mystery fall lineup starting mid-October, taking the 8 p.m. ET slot. It turns out that's because it will be kicking off a three hour set of female detective shows, with Lesley Manville's highly anticipated turn as book editor turned amateur sleuth Susan Ryeland in Magpie Murders airing at 9 p.m. ET, and Nicola Walker's return to police procedurals, starring as the titular detective in the new series Annika rounding out the evening at 10 p.m. ET. All three series run six episodes and will conclude just before Thanksgiving.
The new extended preview trailer released by Masterpiece along with the announcement also has footage for the rest of the mystery lineup for this year, starting with Endeavour Season 8, the debut of which is just around the corner, and Grantchester, which follows immediately after Endeavour's three-episode run is over in July. There's also brand new footage for Guilt Season 2, which arrives at the end of August, and Van der Valk Season 2, which will premiere in mid-September and finish its three-episode run directly before the main fall lineup in October.
Though Endeavour, Grantchester, Annika, and Miss Scarlet already released official trailers before this one, the new extended trailer gives fans more of a look at the upcoming seasons. Viewers get a good look at how bad Morse's drinking problem will get in Season 8 of Endeavour before he finally cleans up his act. There's a glimpse of Grantchester Season 7 with Leonard and Mrs. C back to being the BFFs of the vicarage and a fantastic look at how the rest of the Miss Scarlet cast is handling the will-they-or-won't-they of Eliza and William. As for Annika, that scene of Walker addressing the press has that comforting familiarity of having seen her do the same for years on Unforgotten. 
As for Guilt Season 2, Van der Valk Season 2, and Magpie Murders, this is the first footage fans have seen. Magpie Murders looks utterly delightful, even if the teaser focuses on setting up the mystery for the viewer. The most striking thing about Guilt is the introduction of Phyllis Logan to the cast, while Van der Valk's focus on Cloovers suggests the writers noticed how popular the sidekick character was in Season 1.
It looks like PBS mystery lovers can settle in knowing it will be a very good 2022. Here's the full lineup as announced by PBS, but as always, check your local listings.
Endeavour Season 8 premieres Sunday, June 19 at 9 p.m. ET and runs through July 3. All previous seasons are streaming on Passport.
Grantchester Season 7 starts the following Sunday, July 10, at 9 p.m. ET and airs through Aug. 14. All previous seasons are streaming on Passport.
Guilt Season 2 debuts two weeks later on Sunday, Aug. 28 at 9 p.m. ET and runs through Sept. 11. Season 1 is streaming on Passport.
Van Der Valk Season 2 will also skip a week before arriving Sunday, Sept. 25 at 9 p.m. ET and airs until Oct. 9. Season 1 is streaming on Passport.
Miss Scarlet and The Duke Season 2, Magpie Murders, and Annika will debut as a set the following Sunday, Oct. 16, at 8 p.m., 9 p.m., and 10 p.m. ET, respectively, and all three will run through Nov. 20, 2022. 
Season 1 of Miss Scarlet is streaming on Passport, as are all episodes of Annika.
---
By
for on June 2nd, 2022
More to Love from Telly Visions