By
for on March 9th, 2022
'Grantchester's Season 7 Trailer Is Vicaring Us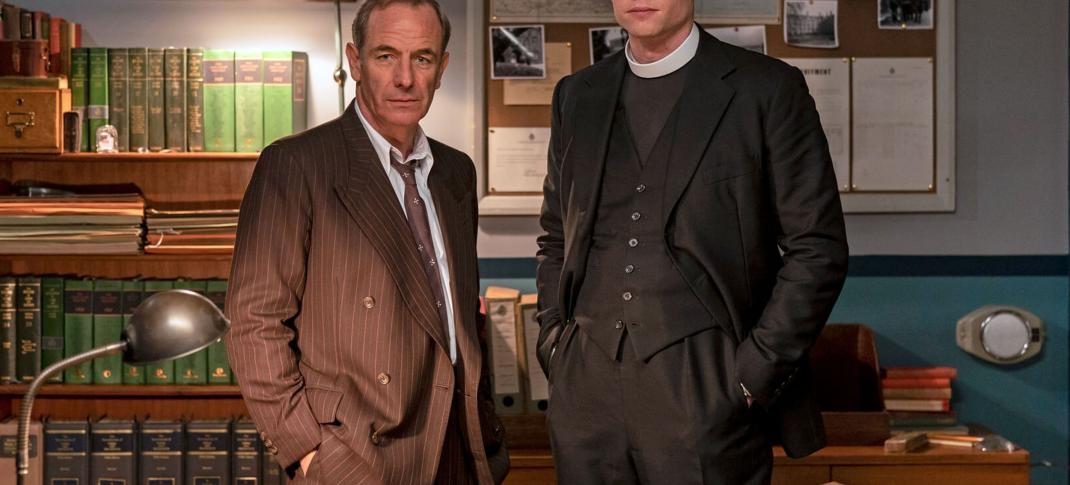 Grantchester Season 6 may have arrived late in the fall of 2021, but Season 7 isn't going to make us wait that long. Though there is no release date yet for the U.S., the series is gearing up for its return to British television later this month, with the first trailer for the new season now out. And while the series shook up the status quo in Season 6, with Leonard getting sacked from the vicarage and Geordie and Cathy on the outs again, the more things change, the more they remain the same. All it takes is a nice juicy murder.
The series has shifted around the ITV schedule since its original October 2014 premiere. Season 2 ran from March to April, Season 3 from April to May. Since James Norton's exit, the show shifted to January as a cozy winter mystery in the U.K., but the 2020 shutdown upended all that, and last year aired on PBS and ITV almost in tandem, in mid-autumn. Though ITV put the new season in production before Season 6 premeired, it wasn't quick enough to make that January return. Season 7 will now debut in the U.K. starting March 11. The new season will run six episodes, back down from Season 6's supersized eight installment run.
As for PBS, there's no release date attached to the Masterpiece teaser, but since Season 3, the show has been a staple of the PBS "summer of mysteries" lineup along with Endeavour. Leaving aside last year's hiccup, where Season 6 aired in fall and Endeavour, not at all, it's a good bet that the plan is for both to return to their usual hot summer Sunday night home. And hot is definitely in the cards for Grantchester. Not only is the rock and roll swinging in hot, but so is the good reverend, who seems to have multiple love interests after Season 6 allowed him to be single and mingle. (That whole thing with his step-sister does not count, sorry.)
Here's the synopsis for the new season, which is set in 1959:
With a new decade just around the corner, the question of what the future holds is on everyone's minds, not least Will's, but before the 50s roll over into the swinging sixties, there are some crimes to solve and some life-changing decisions to be made that might change life in Grantchester forever.
As for the returning cast, Tom Brittney and Robson Green will be back as the crime-solving duo of Rev. Will Davenport and DI Geordie Keating. The rest of the core cast will be back, too, including Al Weaver as Leonard Finch, Ahmed Elhaj as new curate Henry Jones, Tessa Peake-Jones as Mrs. C, Oliver Dimsdale as Leonard's beau, Daniel, and Nick Brimble as Mrs. C's husband Jack. Despite their break up, Kacey Ainsworth will be back as Geordie's estranged wife, Cathy, and Skye Lucia Degruttola as his eldest, Esme. Jemma Redgrave will return as Will's mother, Amelia, and Emily Patrick as Will's step-sister, Tamara. Also, Bradley Hall will be back as DC Larry Peters, and Melissa Johns as Miss Scott.
Guest stars for Season 7 include Charlotte Richie (Call The Midwife) as Cathy's niece Bonnie. Other actors set to appear in as-yet-undisclosed roles: Ellora Torchia (Indian Summers), Emma Cunniffe (Roadkill), Janie Dee (Dalgliesh), Philip Whitchurch (Sharpe), Rowena King (Emergence), Anna Wilson-Jones (Victoria), and Michael D. Xavier (Gentleman Jack).
Grantchester Season 7 returns to ITV on Friday, March 11, 2020. A PBS premiere date will hopefully be forthcoming soon.
---
By
for on March 9th, 2022
More to Love from Telly Visions