By
for on January 14th, 2013
Just Announced: The Bletchley Circle Coming To PBS This Spring!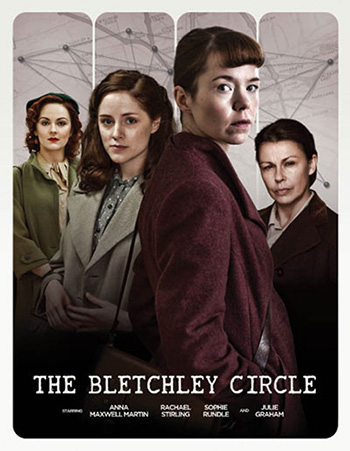 Just announced during today's session at the Television Critics Association Winter Press Tour, critically acclaimed ITV drama The Bletchley Circle will be coming to PBS stations near you this Spring.
The three-part 1950s murder mystery follows the lives of Millie, Lucy and Jean, ordinary women with extraordinary ability to break codes, a skill honed during World War II when they worked undercover at Bletchley Park, site of the United Kingdom's main decryption establishment. Now, in 1952, the four have returned to civilian life, keeping their intelligence work secret from all, including family and friends. A series of ghastly murders targeting women, however, reunites the team as they set out to decode the pattern behind the crimes.  The Bletchley Circle stars South Riding's Anna Maxwell Martin alongside Rachael Stirling, Sophie Rundle and Survivors' Julie Graham.
Want to know more? Click through for a quick synopsis and a look at ITV's trailer for the show. 
Per the press release, the story of The Bletchley Circle shakes out as follows:
Two-time BAFTA award-winner Anna Maxwell Martin stars as Susan, now a housewife with two children, who has collected data on a series of murders and tried, unsuccessfully, to convince the police that another is imminent. Rachael Stirling is Millie, the feistiest of the bunch, conversant in 14 languages, worldly and street smart. Sophie Rundle plays Lucy, a young woman equipped with a photographic memory. Julie Graham, oldest of the four, is the former head of the Bletchley Park unit.
Initially unaware of the Bletchley background, the police don't take Susan's theory about the crimes seriously. She quickly realizes she can crack the murders and bring the culprit to justice only with the help of her former colleagues. "He's making a pattern and he doesn't realize he's doing it," Susan tells her friends. "If we can crack it, we'll be able to see what his next move will be. Just like knowing where the German army will be in three days' time. We can get ahead of him and stop him before he kills again."
"The Bletchley Circle combines a vivid portrait of post-war Britain with a taut and original code-breaking mystery that is equal parts thriller and whodunit," said Beth Hoppe, Chief Programming Executive and General Manager, General Audience Programming, PBS. "We think American audiences are going to love the story and the characters. The production is exceptionally vivid, capturing London of the 1950s fully. In addition, the journey home for these women, from war intelligence to 1950s domesticity, is highly complicated, further emphasizing the importance of their bond and friendship."
Take a look at ITV's teaser trailer for the show below: 
This series certainly sounds intriguing to me – and I love the concept of four very smart women who are trying to figure out where they fit in the civilian world now that their days of code breaking are behind them. (I am also generally always pro-any series that features this many strong female protagonists in one place.) I somehow completely missed this hearing about this series when it screened on ITV last fall, so I'm curious to check it out myself.
The Bletchley Circle will premiere on Sunday, April 21 and run through May 5. Let us know in the comments – does this series sound interesting to you?
---
By
for on January 14th, 2013