By
for on April 14th, 2017
Jenna Coleman Not Leaving 'Victoria' Any Time Soon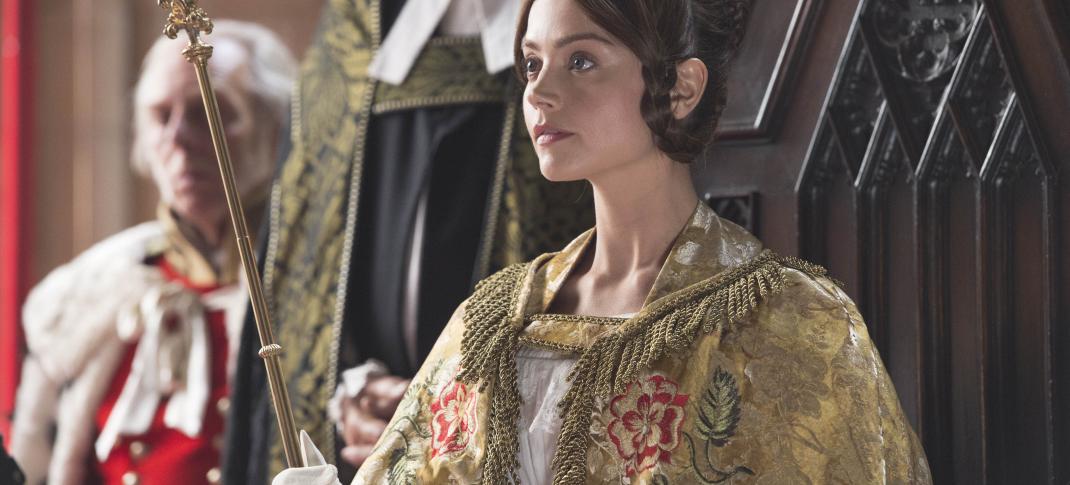 The big period drama news of the moment is that Claire Foy is planning to hang up her crown. Yes, the actress who won all sorts of critical and fan acclaim playing Queen Elizabeth II in Netflix original series The Crown will depart the series following its second season. Apparently the show's going to jump forward in time during Season 3, and will require the use of older actors to play Elizabeth and the Duke of Edinburgh. (Sniff.)
Understandably, this news has left some fans full of worry that the other big period drama telling the story of a queen's reign might follow suit in the near future. But fans of Victoria can rest easy – star Jenna Coleman, who plays the titular queen has no plans to go anywhere just yet. (And it sounds like the show itself really doesn't want her to.) 
At the recent BFI and Radio Times Television Festival in London, series creator Daisy Goodwin seemed very keen to reassure the Radio Times (and the world, come to that), that they're a long way from any similar casting changes. To listen to Goodwin, it's going to be quite a while before Victoria is played by anyone other than Coleman. (To be fair, it sounds like no one is acknowledging that anyone will play Victoria besides Coleman, which I suppose is something that's still possible. Even if it might get real weird later on.)
I think we've got quite a long way to go before we need to re-cast Jenna; we're moving quite slowly through the 1840s," she said. ""We haven't even caught up with her real age, so I think Jenna will be on our screens for some time to come."
Production on the period drama's second season began last February. Season 2 will apparently pick up almost immediately where the first left off, and will cover some portion of the queen's reign during the 1840s. The drama will focus on Victoria's efforts to balance her duties as both a mother and a monarch, as well as Albert's ongoing attempts to find his place in England. Victoria had six children between 1840 and 1848, so her feelings about and attitude toward motherhood will obviously be a major plot point as the show moves forward.
Discussions about Victoria's potential longevity as a series have been happening for a while now, and everyone involved seems to be keen on continuing things as long as they're able to do so. This is understandable – the show's first season was very successful, ratings-wise. And Queen Victoria ruled for over 63 years, so there's plenty of story to tell. As a result, we're still likely several seasons' worth of material away from any sort of conversation about whether Coleman needs to be recast or just aged up via the magic of cosmetics. (Season 1 only covered three years worth of her reign!) Personally, I can't see any of that happening until Albert dies, should we get that far. If only because by that point Coleman and her co-star Tom Hughes will have earned the right to play that moment themselves. 
Victoria will return for a second season later this year on UK network ITV. There's no PBS airdate set for Season 2 as yet, but the smart money is probably on January, in a broadcast cycle that's roughly same as Season 1. 
How far in the queen's story would you like to see Victoria go? Do you think it has a natural endpoint other than her death? And, if that's the case would you watch the drama with a different actress in the lead role? 
---
By
for on April 14th, 2017
More to Love from Telly Visions