By
for on February 10th, 2017
Production on 'Victoria' Season 2 Begins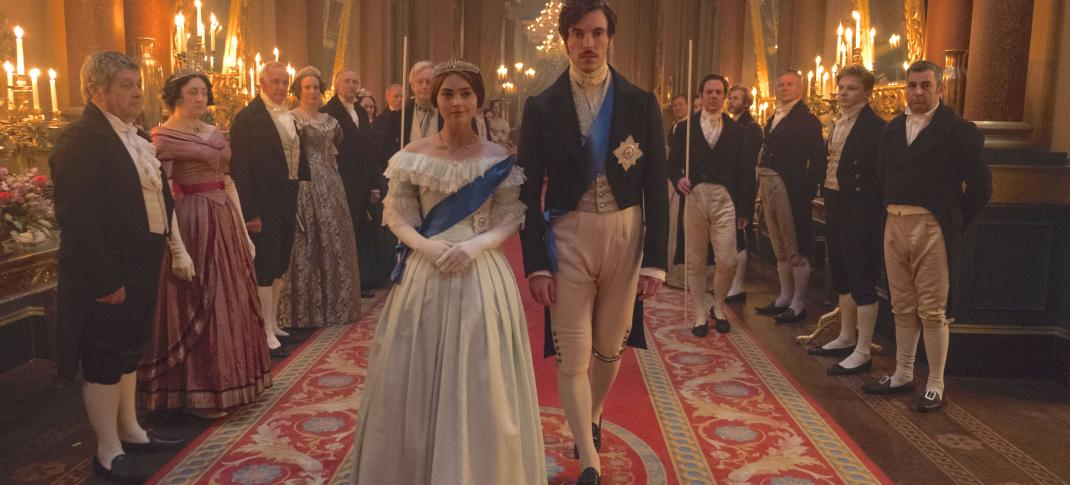 Season 1 of Victoria may still be airing on PBS' Masterpiece, but production on the period drama's second season is about to get under way across the pond.
The cast gathered this week to read through the first scripts of the new season. Several members shared their excitement about getting back to work, and posted a variety of snaps on social media. 
David Oakes, who plays Prince Ernest, shared a photo of the cast around the table together. 
And we're off...

(Photograph of yesterday's @VictoriaSeries #SeasonTwo c/o @daisygoodwinuk.) pic.twitter.com/OoDhH1e9BD

— David Oakes (@David_Oakes) February 8, 2017
Nell Hudson, who plays Skerrett, also seems pretty enthusiastic about putting her costume back on:
Hurrah SERIES 2 read-through ! Wonderful to see everyone and excited to meet the newbies pic.twitter.com/w1GUmtM9VQ

— Nell Hudson (@nellrosehudson) February 7, 2017
And series creator Daisy Goodwin apparently even tried her hand at some period-appropriate baking to celebrate the start of production.  
Let's my writing is better than my baking #victoriasponge pic.twitter.com/COK6L8gzK3

— Daisy Goodwin (@daisygoodwinuk) February 7, 2017
According to Goodwin, filming on Season 2 starts next week. (February 13 to be exact.) But we don't know much about the story that the new season will tell. Season 1 follows the young queen through roughly the first three years of her reign, following her ascension to the throne at the age of 18. 
Goodwin did drop a few hints about what to expect in the series' next season during a Twitter Q&A session with the Radio Times last Fall. Apparently Season 2 will cover most of the 1840s. "[I] hope to get through most of the Hungry Forties," Goodwin tweeted. "A decade of revolution, famine and unrest, and for V much childbearing! #nopainrelief."
In other news, there's no word on whether we'll see more of Rufus Sewell's Lord Melbourne. Victoria's thoughts on motherhood will play a major role, as she has six children from 1840-1848.  And since the series plans to keep the story set during the 1840s, Tom Hughes' Albert appears safe for Season 2. The Prince doesn't pass away until 1861
Plans are apparently already in the works for future seasons of Victoria beyond its second. As long as the ratings hold up, there's little reason this show couldn't run for years to come. After all, it's not like there isn't ample dramatic source material to draw from in Queen Victoria's life. 
Victoria Season 2 will likely air this Fall in the UK. No word yet on when it might air in America, but it seems likely that it would probably follow the same airing schedule as Season 1. (That's complete speculation on my part, please do not yell at me if I am wrong.)
For us Americans, Season 1 of Victoria continues Sunday nights on your local PBS station. And if you need to catch up on something you missed, we just so happen to have some handy recaps of every episode right this way.
---
By
for on February 10th, 2017