By
for on April 24th, 2023
'Great Expectations' Comes at a Complicated Time for the British Period Piece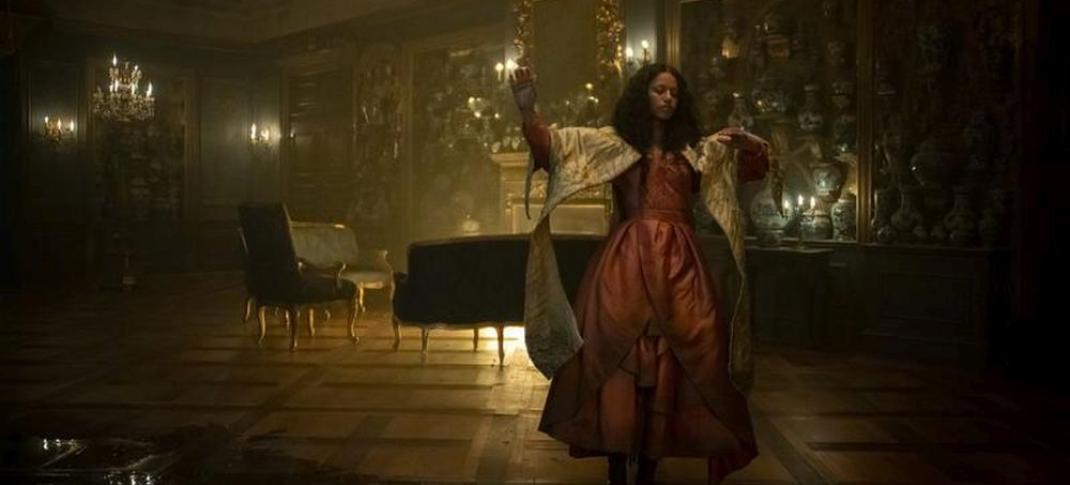 Steven Knight was once known for his gritty, compelling scripts for Dirty Pretty Things and Eastern Promises, but had shown his capability for historical fiction in Amazing Grace. All these would be a precursor for his output over the past decade, kicking off with the smash-hit Peaky Blinders and building in momentum with the Tom Hardy-starring Taboo, the Apple TV+ apocalypse fantasy See, an adaptation of A Christmas Carol, and last year's SAS: Rogue Heroes – finding the time also to pen splashy film projects like Spencer, The Girl in the Spider's Web, and Burnt. He's a man of evident, enviable talent, nurtured from decades of recurring jobs on British TV throughout the 90s.
His latest, Great Expectations, prides itself on boldening the rich, thorny themes that plagued Victorian Britain – gendered violence, repression of sex, colonialism, and nasty but nuanced criminal vices – but Dickens was prohibited from writing about due to contemporary standards. It has pleased some and displeased others. But while it's difficult to deny Great Expectations makes thoughtful embellishments to Dickens' original text, it exists as a single example of a pervading aesthetic of British period adaptations, one Knight helped forge and by now feels distinctly tired.
Over its impressive six-season run, Peaky Blinders established a neo-historical fiction aesthetic: dialogue and dialects made no concessions for ears untrained to British regional accents, working class, urban stories were dripping in oppressive industrial production design, and all the violence, sex, and substance abuse once prevented from making it on-screen in TV's more conservative eras were on full display.
Not all of this is unwelcome: we got more full-bodied attempts to depict the complexities of colonialism and empire, a greater focus on marginalized identities, and a refreshing break from restrictive filmmaking traditions – the past suddenly felt blisteringly modern and gripping. But while Peaky Blinders and Taboo were free to tell original stories in a Britain thick with dirt and smoke, the BBC and other production houses saw no problem with transposing it onto the established literary canon too. Agatha Christie got a drab, punishing do-up in 2016's Witness for the Prosecution, where everything was caked in smog, respiratory infections, and repressed, stuttering characters. 
Great Expectations marks Knight's second Dickensian effort, both receiving mixed-to-negative reactions to showing old London "as it really was". But the idea of a "realistic telling" stripping all the contemporary narrative artifice of Victorian Britain ignores that our present-day narrative and visual language imposed onto the story is also artifice. It's a construct borne of modern storytelling insecurities, an impulse to dress up classic literature in the name of "deconstruction". As we saw in The Personal History of David Copperfield, adapting something with modern filmmaking techniques doesn't necessitate making everything darker and grittier.
There are many adaptational changes in FX's Great Expectations: Victoriana's commodification of sex (complete with slut-shaming and BDSM), explicit domestic violence, people cursing, opium addiction, suicide, post-colonial speculation, and much more. It's not improper in concept; part of the freedom of adapting classics is the near-infinite room to reshape the "taken for granted" parts of the story in popular culture. No text is sacred; there is nothing meaningful at stake by changing even its core components for a filmed version. How do we know our resistance to these alternative readings is because we're more comfortable with and nostalgic about formally restrained versions?
But viewing these changes in isolation misses the point; Great Expectations belongs to a context that thinks changing the superficial is equal to subverting the core mechanics of a story. Most of the series' newness is aesthetical, and what thematic emboldening it does can feel, at times, blunt. The confrontations of Victorian sexuality, debauchery, and Empire are often restricted to dialogue; there's a noticeable motivation to address as many issues left out of Dickens' work as if he was unable to think with such an expansive and complex scope as Knight does.
Dickens' novel engages with class, gender, and alienation by modern society in ways more subtle or subtextual than Hulu's version. Like a lot of classic literature, the fiercest emotions are not written down on the page but exist in the spaces between spoken word and action, and the story doesn't need to verbally acknowledge all times Victorian society is put under a microscope to expose all its limitations.
With its refined, layered performances and splashy visual palette, many have responded to the freshness and eccentricity of Knight's latest period piece – and it's not like Dickens' immortal story can be ruined by making it more lascivious and profane. But it's clear that this approach to reinventing the literary canon is growing tired, and instead of feeling like we have to make Dickens relevant and urgent to a modern audience, perhaps next time, we should think of why the original text resonated with so many Victorians. Texts should not be brought forward to today's audiences. Instead, we should willingly venture into what made an impact in the past.
---
By
for on April 24th, 2023
More to Love from Telly Visions