By
for on April 19th, 2023
'The Diplomat' Gets Special Commendation for Being a Superior International Drama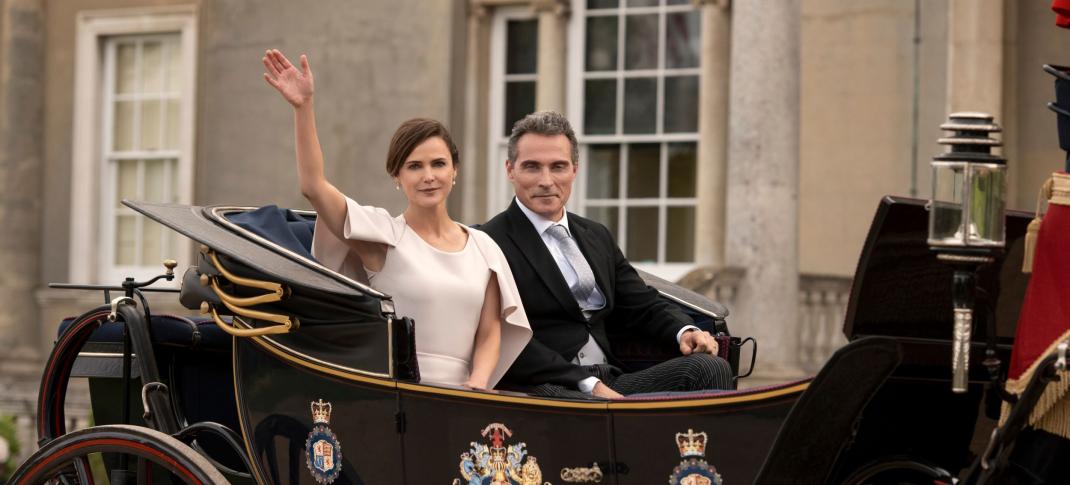 To make a successful political drama series, you need to make it feel a) like it's urgent and current enough to be relevant to the real world and b) that its politics are distilled into an exciting and dramatic format. These two motives often form a push-and-pull where one is favored only at the last minute, leaving an imbalanced story where fresh, cutting insights are drowned out by political caricatures and implausible spectacles.
Line of Duty Season 6's unsatisfying villain resolution was defended as a realistic endpoint for most corruption investigations; the pantomime of Apple TV+'s Liaison and Slow Horses secret agent stories all emphasize the perpetrators are not nation-states or real-life political forces but, in fact, rogue, independent — and crucially fictional — individuals.
It takes a few episodes to figure out how Netflix's The Diplomat distinguishes itself from other half-baked international productions centering on people trapped in made-up-but-not-too-made-up political emergencies. The series follows an American ambassador being chucked into the deep end of highly publicized crises and smoothing bigwig egos after an act of aggression against British naval officers and easily convinces you of its incisive, observant perspective on how modern politics can lend to compelling drama. But while there are many reasons it merits more attention than Slow Horses or Liaison, only one is clear from the start — none of those shows starred Keri Russell.
It's facetious to solely credit Russell for The Diplomat being really rather good, but it's something you're aware of every minute she spends on screen. The show offers Russell her first actually good role since FX's The Americans wrapped in 2018, which can only be explained by Hollywood's long-lasting confusion as to what they should do with exemplary TV actors, and the fact that Russell sets a high standard for roles worthy of her great talent.
But in Kate Wyler, she gets to inhabit someone compromised on all sides; by the British cabinet, by the executive branch of her own country, and by her cavalier "bad boy of the ambassadorial scene" husband, Hal (Rufus Sewell), whose daunting diplomatic resume threatens to steamroll her new appointment.
Kate has both an edge and vulnerability in an environment where phrasing, wardrobe, and meeting place can inadvertently speak volumes about your character and motive. Her embassy staff (lead by a terrific Ato Essandoh) can only steer her so much as it becomes clear that Kate's confidence and virtuosity are going to be crucial to cutting through the bureaucratic fog between Americans, Brits, and the countries they want to point fingers at.
The Diplomat stands out thanks to its patience and unassuming plotting; its biggest moments predominantly occur in the drawing rooms, dining halls, and private chambers, where true politicizing happens. There's a fair share of controversial public addresses and moments of upsetting violence, but The Diplomat is more interested in meticulously unpacking the moments that preceded and followed them, stressing the fine detailing of working with unexpected consequences on an international scale.
Amongst all this, the show stresses the emotional burden the crises have on Kate, as her marriage and position are leveraged without her knowledge, and a creeping sense of helplessness consumes her.
There's an astuteness to The Diplomat, an impressive amount of detail in its assessment of where big political players sit in a very modern moment. It may not be all razor-sharp, but it helps that the show illustrates how modern politics have characterized the countries involved, especially Britain. After all pretense of empire finally crumbled post-Brexit, the UK has a distinct inferiority complex, giving its prime minister (Rory Kinnear) a dangerous petulance that could unsettle peace at any minute. Stocking your cast with diplomats and ambassadors is a wise move; our characters have room to be outspoken and impassioned while also representing expansive, complex causes and motives.
The show's creator, Debora Cahn, was a producer and staff writer on The West Wing and Grey's Anatomy, and the fingerprints of those quick-witted and cutting dramas are all over The Diplomat – at times, it feels overly so, as the show does perfectly fine without having people quip or have comical outbursts at each other. What's more, there's a focus to the political machinations in the first six episodes that sort of slips away by the final two.
However, the show remembers to zero in on Kate feeling overwhelmed as the stakes are raised. And the cast, led by an imposing Russell, commendably brings to life a story that's thorny and compelling — without ever sacrificing entertainment. Who says international relations have to be complicated and boring?
All eight episodes of The Diplomat are available to watch on Netflix in both the U.K. and the U.S. starting Thursday, April 20, 2023.
---
By
for on April 19th, 2023
More to Love from Telly Visions