By
for on August 5th, 2017
'The Great British Baking Show' Season 4 Episode 10: The Royal Final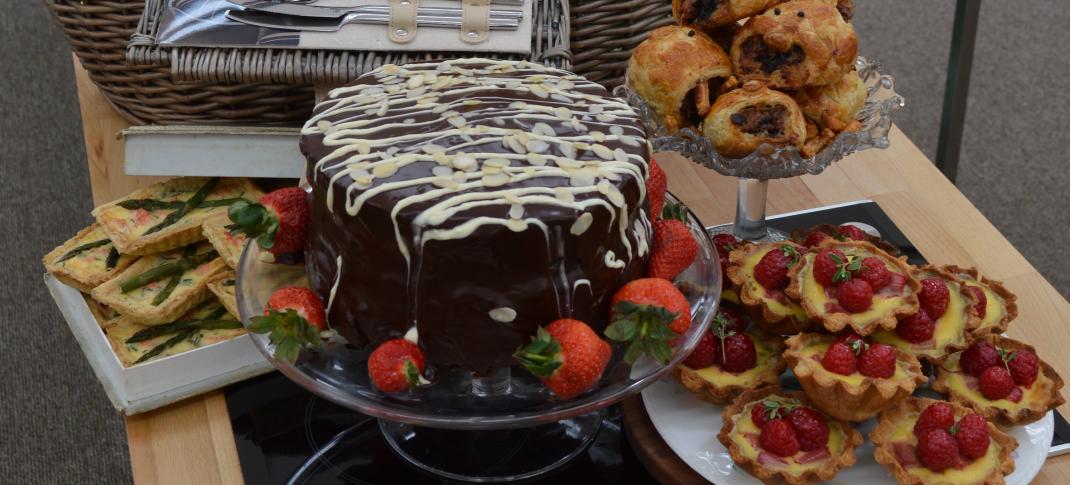 First there were twelve, now there are three. It's time for the season finale of The Great British Baking Show! Dun dun dunnn!  A nerve-racking Patisserie Week semifinal eliminated Selasi who, despite his cool, no-worries demeanor, finally hit the wall of his abilities. This week three Star Bakers entered the tent for the last time with only a trio of queen-sized challenges before them.  
Who are our finalists and how did they get to this point?
Jane Beedle was this season's first Star Baker. Her home baking skills plus her elegant mirror glaze jaffa cake impressed Paul and Mary. Although time wasn't always on her side, this garden designer and mother of two dug deep to make it to the final. Her son and daughter attested to how furiously she'd been practicing at home. They know they have the best mum and this is the first time she's ever done something purely for herself. Of the former bakers surveyed, Tom is backing Jane and has since the first week of the competition.
Candice Brown captured the Star Baker title three times in weeks two (biscuits), five (pastry) and eight (Tudor). From her gingerbread pub to her marzipan peacock, Candice always went the extra mile with her elaborate creations. Her tendency to go over-the-top both impressed and frustrated the judges. Her love of baking started with her grandmother and her parents couldn't be prouder of her baking talents and determination. Sweet and quirky Val who left after Pastry Week reckons Candice will emerge victorious due to her focus, good planning and impeccable bakes.
For weeks, Andrew Smyth, a.k.a Mr. Precision, was consistently recognized for good bakes, but was passed over for the Star Baker title. That is until Dessert Week and a stunning and nostalgic mini-mousse cake showstopper complete with Ferris wheels. Andrew was named Star Baker a second time in the semifinal for his professional quality philharmonic fondant fancies. Andrew's nan says his interest in engineering started with his love of cake. His parents said he's 100% dedicated to whatever he tackles and he even skipped his graduation to practice for the show. Selasi is rooting for Andrew, but knows firsthand that the women are very strong as well.
Now on to the baking!
The signature challenge was to make a family-sized, three layered meringue crown. It needed to be filled, preferably with tangy fruit to balance the sweetness of the meringue, and dazzlingly decorated. All three bakers chose to make a pavlova style dessert. 
Andrew's crunchy caramel cassis crown was modelled after the Queen's Jubilee crown. It featured muscovado meringue layered with blackberry fool, cassis jelly jewels and filled with a pecan praline mixture. Both judges felt the sweetness of the praline was a mistake, but the effect and the other flavors were good.
Candice's Queen Victoria Mango and Strawberry pavlova contained two types of meringue, was filled with prosecco soaked strawberries, mango curd and glittered pistachios. Topped off with a small meringue crown of Victoria, Paul and Mary were impressed by the variety of flavors, how well it held together and the overall look of the structure. Paul even graced her with one of his rare and sought-after handshakes.
Jane's red, white and blue meringue crown featured layers of raspberry and strawberry, blueberry and white-fleshed nectarines. Mary Berry noted how it held its shape and that the flavors went together very well. But Paul Hollywood proclaimed it three layers of heaven and offered an unprecedented second handshake! This one was a two-handed clasp leaving one to wonder if he had tried Jane's bake first if he wouldn't have stopped there…
So after round one, Candice and Jane were tied with Jane perhaps slightly in the lead.
The technical challenge set by Mary Berry was to make a traditional Victoria sandwich with raspberry jam and buttercream. The catch was there were no instructions, only the tin sizes and the list of ingredients.  The results were as follows:
Andrew came in first place. His sponge was a nice pale color, his jam was very good, his buttercream was neat and even and it had an overall good flavor. Candice followed in second place. Her sponge was good and even but a little too dark, her jam was more like a jelly since she removed the pips and her buttercream was grainy. Jane's sponge was also too dark and had too much of a rise, the buttercream was on the soft side and the jam was gluey. Though her flavors were good, she came in last.
The bakers appeared to be neck and neck with only one challenge left to go (and what a doozy that one turned out to be!) The team of Berry and Hollywood devised the most massive challenge ever in the history of the show. The finalists were asked to put together a picnic fit for Her Majesty. The list of items to be packed in the hamper included one chocolate celebration cake and twelve each of the following – fruit custard tarts, puff pastry sausage rolls, savory scones, and mini-quiches – all to be completed in five hours. Just thinking about it makes me want to grab a drink and soak my feet. No wonder Jane got emotional at the end!
Due to the sheer number of bakes involved in this challenge, I'm just going to give an overview of the judges' feedback.
Jane's family favorites picnic presentation was deemed royal and regal by Mary Berry. The high points were her red fruit tarts and the salmon and dill quiches. Her sausage roll pastry had some raw spots and her scones needed a bigger kick in flavor. Her chocolate cake was great, but her attempt at adding a collar failed yet again.
Mary declared Andrew's family and friends' favorites picnic meticulous and beautifully displayed. The star piece, far and away, was his grandmother's chocolate cake which Paul said he'd have any day. Despite good flavors and attractive appearance, Andrews's pastry skills let him down. His quiche, sausage roll and fruit tart all had problems from raw dough to soggy bottoms.
Finally, we had Candice's colorful picnic for pearly kings and queens. The judges found her bakes consistently good from her piggy sausage rolls to her chocolate orange celebration cake. Their only complaints concerned the olives overpowering the cheese flavor in her savory scones and that the pastry in her rhubarb custard tarts was a little overbaked.
And so it could come as no surprise when Candice was announced the winner of this season of The Great British Baking Show. With her all-or-nothing approach, this baker was rewarded for routinely doing more than required and putting her heart into every challenge.
Candice also holds the distinction of being the last winner from this incarnation of the series. As you probably know, British broadcaster Channel 4 outbid the BBC for the rights to the program. The Great British Bake Off (as it's known in the UK) will reportedly air later this year with Paul Hollywood being the only original cast member to move with the show to its new home. So if you didn't get your fill of Mary, Sue and Mel, you can go through it all again on the PBS website.
I hope you enjoyed watching and reliving the show with me this season. Only time will tell if or in what form we might encounter this most beloved of British competition shows again. But once we know anything, I'll be sure to pass on the news. Until then feel free to share your thoughts on the final and the future for the show in our comments!
---
By
for on August 5th, 2017
More to Love from Telly Visions