By
for on July 20th, 2017
'The Great British Baking Show' Season 4 Episode 7: Dessert Week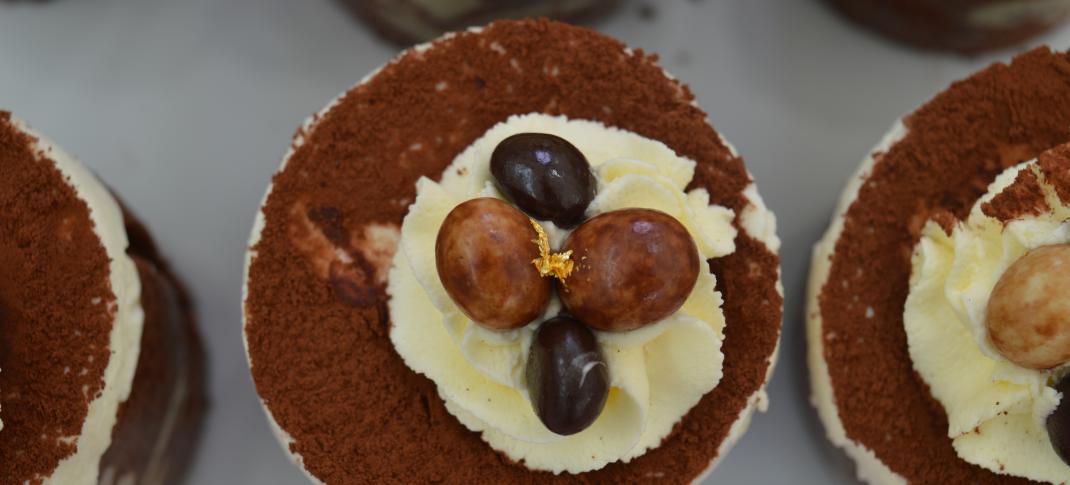 Six bakers entered the tent this week with two things on their minds. One was to make sweet, cakey, creamy, nutty confections to the best of their ability. The other was to find a way to secure a spot in next week's quarter final. Whether you call it pudding, afters or dessert, this round definitely whipped up a bit of extra pressure.
To refresh your memory concerning last week's botanical bonanza, Tom earned the Star Baker title for a second time. No surprise this man of the golden loaves scored first in the technical herbed fougasse bread challenge. Tom then pulled out all the stops with his floral tea cake with elderflower rosettes showstopper. Alas, flowery and delicate was not Rav's strong suit. His citrus meringue pie lacked flavor and structure and his dull and messy floral showstopper cake did not impress the judges. He was chosen to depart, but at least he left with a feeling of accomplishment and a smile on this face.
But as is the way with the GBBS, a new week means back to square one (more or less). For the signature challenge, the bakers were tasked with making a family-sized roulade (similar to a Swiss roll) with a sweet sponge and an even layer of yummy filling rolled together to create a spiral very like a Catherine wheel.
In the technical round, Mary Berry asked for a little-known French dessert called a marjolaine cake. Made of layers of nutty meringue similar to dacquoise between praline buttercream, this rectangular dessert is covered in nuts and piped with chocolate ganache. Mary's advice was to stay organized as multi-tasking would be necessary.
The showstopper challenge required our competitors to make two flavors of mini-mousse cakes, a dozen of each variety. The judges wanted high-end, sophisticated desserts that feature delicious sponge and light, aerated mousse.
Highlights: Despite the threat of cracking up, the bakers did pretty well on the roulade front. Paul Hollywood said the sponge in Selasi's summer picnic roulade was star of the show. Benjamina got a classic Mary Berry wink for her pina colada roulade filling. It was Andrew's tropical holiday roulade with passionfruit and banana, however, that ticked all the boxes for design, flavors and melt-in-the-mouth sponge.
Andrew also pulled out first place in the technical challenge. His marjolaine dessert was neat with good piping. It had four distinct, well-put-together layers and the meringue was crisp. Candice's slightly less tidy marjolaine came in second.
In the mini-mousse cake showstopper, Benjamina was praised for her spot-on apple crumble and chocolate coffee flavors. Jane outdid herself by making five mousse flavors for her chocolate, coffee and vanilla joconde and her blackcurrant and vanilla ombre mousse cakes. All her flavors came through and each of the mousses was light and beautifully set. Selasi was complimented on his lemon, raspberry and passionfruit cakes for lightness of mousse, good sponge and flavors.
But in the end, it was Andrew who scored a hat trick this week. His forest fruits mousse on vanilla sponge and mint chocolate mousse with honeycomb topping perched in specially made Ferris wheels were judged to be divine, stunning, gorgeous and fantastic. Add that to a first-place technical finish and his exceptionally rated roulade and Andrew was basically a shoo-in for Star Baker. Coming from a very real threat of elimination last week, this engineer was super, super chuffed to be recognized this time around.
Missteps: Though there were no obvious disasters in the roulade round, there is always room for improvement. Due to the direction Jane rolled her chocolate and hazelnut roulade, it didn't make a complete swirl. And while Mary approved of the boozy chocolate, Paul felt it almost ruined the flavor. Candice's white chocolate sponge cracked her and raspberry cheesecake and passionfruit curd filling, while scrumptious, was dense and rubbery. Mary felt Tom's nutmeg flavored sponge filled with salted caramel and crushed millionaire shortbread needed a bit of cream inside and Paul disapproved of the appearance created by icing the entire roll.
Selasi came in last in the marjolaine technical round. His dessert was misaligned due to a soggy bottom and the meringue was chewy. Tom's meringue wasn't quite as tough, but his piping design wasn't correct so he came just ahead of Selasi.
It was apparently a scorcher in the tent on show stopper day so as mentioned earlier, while Mary and Paul loved Benjamina's coffee and apple flavors, appearance-wise the mousse cakes were a hot mess. Selasi's second cake variety, the mint and chocolate ones, were too big and the mousse wasn't well aerated. Candice's after dinner mint mousse was more like ganache. Also her blackberry and raspberry bubbles cake needed a stronger fruit flavor and her mousse filling wasn't mixed evenly.
But it was Tom, last week's Star Baker, who got the boot. Sadly Paul really liked his hipster picnic concept, but it failed to meet the brief. By piping the mousse, it turned thick and stodgy. In addition, his carrot cake tasted more like spice cake with too much nutmeg. His fifth-place finish in the technical and the less than stellar reception of his roulade made Tom the first Star Baker of bread week to not make it to the final. His insistence on being innovative with flavors and methods proved his undoing, but when he was in his element Tom was a very good baker indeed.
So the quarter final field of five has been set – Andrew, Benjamina, Candice, Jane and Selasi (the only one in the group not to be named Star Baker so far this season). As they return for Tudor week, where would you place your bets? Who has the skills, creativity and temperament to withstand the increased pressures ahead? And the most important question of all posed by Sue Perkins herself, "Is there anything posher than a Viennetta?" The comments section is waiting for you to weigh in.
---
By
for on July 20th, 2017
More to Love from Telly Visions