By
for on June 18th, 2017
'The Great British Baking Show' Season 4 Episode 1: Cake Week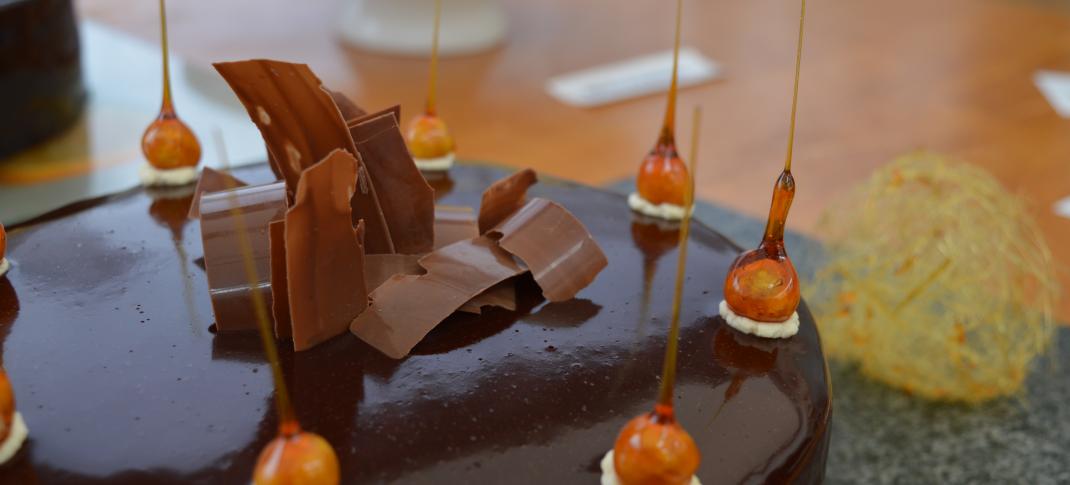 Welcome back everyone to what I expect will be a memorable and bittersweet season of The Great British Baking Show. You may recall that in 2016, the BBC was outbid by a rival UK network, Channel 4, for the rights to produce The Great British Bake Off. For more on the changes that resulted, read this.
Needless to say, the series we are about to watch will be the final time you will see the revered Mary Berry hold court in the baking tent at Welford Park. And perhaps an even greater blow to the spirit of this competition, this season is the swan song for the extraordinary hosting team of Sue Perkins and Mel Giedroyc as well. I suggest we appreciate these talented ladies and be mindful of the joy they bring while we can. Also please continue to enjoy the comraderie and support the bakers offer one another with sincere "well done's" and other encouraging words.
So if you're ready to embark upon this delicious adventure, let's get acquainted with our fresh new field of competitors as they are tested with the traditional first round – Cake Week!
The first signature challenge for our new bakers' dozen was a classic British bake, the famously moist drizzle cake. The contestants were expected to be inventive in their approach to this back-to-basics cake. It needed to be firm but melt in the mouth and have sumptuous drizzling. Glad to see the judges' standards aren't slipping, eh?
In the technical round, Mary requested twelve identical Jaffa cakes comprised of whipped fatless sponge, orange jelly and neatly covered in tempered chocolate. Also according to Mrs. Berry, this confection should not be dunked in tea as demonstrated by the barbaric Northerner Paul Hollywood.
Finally, the showstopper challenge was to create a mirror glaze cake made with genoise sponge and a glaze so shiny as to simulate the finish of a polished posh car. Paul suggested the bakers keep it small and beautiful if they wanted to make a good impression on the judges.
Highlights: With so many competitors on-screen at the beginning, it's difficult to go into much detail for the first few weeks because very little time is spent focusing on any one baker's efforts. However in the drizzle cake signature challenge, kudos were awarded for Selasi's citrus and spice, Benjamina's pistachio and lemon and Jane's lemon and poppy seed creations. All achieved excellent flavors and texture.
In the technical round the chocolate layer was key. Selasi came in first with Paul saying they looked like proper Jaffa cakes with neat edges and a nice shine of thin chocolate on top. In second place, Tom was recognized too for his neatly applied and glossy chocolate.
The showstopper challenge proved trying for many but demonstrated the value of persistence for a few. Andrew considered his Ultimate Indulgence orange mirror glaze cake an all-or-nothing bake and he triumphantly brought himself back after a dismal last place showing in the technical. It was judged stunning, elegant and a perfect marriage of flavors. Benjamina had a bit of a crisis, first with her sponge and then her buttercream. But with the calming support of Sue Perkins, she pulled it out producing a white chocolate and salted praline mirror glaze cake with a smashing shine and lovely flavors and textures. With her chocolate orange mirror glaze cake, Jane adopted a less-is-more approach which the judges deemed beautiful. She was praised for its smooth shine, good fillings and excellent genoise sponge.
In fact in the end, it was Jane, the garden designer from Kent, who was named the first Star Baker of the series for her solid flavors and execution of drizzle and glaze. Perhaps her showstopper (which Paul called "an elegant Jaffa cake") made up for her less than stellar technical effort.
Missteps: Getting the drizzle right seemed to be the major issue in the signature round. From Tom's G&T cake that made Sue lose sensation in her face to the spicelessness and unfamiliar fruits in Rav's ginger spice yuzu cake, flavors went awry by being too strong or not strong enough. Val's orange and lemon drizzle was not only messy and dry, but it apparently lacked drizzle altogether.
Appearance was everything in the technical challenge. Andrew earned last place basically due to his ignorance of Jaffa cake orientation – meaning his were upside down.  Lee's batch were judged not Jaffa cake-like mostly because he didn't extend the chocolate to the edges of his cakes.
While no one suffered an out and out disaster in the showstopper round, some struggled with specific elements in their mirror glaze cake creations. Michael's matcha tea sponge tasted like grass, Val's 4 fruit cream cheese based frosting wasn't a hit, and Candice's vanilla genoise sponge was seriously underbaked and undermined the rest of her impressive cake. Ironically Tom, thinking he'd learned a lesson from his G&T fiasco, cut back on the kirsch in his Black Forest broken mirror cake only to find it lacked flavor and ended with Paul suggesting it needed more alcohol.
But it was Lee's strawberry surprise with its bone-dry sponge and cream-free layers that fared the worst. His middling to poor showing on all three cakes means this Manchester-area vicar will not be returning to place his technical bakes upon the gingham altar again. He did, however, receive a Mel-Sue sandwich hug as a parting consolation.
There you have it! Episode one of The Great British Baking Show is a matter of record. Drizzle permeation and Jaffa cake etiquette aside, do you have any early favorites? The challenges will only get tougher, so who has the skills and nerve to emerge victorious? Only time (and Paul and Mary) will tell. Please share your thoughts about contestants, cake and the apparent lack of freezer space in the tent. Shades of the baked Alaska kerfuffle? Let's discuss!
---
By
for on June 18th, 2017
More to Love from Telly Visions