By
for on July 29th, 2017
'The Great British Baking Show' Season 4 Episode 8: Tudor Week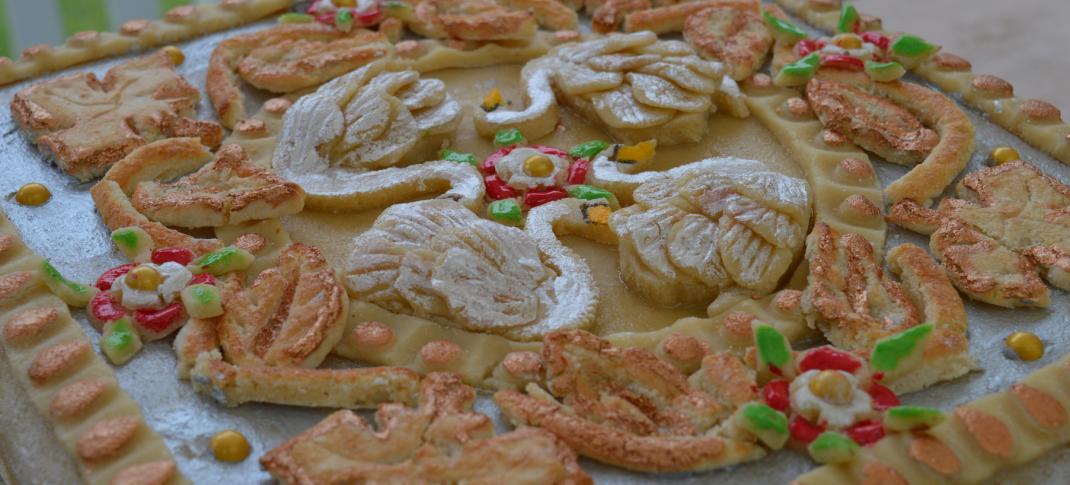 The tent looked rather empty as the five remaining competitors reported to their stations for the Great British Baking Show quarterfinals. Our shrinking band of bakers would need plenty of elbow room in order to attempt the three Tudor-era based challenges set for them by Mary Berry and Paul Hollywood this week. We're talking intricate, decorative and rich bakes worthy of the Renaissance period.
But before we go back to the age of Shakespeare and Henry the VIII, let's review the results of last week's delectable dessert round. Andrew's engineering precision finally paid off. While his tropical flavored roulade looked and tasted good and his marjolaine cake was neat and well-constructed, it was Andrew's enchanting Ferris wheel of mini-mousse cakes that put him over the top for his first Star Baker title.
On the other hand, twice crowned Star Baker Tom was dismissed last week for a less than thrilling roulade, a near the bottom technical finish and a poorly executed hipster picnic showstopper that Paul and Mary agreed really didn't fit the mini-mousse cake brief. In seven seasons of the competition this is the first time the champion of bread week didn't make it to the final.
Naturally the judges' expectations went up a notch this week and the pressure on the bakers was higher than ever. In the signature round, the bakers were asked to make a display of shaped pies. Individual savory pies encased in any kind of crust had to come together to make a Tudor-esque design.
Paul set the technical challenge requiring a dozen jumbles, a sweet and spiced baked good with a biscuit like crunch and a softer interior. The biggest hurdle was to shape the jumbles properly into two different intricate knot shapes. It turns out a working knowledge of math is helpful.
And finally, the Tudor showstopper task was to bake and assemble an entirely edible, 3-D marzipan centerpiece. The marzipan had to be made from scratch and Paul and Mary expected detail in abundance.
Highlights: Those who produced the best shaped pie displays had firm, flavorful filling, fully baked crust and minimal leakage. Selasi's Bouquet of Flowers pies featured two fillings, a multi-game stew and a sausage and quail egg mixture. Paul and Mary found his pies to be beautiful in color and shape and full of delicious flavors.
Jane's Tudor rose pies with spiced sausage meat, chicken breast and cranberries were a lovely color with a first-rate herb seasoned filling.  Andrew went all mechanical on us and built a precision display of Da Vinci inspired Geared Pies layered with pork sausage, chicken, apricots and potato. The judges loved the design and the flavors but Sue Perkins was so impressed she ordered a pork helicopter from the young engineer.
Candice came in first in the technical with good tasting, well baked jumbles. More importantly, she did the best job at shaping her knots. Andrew's jumbles were similar to Candice's but lacked the same degree of definition so he came in as runner up in the twisty challenge.
Marzipan proved to be a tricky element in the showstopper round.  Jane's centerpiece with walnut genoise sponge, coffee buttercream and a scene of swans and roses in marzipan on the top was declared neat and very Tudor with a delightfully delicate sponge.
It was Candice, however, who really cracked it. Her incredible peacock centerpiece with a surprise cache of blueberries inside ticked all the boxes and then some with its four-layer multi-colored sponge cake body, puffed rice head and colorful feathers fashioned from marchpane (the original Tudor style marzipan made without egg). Coupled with her first-place finish in the technical, Candice earned Star Baker status for the third time this season.
Missteps: While fillings were generally well-received in the shaped pie signature challenge, some of the bakers had presentation issues. Benjamina's Mexican adventure display had stunning flavors of chipotle pork and black beans, but her ropey pastry didn't impress the judges.  Candice's cheesy cheeky fish pies featured two types of crust and two fillings but the textures of her macaroni and cheese pies weren't pleasing and her ox cheek and oyster pies had too much leakage to be considered attractive.
For the first time Jane came in last in the technical round. Her jumbles were pale, lacked definition and the knots were too tightly packed. Benjamina also had problems with the shaping of her jumbles and the double knotted variety weren't quite baked earning her a next to last place finish,
Despite careful historical research and precise design efforts, the showstopper round didn't turn out according to plan for the male bakers. Selasi's fruity Tudor marchpane was full of symbolism, bygone flavors and techniques. Alas his Simnel fruitcake with a marzipan center could have been more decorative and the whole presentation was a bit informal (as Mary Berry would say). Andrew's jousting knights marchpane featured a tasty, honey-flavored cake with currents that unfortunately sank to the bottom of the sponge. His marzipan knights were a bit clumsy and seemed to have problems with proper sheathing of their caramel swords.
But it was Benjamina's Tudor garden with marzipan maze and puffed rice tree centerpiece that faced the most criticism.  Her spiced apple cake was doughy and heavy. The maze lines puffed up too big and should have been secured to the cake itself. It wasn't an out and out disaster but added to her below average jumbles and clumsy pies, Benjamina was chosen to leave the competition. This was the first elimination announcement this season that made me emotional. Benjamina herself was a bit weepy and when Selasi said she was like a sister and he was sad to see her go, I couldn't help but shed a tear or two.
On a lighter note, I feel kudos should go out to Sue and Mel for going above and beyond in this week's hosting duties. Tudor puns about Anne Boleyn and Jane Seymour and the suggestion that the jumble knots symbolized the Reformation were clever, but it was Selasi chatting away not even noticing that Sue had herbs shoved up her nostrils that took the prize in my book.
Four bakers advance to the semi-finals – Candice, Andrew, Jane and Selasi. We're in the home stretch so how do you see things unfolding?  Who has the right combination of calm, talent and time management skills to move ahead?  Your thoughts on the contestants, judges, hosts and bakes are appreciated!
---
By
for on July 29th, 2017
More to Love from Telly Visions