By
for on July 7th, 2017
'The Great British Baking Show' Season 4 Episode 5: Pastry Week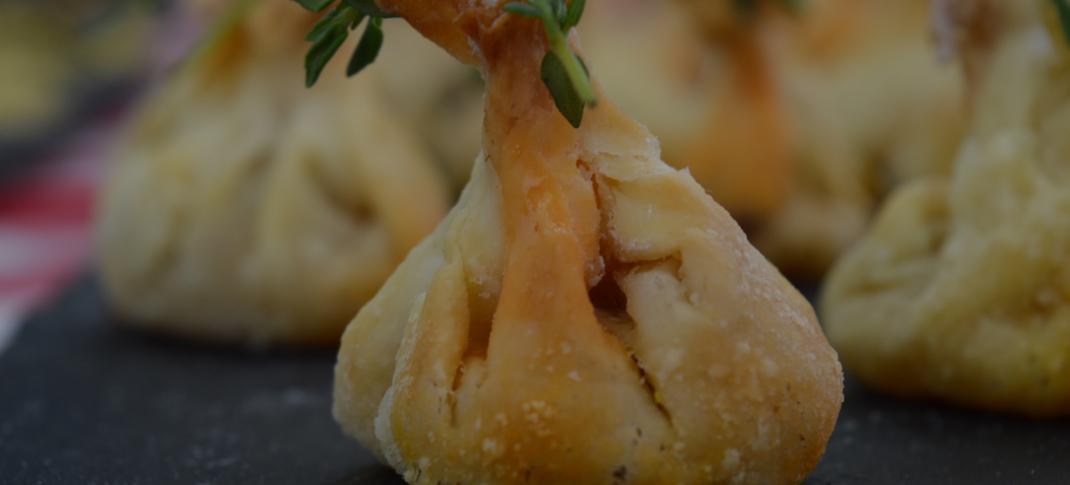 We're at the halfway point of this season's The Great British Baking Show competition and eight accomplished amateur bakers remain. This week, contestants were presented with three painstaking pastry challenges. I don't know about you, but just the thought of trying to produce flaky layers of buttery pastry makes me want to lie down.  No doubt our bakers are made of sterner stuff!
Before we jump into the fray of grievous buttery harm and frangipanic, let's review what occurred during last week's batter battle. Star Baker Benjamina stood out from the crowd with her tasty signature bake of red onion chutney, brie and bacon Yorkshire puddings. In the technical round, her lacy pancakes were the fanciest of them all and her tropical churros showstopper was beautiful in flavor and structure. Kate, on the other hand, had a self-professed shocking weekend punctuated by undersized puds and sad, greasy churros bunnies. Regrettably, Kate was chosen to depart but she graciously looks forward to watching her fellow bakers' progress.
A new week means a fresh start and what better way to begin than with the most important meal of the day. For the signature round, the bakers were asked to make twenty-four breakfast pastries – two varieties, a dozen of each. Paul Hollywood warned their biggest concerns would be time management and butter leakage.
Mary Berry's Bakewell tart was the assigned as the technical challenge. She expected the sheer perfection of a thin shortcrust pastry, layers of jam and frangipane and attractively topped with feathered icing. It was thought this classic tart might favor the older bakers as they were more likely to have made one before.
Finally, the showstopper was a double dose of amuse-bouche. The judges requested 24 sweet and 24 savory appetizers surrounded in filo (or phyllo) pastry; the trick being to stretch the dough as thinly as humanly possible.
Highlights: In the breakfast pastry challenge, no one escaped unscathed which often happens when two varieties of a bake are required in one round. The best of the bunch were Jane's orange pain au raisin, Candice's cinnamon, apple, vanilla crème rose Danish and Selasi's pineapple coconut pinwheels.
Jane emerged victorious in the Bakewell tart technical. Her bake had good layers and flavors, it held together well and the feathering of the icing was well-proportioned. Candice came in second since her frangipane wasn't quite done, but she did her grandmother proud anyway.
Rav impressed the Paul and Mary with his showstopper amuse-bouches. Both the Chinese style prawn tartlets and their sweet counterparts, the spiced white chocolate and hazelnut samosas, were exemplary in proportion, color and flavor. Benjamina's savory plantain and spinach samosas and her sweet chai pear cups were both rated delicious. Andrew scored with his picante chorizo squash parcels and yummy deconstructed baklava bites.
But it was Candice who raised her game and scored a 10 out of 10 with her spot-on savory sausage, black pudding and apple rounds and her scrumptious banoffee whiskey cups. Coupled with her second-place finish in the technical and a proficient signature challenge showing, Canice was the first to attain the title of Star Baker twice in this season's competition.
Missteps: As I mentioned before, the signature challenge was a demanding round for all the bakers. In particular, Benjamina failed to get a second proving on her dough so despite the great flavors of her peanut butter and banana pinwheels and the maple and candied bacon swirls, her pastry came out raw and devoid of butter. Tom's granola spirals were bone dry and his wheat foldovers were raw. Val's pecan and maple pinwheels were underdone and her apple, sultana and cinnamon pinwheels, though tasty, fell apart.
Rav came in last in the technical for the third week in a row. His Bakewell tart collapsed and the insides were goo. Val was close behind; her pastry shell was too thick and had a soggy bottom. Andrew's tart wasn't completely iced, but coming in sixth place was a blessing considering he realized his oven was turned off fifteen minutes into his bake.
In the showstopper, some contestants struggled with their amuse-bouche fillings and proportions. Selasi's savory Parma ham and cheese cigars were dry and tasted only of meat and asparagus. Tom's phyllo cups were too large, his savory sirloin didn't minlge well with the spicy chocolate mousse and ginger overwhelmed his sweet wine-poached pears. Jane too had an oversized problem with her cherry and chocolate cones.
Alas Val only completed half of her mincemeat and apple parcels. The filling was good, but the pastry was like shortcrust rather than phyllo. Her savory caramelized red onion and goats' cheese tartlets were too big and underdone. Add her next to last place finish in the technical and her less than stellar effort in the signature breakfast pastry challenge and it was apparent that Val would be chosen to leave the tent this time. Everyone had lovely things to say about her positive energy - how she made up games and buoyed up everyone's spirits. But Val herself told Mary Berry that this was as far as she could go in the competition.
Five competitors have departed thus far but seven will return to bake another day. Will Tom be able to pull out of the free fall he's been in since he won Star Baker? Will Rav continue to make a comeback after his excellent showstopper? Can Candice make it a three-peat for Star Baker? And did anyone else pick up on Mel Giedroyc's "Mighty Bouche" pun and wonder if she didn't already sense that Noel Fielding, half of the absurd sketch comedy duo the Mighty Boosh, would be replacing her as presenter? Yeah, probably just a coincidence.
So grab a croissant (preferably chocolate) and a cuppa and let's have a chin wag about what just went down in the tent this week!
---
By
for on July 7th, 2017
More to Love from Telly Visions