By
for on September 29th, 2023
'The Great British Baking Show' Returns to the Tent for a Cake Week That's Dog Eat Dog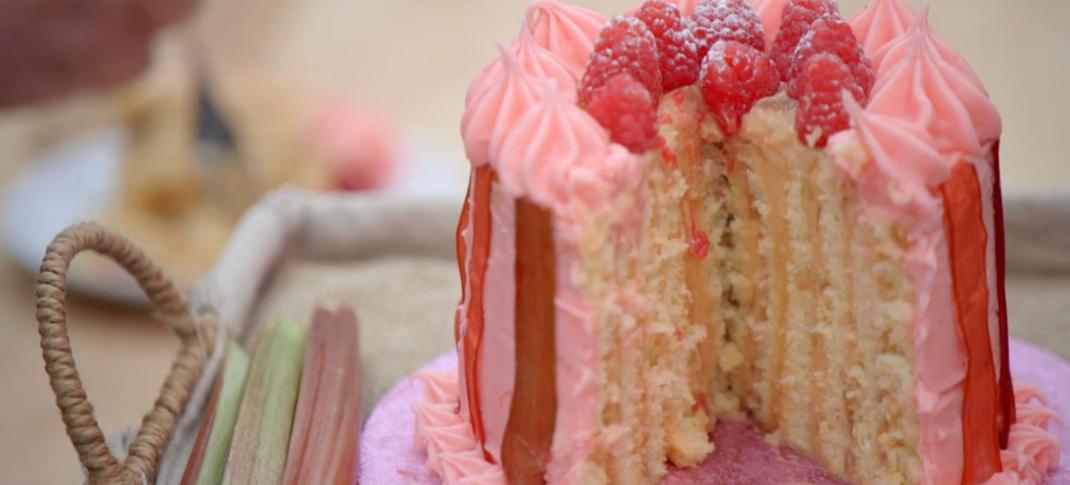 I don't know what you've been told, but The Great British Baking Show's bad opening sketches are getting old. But if you thought Matt Lucas' exit would take them down, you haven't been paying attention now. Sound off, please, yes. Listen, I don't know why The Breadfather is opening Cake Week when that obviously should have been saved for Bread Week. I suppose we'll let it slide since it's an excellent way to introduce new host Alison Hammond and her impressive resume to the American audience at home who hasn't heard of her. (Don't worry; most of them haven't heard of Grime artists either so they can sympathize with Paul Hollywood for once.)
Even though we have not called Prue Leith, she's here too for the first round of baking challenges and the traditional start to our time in the tent, Cake Week. So let's grab a biscuit, either the cookie version or the southern drop ones with cream and jam, put our feet up this fall, and enjoy our time back in the tent for another edition (Season 14, despite Netflix still trying to pretend that anyone refers to it as "Cycle 11") of The Great British Baking Show and the twelve amateur bakers striving to be crowned champion this year. I mean, they can't be any worse or any more forgettable than the last season was, can they?
Honestly, Alison looks as nervous and excited to be here in the tent as the bakers as Noel introduces her to all and sundry. We are also introduced to Daryl, the BSL sign interpreter employed for this season, as one of our contestants, Tasha is deaf. Note he and she do not sign in ASL (American Sign Language) but in BSL (British Sign Language). Once again, we are two countries separated by a common tongue.
If you're curious about Tasha's hearing aid jewelry, those safety chains are sold by places like DeafMetal and PurpleHeartDesigns. (They also make safety chains for Apple earbuds! The more you know.)
For the first Signature Challenge, the judges have asked for a Vertical Layer Cake made of sponge and icing, but otherwise, all up to them in terms of flavors and filling. But if you think this is round layers and rounds of icing, you are mistaken. It's vertical! Think straight lines on the inside. It looks like a whole bunch of cake walls glued together with icing and then carved into a cylinder and frosted, but it's actually made by making a giant Swiss roll and then standing it on end. Let's run down whose cakes stood tall and which collapsed into a pile of rubbish. As always, the Signature is judged on a Pass/Fail metric.
Rowan Chocolate & Raspberry Vertical Layer Cake (Pass) It's very tall, and the layers are nice and visible. Paul thinks it's a little strong, flavor-wise.
Josh Tropical Vertical Layer Cake (Fail) The colors are nice and the layers are neat, but that's because the sponges are overbaked.
Amos Blood Orange & Dark Chocolate Vertical Layer Cake (Fail) The layers are a mess and there's way too much chocolate.
Christy Lemon Meringue Vertical Layer Cake (Pass) It's super tall and yellow with pristine lines.
Nicky St. Clements Vertical Layer Cake (Fail) It's barrel-shaped ("Like me!" says Paul), and it takes bad, like fungus.
Abbi Foraged Wild Poppy Seed, Lemon & Blackcurrant Vertical Layer Cake (Pass) It's small but perfect in its smallness.
Dana Salted Caramel Latte Vertical Layer Cake (Pass) It's a mess outside, but good stripes inside
Saku Chaminda's Favorite Vertical Layer Cake (Pass) It's wobbly looking, but the stripes inside are okay, and she got the blueberries to pack a punch 
Matty Tiramisu Vertical Layer Cake (Pass) It's really boring outside, but the inner stripes are good, and the coffee is strong
Dan Rhubarb & Custard Vertical Layer Cake (Pass) It's super small and super cute and the stripes are perfect inside.
Keith Dad's Chocolate Orange Vertical Layer Cake (Pass) The cream stripes inside are so thick they can't help but be perfect. The smartest baker.
Tasha Black Sesame & Yuzu Vertical Layer Cake (Fail) It looks squashed, but the stripes are okay. Paul says (in BSL!) there's too much filling.
Saku is over the moon because she got a hug from Paul. "Where do you go from here?" asks Noel. "Home," she replies. LOL.
Paul sets the first Technical Challenge of the season, which he calls "The Iconic Bake Off Cake." Once he and Prue exit the tent, Alison explains Paul wants them to make "The Great British Baking Show Chocolate Cake... You know, the one from the intro that's missing the raspberry." It turns out that cake is two layers of moist chocolate sponge covered with chocolate ganache and, you guessed it, raspberries. It's actually quite a simple cake, two layers, raw fresh raspberries. The hardest part is the ganache. They have two hours. 
At least (for once), every single person knows what the damn thing looks like, even if they've never made it. Let's see who made the cake from the GBBO opening credits and who made the one from An Extra Slice.
12. Dana: The cake sides are angled upward rather than straight
11. Tasha: The melting ganache in the middle formed a waistband
10. Nicky: The ganache is matte and it's messy
9. Rowan: Ganache is too light and messy
8. Josh: A little matte and a little light
7. Matty: Right color, a bit matte and melty
6. Cristy: The layers have an intent between them because the ganache inside melted
5. Saku: She did the raspberries wrong!
4. Keith: Ganache is too thin but otherwise good
3. Abbi: Ganache is a hair too light
2. Amos: Very neat, perfect inside
1. Dan: Neat ganache, perfect flavor
So after day one, it's a mixed bag. Amos was one of the few who outright failed the Signature, but he came in second here, so that's good. Tasha's in less of a good spot right now, but it's doubtful they'd send her home on the first week, reality show rules and all. Nicky is in a more precarious spot, to be honest, as is Josh, as neither has done particularly well or made much of an impression.
The final challenge for the first weekend in the tent is to make a cake in the shape of an animal of your choosing. Pick an animal, any animal; you have four hours: Go. As Paul notes, due to the nature of this challenge, they are allowing "puffed rice" as an ingredient, which is a nice way of saying that The Great British Baking Show is doing a Cake Wars episode for perhaps the first time in the show's history. (I suppose that was inevitable. After all, they tried to be Nailed It! for a little while there.) But Paul insists that the cake will have to be majority sponge, and he plans to cut into things to prove it. Honestly, watching the bakers play with Rice Krispie treat mix at scale is worth it in either case.
Cristy's Raspberry Duck Cake: It's so cute! And it's tasty, to the point that Prue has to force herself to stop eating it.
Keith's Maisie Cake: She's a bit of a mess outside, but so is Keith's actual poodle Maisie. Inside, the orange and buttercream is much neater and very tasty.
Matty's Cocker Spaniel Cake: Paul says it looks like it's been run over with is a little rude. it's just a touch flat, and the color is well, wrong.
Rowan's Cosmopolitan Lobster Cake: It's an impressive-looking crustation creation, but the flavors are mush
Saku's Tikiri the Turtle Cake: I will not hear a word against my turtle cake son. Prue calls it astonishing to look at, but Paul says it's stodgy inside.
Dan's Bruno Cake: Paul heartlessly cuts the dog's head off but declares him delicious as a result.
Josh's Mum's Highland Cow Cake: It's so super cartoonishly cute. Prue says it's charming, but Paul says too much buttercream inside.
Dana's My Amazing Gracie Cake: Paul complains the cake is flat. Dana protests her dog is flat. It's also too much peanut butter flavor and not enough banana.
Abbi's Herbet the Herdwick Cake: Abbi had a little lamb/Paul cut off his bum to see/A ginger sponge and layers of/Sesame Buttercream
Amos' Orca Cake: It's a very small orca and a rather sad one. Paul cutting its head off almost feels like putting it out of its misery. The cake is also underdone and tough. It's the saddest cake.
Nicky's Beaver Cake: Prue: "So Nicky, tell us about your beaver." (No, Matt Lucas leaving did not solve that either.) The fondant is an inch thick, and it's overbaked as hell.
Tasha's Robin Cake: It is genuinely sensational. The piping work on the feathers is exquisite. Prue likes the flavor; Paul loves it. 
It's good that Tasha saved herself so the judges don't have to find a reason to save her. That, unfortunately, leaves Dana, Amos, and Nicky as our obvious bottom dwellers. But first, Star Baker, which went to Dan, obviously, having won the Technical and scored high in both Signature and Showstopper. As for the first out, it's Amos. He cries and walks away from the camera, unable to complete his interview, utterly brokenhearted.
---
By
for on September 29th, 2023
More to Love from Telly Visions