By
for on March 17th, 2023
'The Great British Baking Show' Announces Alison Hammond as Host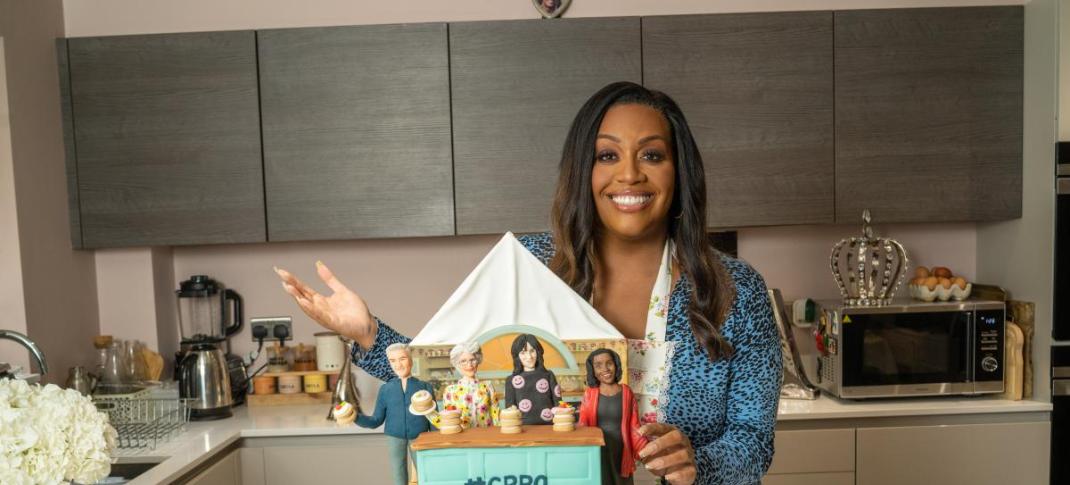 In what might be the best news the tent has seen since moving to Channel 4, Love Production announced the newest host joining The Great British Baking Show starting with Season 14 will be Alison Hammond. Hammond replaces Matt Lucas, who exited the tent after January's 2023 New Year's Festive Special. Lucas' departure came after three seasons marked by COVID filming and controversy, most recently for some less-than-tasteful ethnic jokes during GBBO's Mexican Week in Season 13 and a stint where he was a contestant during the Celebrity edition of the series.
Hammond is the third host to join the tent to pair with Noel Fielding since the show moved from the BBC to Channel 4. Unlike Fielding's previous partners, Lucas and Sandi Toksvig (who also lasted three seasons), Hammond is not a comedian by trade. The actress began her career in the 1980s-era sitcom Palace Hill, but her big break came in 2002 when she was a contestant during the early years of Big Brother. Since then, Hammond has been a TV personality staple as part of ITV's long-running program This Morning, where she is a reporter and presenter.
Hammond already has a history with GBBO, appearing as part of the Celebrity Stand Up Tio Cancer edition in 2020. She did not win then, but her quote from the ten, "Good baking comes from the heart, and I've got a lot of heart," has been played as one of those moments that sum up the show's ethos. (It helped the celebrity edition she was on was filmed just before COVID and aired mid-lockdown in May 2020.) 
Hammond is also the first Black cast member to stand in the front of the tent since the show's inception in 2010 at the BBC. Though the series' most famous winner, Nadiya Hussain (a second-generation British Bangladeshi), is also a person of color, the series has been criticized for how it handles non-white contestants, some of which came to a head last season along with the derided Mexican Week. 
Love Productions has since admitted Season 13 did not put the show's best foot forward. Richard McKerrow, the studio's Chief Executive, revealed on The Media Podcast: "You've got to take a look at it and go, 'Sh*t, [are] the challenges too complicated?' We're looking very, very, very hard at making sure that it's as good a series as it can be." He has since indicated Season 14 (which Netflix will insist on calling "Collection 11" despite everyone knowing better) would go back to basics.
Hammond will co-host with Noel Fielding, who returns for his seventh season on the show, and is the only host to appear every year since the series moved to Channel 4. Paul Hollywood and Prue Leith will continue as the series judges.
The Great British Baking Show Season 14 is expected to start filming in April and air starting in early September 2023 on Channel 4 on Tuesdays at 8 p.m. BT, followed by streaming on Fridays in the U.S. on Netflix.
---
By
for on March 17th, 2023
More to Love from Telly Visions