By
for on October 7th, 2022
Mexican Week, or 'The Great British Baking Show's' Great British Self-Own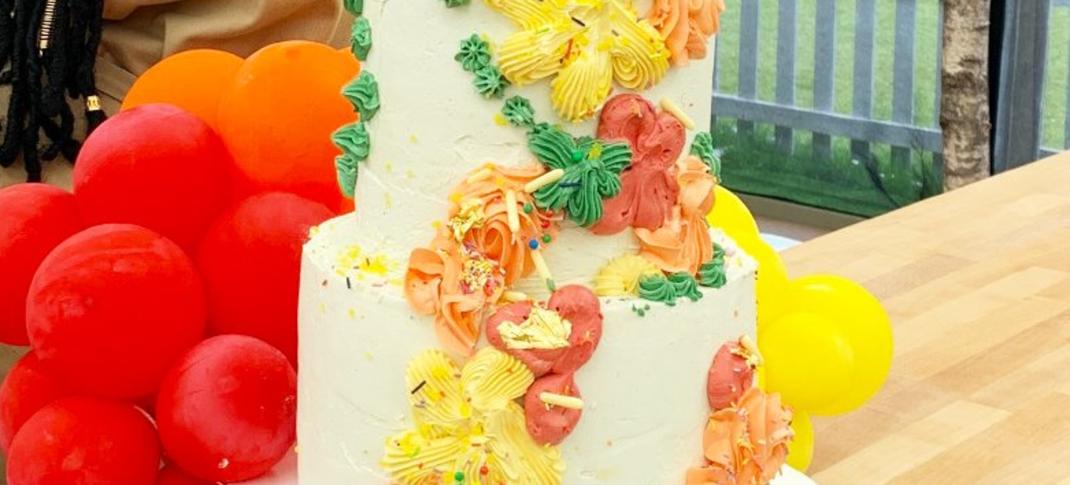 It took a decade, but The Great British Baking Show finally revealed its limitations. "Mexican Week" was always going to be cringe-worthy; it was just a matter of how bad it would get. The answer, from the moment Matt and Noel showed up wearing serapes in the show's painful introduction, was "worse." Anyone who has watched the Baking Show long enough knows the British understanding of Mexican food and flavors is, to put it politely, deeply flawed. An entire theme dedicated to it was asking for disaster.
In older seasons of GBBO, contestants occasionally did "Mexican" flavors. These usually were a weird cross of Spanish, Moroccan, and Indian spices liberally doused in chili oil and avocado, and Paul and Mary did not recognize the flavors as incorrect, proving their own limitations. More recently, Japanese Week was embarrassing. Paul styled himself as an expert after having vacationed there once, and none of the bakes were Japanese. These errors have not just been limited to foods from other continents either! Just last year, Jurgen sealed his fate during German Week after telling Paul, on camera, that the Showstopper was not just ludicrous but fundamentally misunderstood the dish.
However, Japanese and German dishes are foreign to most GBBO audiences, and those faux pas managed to fly over the average viewers' heads. And perhaps, had the series stayed a U.K. show, Mexican Week might have too. But the show is a massive hit in the U.S., and even people who have never been south of Kansas and only eaten at Chipolte and Taco Bell know the basics. That the show tried it was bad enough. That they showed their laziness and incuriosity by doing it without having done research into the culture featured was either arrogance or crass stupidity. Either way, this episode deserves the roasting it's getting.
The good news is that the Signature Challenge was a traditional Mexican bake, a step up from Japanese Week if we're grading on the steep curve set by previous seasons. The contestants were asked to make a dozen pan dulce, the generalized term for "sweet bread," a category that includes besos, conchas, orejas, polvorones, and yoyos, just to name some of the more popular ones. This challenge asks for the contestants to pick from the yeasted varieties.
Janusz Cactus Conchas (Fail): Not a promising start, as they're flavorless and dry.
Sandro Filled Concha Buns (Fail): They're under-proofed and painfully dense.
Rebs Lemon Conchas (Pass): They're flat and heavy, but Prue talks up the flavor until Paul relents.
James Coffee Caramel Oyster Conchas (Fail): Dry, dense, and flavorless
Carole Orange & Anise Seed Pan Dulce (Pass): Under-proofed, but the flavor's ok
Abdul Coconut & Raspberry Besos (Fail): Paul calls them "glue."
Syabira Corn on the Cob Conchas (Fail): Too heavy, and the filling is overly dense.
Maxy Bella Naranja Conchas (Pass): Prue's relief in getting to pass someone is almost embarrassing.
Dawn Dark Chocolate & Chilli Kick Conchas (Pass): Messy, but Paul passes her on flavor.
Kevin Sweet Breads are Made of These Borrachitos (Pass): In relief, Prue calls it the best they've had all day.
Phew, the last time we had a fail rate this bad was the brownie week during the first Bake Off Bubble season, where people didn't practice because they figured brownies were easy and they could focus on the Showstopper. That's not good; as fans will recall, last week, both Abdul and Rebs were out sick, and no one went home, which means the specter of a double elimination is hanging heavy over everyone.
For the Technical, the contestants are asked to make Tacos, with handmade soft corn tortillas. Not that Paul calls them tortillas. He keeps referring to the outer wraps as "tacos," which is incorrect. Actually, he calls them Tay-kos, which is also incorrect.
We now present the following mansplanation by Paul.
10. Carole: Tortillas too thick and tacos too full.
9. Rebs: Too full, and the tortillas are small and thick
8. James: Too small and overfilled
7. Janusz: Underdone tortillas and overfilled
6. Abdul: Right size, but the tortillas are cracked
5. Dawn: The tortillas are feathered
4. Kevin: Delicate tortillas but not enough chili
3. Sandro: The tortillas are overdone, but the filling's good.
2. Syabira: Neat and appropriately filled.
1. Maxy: Perfect as they get.
Welp, I would have something to say, but I am not over Paul referring to the tortillas as "crackers" during the judging portion, which is just...painful, so painful. (It's a *flatbread.* You're the Bread Guy!) If you're going to walk around swinging your (ahem) around, and insist on being treated like the "Big Dog" judge, you should get a clue, or at least not show how ignorant you are. 
The Showstopper Challenge is a tres leches cake, which officially means all three challenges are actual Mexican bakes. Unfortunately, this is also a bit of a trainwreck. It's supposed to be at least four layers of milk-soaked cakes, which is a little like saying the challenge is a four-layer bowl of soup. Flavors are up to the baker. But the designs are... inspired by Mexico. This is not good. Some of them have actually done their homework and learned about the aspects of Mexican culture they're going to be honoring....and then there are the people who did not. Much like Matt Lucas and Paul Hollywood.
How embarrassing will this wind up being? This is a possible horror challenge, perfect for spooky season.
Syabira Sweetcorn & Cinnamon Tres Leches Cake She said she'd make a sweetcorn cake, and she's done it. Of course, in her drive to prove she could, she didn't consider if she should. Paul hates it, but Prue isn't going to let that stop her from praising the imaginativeness of it.
James Chocolate & Lime' Many Leches Cake It's a complete mess. Each layer is a different level of dryness. The flavor's ok, but that's not saying much.
Kevin Meci-Cocoa Pyramid Tres Leches Cake It's a bit oversoaked and leaking, but it's impressive. Sadly there are flour lumps in it, ruining the layers.
Carole Pastel De Chocolate Mexicano Tres Leches Cake It's pretty to look at, but Prue's first bite has zero soak, and the chili flavor is overwhelming.
Janusz Fruity Horchata Tres Leches Cake It's a gorgeous homage to dragonfruit, but the cake is dense, and the milk doesn't soak enough. But the flavor is fantastic.
Abdul Day of the Dead Tres Leches Cake It's the leaning tower of Day of the Dead and dull besides. But the cake layers are the first to have soaked evenly, which is saying something.
Sandro It's a Fiesta Tres Leches Cake The cake is cute, if wonky. The mustache is deeply unfortunate. The cake looks like a black forest, but the top layers are overwhelming.
Rebs Mexican Tiramisu Tres Leches Cake It's a total mess, which she tries to call a rustic wedding cake. Paul notes it's also oversoaked and leaking. Prue calls it very boozy, too boozy, which is saying something, while the chilis make Paul cough.
Maxy Cocoa Flower Fiesta Tres Leches Cake The piping is gorgeous, the flowers are excellent, and the buttercream icing lightens the whole thing up.
Dawn Blooming Tres Leches Cake It's simple but effective. And the flavor is fantastic, and the interior cake is beautifully soft. Paul does not give her a handshake, but he does give her a little golf clap, causing the rest of the tent to break into applause.
It's hard to pick a Star Baker since no one stood out this week except maybe Maxy, which is why they gave it to her. As for the elimination, the judges don't hold onto the double elimination to pull out later. Rebs is out (which was obvious) along with James.
---
By
for on October 7th, 2022
More to Love from Telly Visions