By
for on September 19th, 2023
Season 14's Bakers Are Out of the Oven & Ready for 'Baking Show'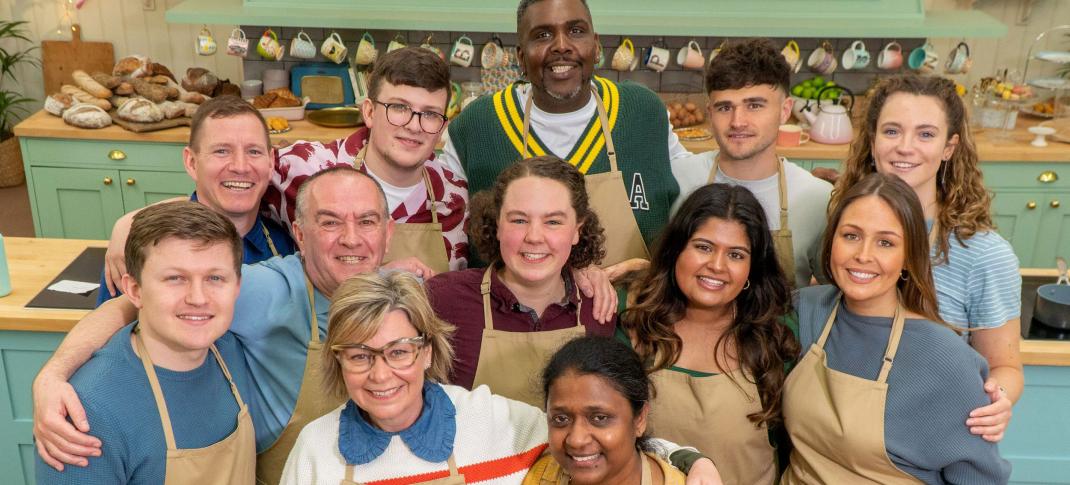 The Great British Baking Show Season 14 is set to debut at the end of September 2023, with Channel 4 premiering the series on Tuesday, September 26, and Netflix following three days later, on Friday, September 29. The production has already promised changes this season after unlucky number Season 13 unfortunately lived up to superstition. However, one thing will never change: The season is only so good as the bakers they cast and the edits they give them. That means picking bakers whose skills are tent-worthy, whose hearts are open, and keeping alpha male Paul Hollywood from dictating how we perceive them.
That last part is unfortunately not within the control of anyone but the folks behind the scenes, so let's hope that after last year's embarrassment of Mexican Week (and Paul's utter inability to apologize for his ignorance), someone has that well in hand. As for the contestants themselves, they've been taken out of the oven and put on the gingham altar for us to judge blindly ahead of the premiere episode.
The good news is that of our older set, the top age is 60, and he's not even retired, which is a good sign that there won't be anyone too tottering for the tent. (We do have a retired grandmother, but she's a spry 52.) As for the younger ones, this is the first time in a couple of years (since 2020's initial lockdown season) that there are no teenagers in the tent. The youngest of the crew is 21, and though he is a student, having everyone be old enough to drink in the U.S. is always a good indicator everyone has the maturity to be there.
Here's the rundown of this year's crew, in order by first name:
Abbi, a 27-year-old Veg Grower & Delivery Driver from Cumbria: "[She is] enthralled by the Victorian era and the traditional bakes of the time" and "forages for seasonal ingredients," "puts her homegrown veg to good use... with a strong nod towards nature, and a feeling of creating something magical – bakes with a touch of fairytale!
Amos, a 43-year-old Deli & Grocery Manager from North London: "His style is colorful and chic with keen attention to detail, and he loves exploring different flavor profiles. He compares his baking style to the converted church that he now lives in, calling both his style and home 'traditional with a modern twist.'"
Cristy, a 33-year-old Personal Assistant from East London: "She describes her baking style as enchanted and pretty – bakes that conjure up a sense of childhood. Cakes are her specialty, and she draws flavor inspiration from her own Israeli heritage and from her husband's Jamaican roots." Note: her bio says she has four children.
Dan, a 42-year-old Civil Engineering Resource Planner from Cheshire: "His passion for pies has evolved into a penchant for patisserie! Perfectionist Dan loves a baking challenge and will often find the hardest bake in one of his many (more than 300!) cookbooks and start there, throwing everything he's got at creating a masterpiece."
Dana, a 25-year-old Database Administrator from Essex: "A self-professed untidy baker, Dana would avoid stepping on her mum's toes in the kitchen by catching the bus to her dad's house... Her style is rustic and homely" and "will often incorporate a twist or two, adding in familiar spices associated with her Indian heritage."
Josh, a 27-year-old Research Associate with a Ph.D. in Chemistry from Leicestershire: "[He] brings his scientist's precision into the kitchen" and "takes his inspiration from old baking books, reinventing classics to give them a modern twist, often by introducing alternative flavors and including the seasonal fruit and vegetables from his kitchen garden."
Keith, a 60-year-old Chartered Accountant from Hampshire: Our oldest baker learned to bake "traditional dishes from her home in Malta" with his mum. "Recently, though, he has returned to the baking books of the early 1970s to attempt recipes that were once 'beyond' him."
Matty, a 28-year-old PE & Science Teacher from Cambridgeshire: "He describes his style as rustic but neat, and his flavor preferences as quite traditional – he particularly loves chocolate, citrus, and nuts. Once his days in the tent are over, his next challenge will be to make his own wedding cake, a special commission from his fiancée, Lara."
Nicky, a 52-year-old Retired Volunteer from the West Midlands: Nicky, describes her baking as 'like a pair of comfy old slippers; little traditional bakes that evoke fond memories.' Her favorite bakes are still pastries, but she also loves making bread and fun birthday cakes for her niece and grandchildren."
Rowan, a 21-year-old student from West Yorkshire: Our youngest baker's motto is 'Go big, or go home.' "He aims for clean lines and interesting decoration in his finished bakes. Just like his much-admired, knock-out cocktail-making skills, Rowan expresses his grand, opulent side in his bakes, wowing his uni friends with his creations." 
Saku, a 50-year-old Intelligence Analyst from Herefordshire: "Sri Lankan-born Saku places the traditional flavors of her heritage at the heart of her baking... [she] didn't have an oven until she was 18, so she turned to baking only when she moved with her husband to the UK, in 2003. Self-taught, she is now a dab hand with a whisk."
Tasha, a 27-year-old Public Relations Participation Officer from Bristol: The show's first deaf baker, "at secondary school, she made cakes for her friends and was soon encouraged by her Food Technology teacher to develop her skills as a hobby. Much like her attitude to life, Tasha's baking is fearless. She uses it as a way to express herself creatively."
Hopefully, the challenges for 2023 will treat these bakers right, judges Prue Leith and Paul will judge them fairly, and the new hosting team of Alison Hammond and Noel Fielding will protect them from bad edits.
The Great British Baking Show Season 14 will premiere with the usual "Cake Week" on Tuesday, September 26, at 8 p.m. BT on Channel 4 and then stream on Netflix in the U.S. starting Friday, September 29. 2023. The show will air episodes weekly through mid-November.
---
By
for on September 19th, 2023
More to Love from Telly Visions