By
for on October 14th, 2022
'The Great British Baking Show' Serves Just Desserts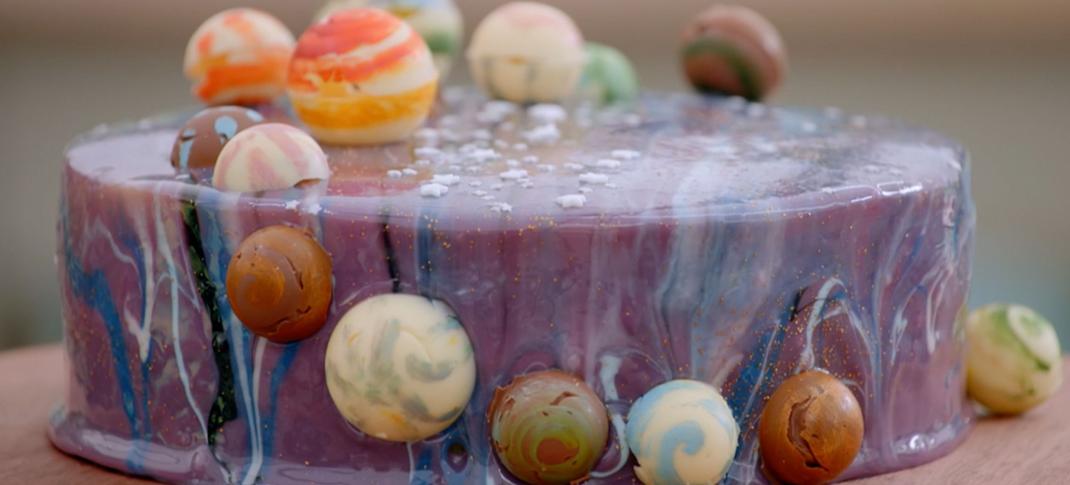 It's Dessert Week in the tent, as The Great British Baking Show tries to shake off Mexican Week in hopes viewers will quickly forget with visions of sugar plums dancing in their heads. Dessert Week is one of those catch-all themes that can be as easy or as hard as the show feels like making it, which is why, though it appears nearly every year, it's rarely in the same spot.
Dessert Week has fallen as early as Week 4, which was its original position back in the BBC days, and most recently found its way back there last year in Collection 9/Season 12. But it's also come late as the Quarterfinals in Week 8, as it did in Collection 8/Season 11. Since moving to Channel 4, it floats around the middle, either Week 5 like this year, or Week 6 in Collection 7/Season 10, etc. The series did skip it once, the first year the show shifted from the BBC to Channel 4, Collection 5/Series 8, but otherwise, it's a staple.
Coming earlier in the season means the challenges are somewhat more manageable. However, the theme is enough to intimidate the bakers, as there are a lot of jellies, puddings, and cheesecakes. (If the challenge comes late enough in the season, some offbeat choices like Croquembouche or Dacquoise.) Thankfully, putting this episode at Week 5 means that the difficulties will be a little more complex than plain creme brulees, but nothing so horrifying as those jelly cakes a couple of years back.
This week's Signature Challenge is steamed puddings, eight in all. It is a classic British dessert, usually associated with Christmas (the famed "Figgy Pudding" of song is a steamed pudding). Boiled in specialty bags or cheesecloth, these desserts are also considered old-fashioned in the modern U.K., meaning that the younger ones will probably have never made one before this challenge. As always, the Signature is judged on a Pass/Fail metric.
Syabira Watermelon Steamed Puddings (Pass): These are beautiful little cakes with a stunning presentation, but Paul complains the watermelon flavor is too strong.
Abdul Fig & Date Puddings (Pass): They're super pretty, and the flavors complement each other perfectly.
Maxy Sticky Toffee Puddings (Pass): The only steamed pudding still prevalent in the U.K., the cream melted, but it still has a perfect texture.
Dawn Traditional Steamed Puddings (Pass): The only one to do the traditional apple and orange flavors, Dawn's creations are messy but yummy.
Janusz Piña Colada Puddings (Pass): The coconut rum sauce is a hit, though Paul whines it tastes like suntan lotion.
Kevin Clootie Dumplings (Fail): They're misshapen, dense, and dried out
Carole My Little Beauties (Fail): Half of them aren't even done; Paul eats one that is and says the flavors are good  
Sandro Apple & Cherry Crumble Puddings (Pass): The judges love them, but no handshake.
Sandro sighs; he thought he'd get a handshake. Carole has already been given a warning and is not happy she's screwed up and looks ill at facing another Technical after this failure.
Prue sets this week's Technical Challenge, calling it her "favorite pud" and warning the bakers to read the recipe carefully. Jokes on them, it's two lines long, an oven temp, and "Make a Lemon Meringue Pie." Helpful! Sandro points out that up until then, the recipes were actually, you know, recipes. This..."What's the point." The point, as Prue says, is that they should know how to make a short crust, a lemon curd, and a meringue. So they should not need instructions.
Let's see whose meringue raises and whose crusts wind up short.
8. Syabria: She didn't blind bake it long enough, and it's raw inside
7. Dawn: She didn't make enough lemon curd, and everything else collapsed in the face of it.
6. Carole: The shell cracked all away around, and it falls apart
5. Kevin: The base is full of holes and falling apart
4. Sandro: Good color, no leakage, but the base is soggy.
3. Maxy: The meringue didn't rise high enough, but the rest is good.
2. Abdul: The base cracked; otherwise, it's luscious.
1. Janusz: This is a pastry shop-worthy pie.
Janusz knew he had this in the bag when he read the instructions. Make the pie? He made the pie. And he won. Dawn, meanwhile, is mad at herself, as she makes these regularly at home. However, the pressure meant she made simple mistakes. 
The Showstopper Challenge for this week is a "Hidden Surprise Mousse Dessert."  It's a mousse cake that should have an image inside when you slice it. These "surprise cakes" have slowly become fashionable over the last decade, and GBBO has gotten into them since moving to Channel 4. It's also a challenge that the bakers can make as complicated as they want. So for some, it's just a matter of hoping to have a recognizable item inside, while others are shooting for the moon with spherical and space-themed cakes.
Matt Lucas manages to be funny for once with an impersonation of Paul complaining the chocolate is too chocolatey and needs more chocolate. Let's see who else can surprise us by punching their way up.
Abdul A Little Galaxy Mousse Dessert The mirror glaze over the space colors is gorgeous, and the planets inside are perfect. But his jelly turned to rubber in his determination to make it look proper, which is a huge shame.
Maxy Sunset Surprise Her cake outside is pretty, and her sunset inside is gorgeous, but the jelly's too much rubber.
Kevin What The Dog Dug It's a cartoon cake, but it works, and the bone inside is recognizable so. But the cake is tough. 
Janusz Cake within a Cake Surprise His cake outside is a jaunty birthday surprise, and the cupcake inside is perfectly defined. The chocolate cake is correct, and his mousse is fantastic. 
Syabira Bee Positive It's a super cute honey cake with watermelon (again!), and this time Paul says there's not enough. The positive bees inside the cake are adorable, even if Paul needs them explained. 
Sandro It's a Mousse World It's a mousse world! With all the layers of different rock and a molten core! The lava is strawberry jam. It's genius.
Carole Strawberry Fields Carole knows going in it's not her best work, but the judges are so relieved to see a strawberry inside and identify it they almost overlook it. Almost: The cake is too dry, and the mousse is rubbery.
Dawn Woodland Dawn's woodland log covered in mushrooms looks like the jelly roll version of a strawberry shortcake ice cream bar. She is the only one not to have a recognizable shape inside her cake. Paul guesses it was supposed to be a toadstool, but it's actually a flower. The cake is at least tasty and not rubbery.
Janusz should be Star Baker for the third time, but the judges decide Sandro's globe cake is too good to ignore and award it to him instead. Carole is out, which is probably the correct decision; even though I'm sure there are good arguments, it should have been Dawn.
---
By
for on October 14th, 2022
More to Love from Telly Visions