By
for on October 16th, 2021
'The Great British Baking Show' Collection 9, Episode 4 Recap "Dessert Week"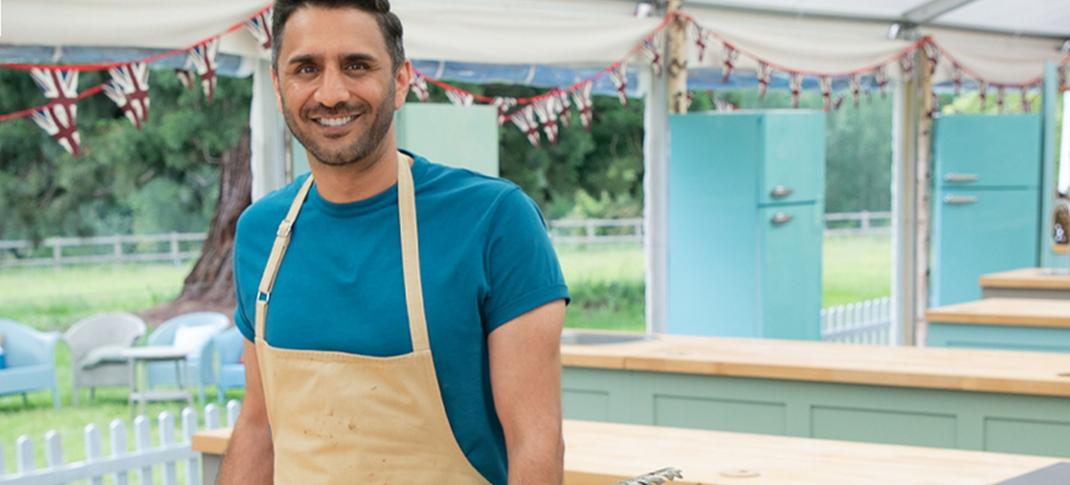 Now that The Great British Baking Show has finished its traditional openers, it's time to get into the wilder middle rounds. Once the series hits round four, just about anything goes. But if there's one week that's been closest to a traditional opener for the leveling up, it's Dessert Week. The series usually treats Dessert Week as the final round before the Quarter Finals, or the challenge comes early in the season as Week 4. 
This is the fifth time the show had put Dessert Week early, it's been the Week 4 challenge, and hilariously it's been there every three seasons, in Series 3, 6, and 9, and now 12. (That's GBBO: The Beginnings and Collections 3 and 6, for those playing along on Netflix.) It also came early in Series 4 (Collection 2), replacing Biscuit Week as part of the opening rounds.
But coming early doesn't mean coming easy, and Dessert Week can sometimes be one of the most challenging rounds of the entire season. This week won't be a walk in the park for the bakers, which is just how GBBO seems to like it.
Well done to Chigs - recipient of the second Hollywood Handshake this series! #GBBO pic.twitter.com/DTmSDroV68

— British Bake Off (@BritishBakeOff) October 12, 2021
Signature Challenge
This week's Signature challenge is pavlovas, which fans may remember was a Technical Challenge back in Series 9 on Vegan Week. As always, the Signature is judged on a Pass/Fail metric.
Crystelle Kiwi Lime Pie Pam-lova (Pass) Pretty as a picture and just as delicious
Jürgen Passover Pavlova (Pass) A Jewish Themed bake, I now root for Jürgen over all others.
Lizzie Easter Pavlova (Pass) It's a bit green around the gills and stogy, but the flavor is good.
Amanda Chocolate Pav-Love (Fail) It's ok looking but over-chocolated.
George Lemon Curd & Biscuit Cream Pavlova (Fail) It's ugly, and it's marshmallow.
Maggie Traditional Pavlova (Fail) It's collapsed, and it's a mess
Giuseppe Every Day at the Beach Pavlova (Pass) It's a little underbaked, but the flavor wins
Freya Peach Melba Vegan Pavlova (Pass) There's a reason this was a Vegan Week Technical, but hers is sloppy
Chigs Tropical Pavlova (Pass) It's gorgeous, and Paul is over the moon just at cutting into it. Hollywood Handshake recipient
That's two handshakes in two weeks! Chigs says, "I can go home now, I won." 
Technical Challenge
If there's one thing we can learn from the Dessert Week Technical Challenge, it's that you should never ever undervalue a good non-raw sticky toffee pudding next time you see one on your plate. #GBBO pic.twitter.com/EjTwDhJhdB

— British Bake Off (@BritishBakeOff) October 12, 2021
Prue sets this week's Technical Challenge: To make four identical Sticky Toffee Puddings with two tuiles apiece. Though now considered a classical English pudding, the Sticky Toffee dessert wasn't a thing until the 1970s. That may be why this is the first time it's been an assigned challenge in GBBO history. (Though fans should note, several bakers have made "Sticky Toffee" flavored desserts in other challenges, and in the original Series 1 Pudding Week, it was the default of choice.) 
9. Maggie: Paul refuses to eat the pudding as it looks like onion chutney
8. Amanda: Raw Toffee Puddings
7. George: Stodgy Treacle Pudding
6. Freya: Puddings not baked enough
5. Crystelle: Stodgy Toffee Pudding
4. Giuseppe: A bit underbaked
3. Chigs: The puddings are great, but the caramel is so thick it's like Ketchup.
2. Lizzie: Solid Pudding, Perfect Tuiles
1. Jürgen: Perfect Pudding, Solid Tuiles
After trying to be nice to Maggie in her Signature fail, her announcement she forgot to add flour to her pudding earns a pair of headshakes. They can't keep saving her. Amanda is also in a bad way, as her pudding was raw, her caramel was underdone, her tuiles were burnt, and her cream was scrambled eggs. At least Jürgen is back in top form?
Showstopper Challenge
This week's Showstopper is an entirely new one the show has never done before: Joconde Imprime Dessert. The phrase "joconde imprime" is a French baking term that means a decorative design imprinted on a sponge cake, specifically a joconde sponge cake made with ground almonds, then wrapped around the cake like a collar.
After dumb bust cakes and sculpting oneself out of biscuits, this is the kind of challenge I live for, something that requires real skill but isn't patently ridiculous. This is GBBO getting back to the sort of bakes you've never heard of, so you learn something new about a bake you may never have heard of while seeing if the bakers can pull it off.
Jürgen's 'Passtyme With Good Companye' Imprimé Dessert. #GBBO pic.twitter.com/46PFjDcLfW

— British Bake Off (@BritishBakeOff) October 12, 2021
Jürgen "Passtyme with Good Companye" It's gorgeous, with a clear white wine jelly top that shows off a strawberry design and a complex musical collar. Jürgen sings the song on the cake as Paul savors the falvor and it's peppery aftertaste
Amanda "Adam's Temptation Imprime Dessert" It was supposed to be biblical, but it wound up just bloody when the collar broke, and the jelly leaked. The texture's good, though.
Giuseppe "Red Fruit & Pistachio Imprime Dessert" The overall impression is elegant even if some details didn't come through. The layers are perfect inside.
Lizzie's Liverpool Skyline Imprimé Dessert. #GBBO pic.twitter.com/YSPTE6OVJu

— British Bake Off (@BritishBakeOff) October 12, 2021
Lizzie "Liverpool Skyline Imprime Dessert" It's not the most elegant Liverpool skyline, but Paul will take it and the "I'm Wheelie From Liverpool" bin.
Crystelle "Una Piña Colada, Por Favor" Her pipework is clever, an easy but effective trick, and her layers inside are perfect.
George "Peanut Butter & Chocolate Imprime Dessert" He did two layers, and the result is clumsy, and the peanut layer is too thick. 
Crystelle's 'Una Piña Colada, Por Favor' Imprimé Dessert. #GBBO pic.twitter.com/wRC78abrUV

— British Bake Off (@BritishBakeOff) October 12, 2021
Chigs "Black Forest Imprime Dessert" The tile pattern is outstanding; this is a two-layer cake that came off. Paul calls it "perfection."
Freya "Chocolate & Orange Imprime Dessert" Her orange pattern faded into the dark brown chocolate, and the inside's a bit messy
Maggie "Paris Skyline Imprime Dessert" And the final collapse. It's not a cake; it's a waterfall. The flavors are good, but Paul demands to know what she did for four and a half hours. Maggie says she did it twice. This was her second try. How sad.
This week, Star Baker could go a few different ways, but the Hollywood Handshake and Tile Collar win out for Chigs. As for Maggie, it's the end of the line, and it's about time.
---
By
for on October 16th, 2021
More to Love from Telly Visions