By
for on November 13th, 2020
'The Great British Baking Show' Season 8, Episode 8 Recap: Dessert Week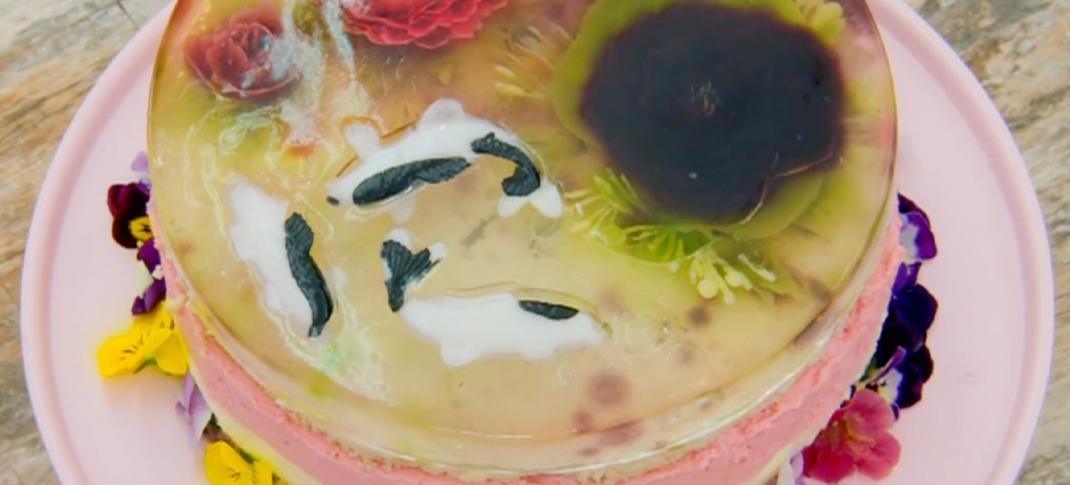 It's Top 5 Week on The Great British Baking Show Season 8 (or Series 11 if you prefer). It's the week the series has unofficially dubbed the quarter-finals since the show's second series (the one that's never aired over here.) Fittingly, it's Dessert Week, another show staple that's been a theme nearly every season since that second series as well. Only Season 5 (Series 8), the first one out of the gate after moving from the BBC to Channel 4, skipped doing a Dessert round.
Dessert used to be one of the easier themes for the contestants. Though its first appearance was as the "quarter-final" challenge in Series 2, after that, it moved down the scheduled, coming as early as Week 3 back before the Cake-Biscuit-Bread triumvirate became GBBO's undisputed set of opening challenges. It's the first time since moving to Channel 4 that it's arrived so late in the game and considering it affords Matt Lucas the excuse to do his best impersonation of a Bakewell tart, I'd say it's not a moment too soon.
One reason Dessert Week used to come so early is that it's mostly a mix of cakes and tarts, with the occasional creme caramel/creme brulee type flights of fancy. This is the world of the tiramisu, the Spanische Windtorte, roulades, and the ice cream bombe. (Yes, this was also the theme the week of the famous Bingate Baked Alaskas.) This season's Signature starts with cheesecake, the first time the show has done them since the year Nadiya won. A dozen mini cheesecakes, any flavor, with any type of scratch-made bases. With all our remaining contestants having been Star Baker this season (a first!), let's see who succeeds when it comes to my all-time favorite dessert. As always, the Signature is judged on a pass/fail metric.
Dave Celebration of Citrus Cheesecakes (Pass) They look like 12 perfect 4-pip dice. His jelly top turned out surprisingly well, and the texture is perfect.
Hermine Passion Fruit Cheesecakes (Pass) She did her cheesecake in jam pots, and they are store window worthy. Unfortunately, the jars mean her texture's off, especially the base.
Marc New York Style Vanilla & Mascarpone Cheesecakes (Fail) They look like tarts, not cheesecakes, and the apricot flavor is missing entirely, except for the apricot he garnished it with
Peter Lime & Ginger Cheesecakes (Fail) His cheesecakes collapsed; they look like small edible bowls of lime and ginger filling. Super tasty bowls, mind you, but not cheesecakes.
Laura Passion Fruit Cheesecakes (Pass) They look a right mess, but the cheese to base ratio is correct, even if a few of them are leaning. The flavor and texture are perfect.
Prue sets this week's Technical, and it's a bit of a doozy. She's asked them to make two Sussex Pond Puddings, which are precisely the sort of bake that used to inspire me to do "Know Your Baking Show History" posts. Also known as a "well pudding," this is a traditional English pudding that dates back to 1672. The crust is a suet pastry (yes, made with beef fat) filled with a giant wad of butter and sugar and boiled for several hours. The modern version is usually made with a whole lemon inside and steamed, which is why Noel mentions lemony flavor.
None of the bakers have seen a Sussex Pond Pudding, though a couple vaguely heard of it once. Hermine speaks for all of us when she asks who the hell eats this in 2020. Let's find out if any bakers can manage one.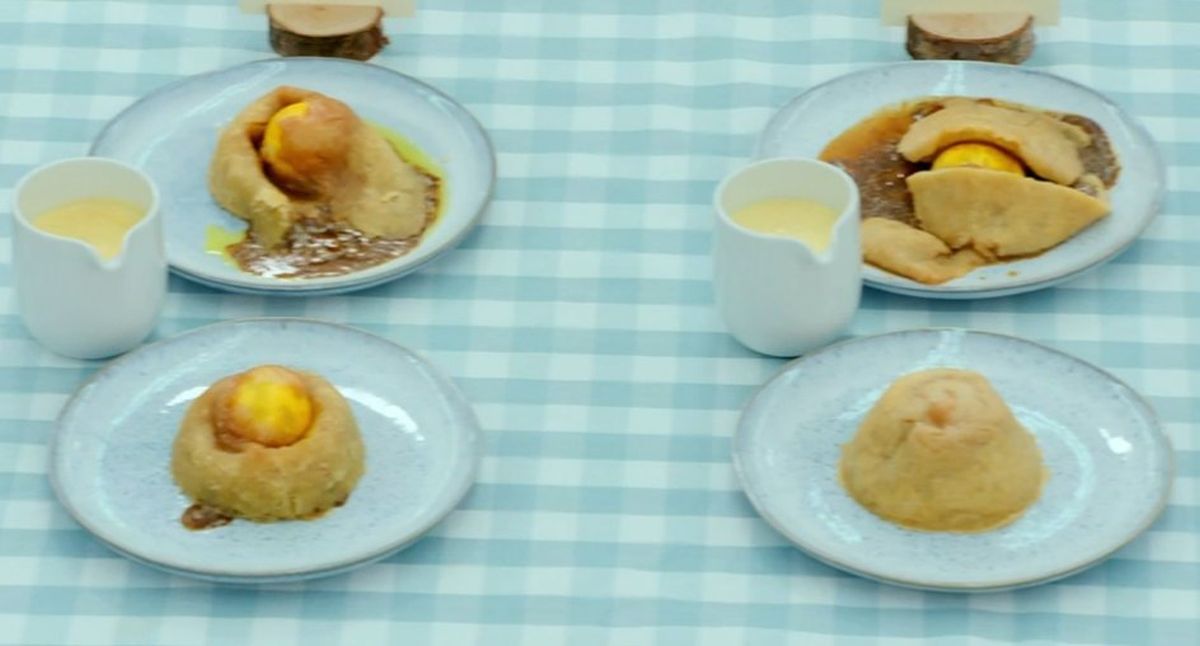 5. Dave: They're patsies, not puddings, and the dough is raw.
4. Peter: The dough melted, forming little bowls with sugared lemons nested in them
3. Hermine: They're under-steamed, but they were at least on the right track.
2. Marc: One of them collapsed completely, but both are under-steamed.
1. Laura: They're leaking, but the pastry did hit the flakey stage.
Laura takes the win by default since everyone collapsed on this one. (The two sweetest words in the English language: De! Fault!) Laura's okay with that. But that's two out of five fails in the Signature and a complete collapse in the Technical. Prue is a little shocked at how badly the Technical went, but she does admit she's 80 years old, so perhaps the puddings of her youth are no longer something bakers make much at home. 
This week will mostly come down to the Showstopper. That might have been good news in other years, but the insistence on aiming for a Nailed It! type disaster this season means the contestants are riding on a challenge designed to create a trainwreck: Jelly Art Design Cakes. In short, see-thru jello cakes with liquid gelatine injected inside to create designs, set on a mousse and sponge base. It's a fantastic technique when it works. I'm not a religious woman, but let us pray.
Laura and her 'Flower Power' Koi Jelly Art Cake Showstopper. #GBBO pic.twitter.com/o3DxgyY8bf

— British Bake Off (@BritishBakeOff) November 10, 2020
Laura's "Flower Power Koi" Jelly Art Cake The fish are stunners. The whole pond scene is better than one might expect from someone who's been such a mess all season. She didn't frost the sides of the cake, but that's quibbling. The taste is spot-on.
Dave and his Newquay Beach Scene Showstopper. #GBBO pic.twitter.com/UXh8So1gfO

— British Bake Off (@BritishBakeOff) November 10, 2020
Dave's "Newquay Beach Scene" It's a bit on the impressionistic side of a beach scene, but the colors are vibrant. The layering of the colors is also super impressive when you see the crosscut section in the slice. The clotted cream mousse is too stodgy, and the flavoring feels dry.
Peter and his Snow Globe Jelly Cake Showstopper. #GBBO pic.twitter.com/DR6f6AR9FT

— British Bake Off (@BritishBakeOff) November 10, 2020
Peter's "Snow Globe" Jelly Cake It's an "abstract design," which is a polite way of saying it's blobby. Prue insists she can pick out the images among the pastels, but if there are shapes, they're not going through on camera. Also, the form isn't very globe-like; it's not even a half-circle. It collapses on cutting because the mousse isn't set.
Marc and his Apple Jelly with Chocolate & Strawberry Mousse Showstopper. #GBBO pic.twitter.com/emA3EQM73I

— British Bake Off (@BritishBakeOff) November 10, 2020
Marc's "Apple Jelly with Chocolate and Strawberry Mousse" This was the type of trainwreck the show wanted. The mousse is melting while the cake is cement-like. Two jelly tiers is an impressive feat, but both suffer because neither got the time and care needed to make the designs inside.
Hermine and her Chocolate & Raspberry Mousse Jelly Cake Showstopper. #GBBO pic.twitter.com/0wvWMLbcoA

— British Bake Off (@BritishBakeOff) November 10, 2020
Hermine's "Chocolate and Raspberry Mousse" Jelly Cake Now THAT is a showstopper. The poppy inside isn't just stunning to look at; it's biologically accurate to the point that you can tell it's a Japanese poppy. Paul takes a bite and calls the flavors gorgeous. Prue calls it a triumph, while Paul says it belongs in the window of Fauchon in Paris.
Even though Laura had a great pair of days, Hermine's Showstopper blew everyone out of the water. As for those going home, if Peter were not a judge's pet, he'd be out after two days of utter disaster. But since the world is unfair, and Marc did trainwreck on the Showstopper, he'll miss the semi-finals.
---
By
for on November 13th, 2020
More to Love from Telly Visions