By
for on October 7th, 2019
'The Great British Baking Show' Season 7 Episode 6 Recap: Desserts Week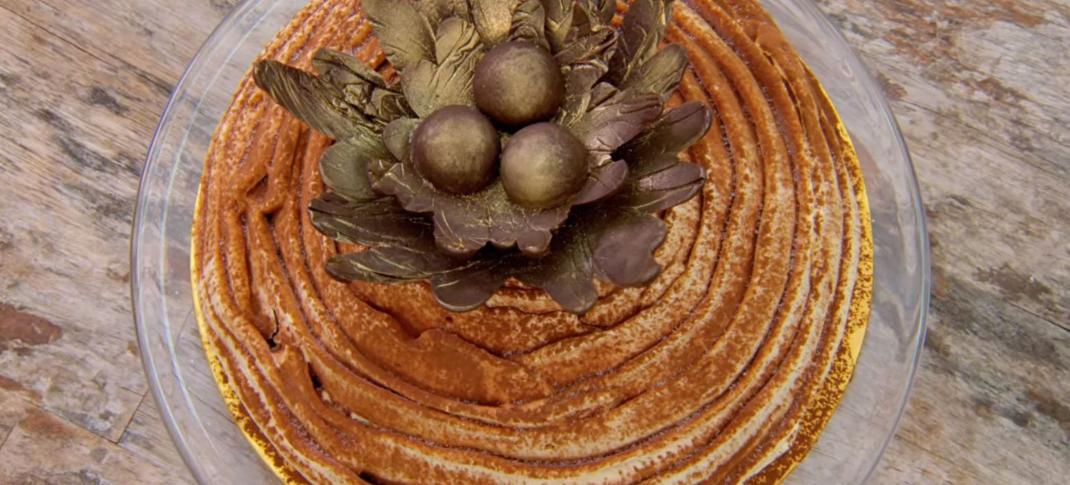 The tent is finally down to a manageable amount of bakers on The Great British Baking Show, as the Top Seven pile in for Dessert Week. This theme week has been a standard since the second series (which Americans haven't seen), only getting dropped once during Series 8 (Netflix's Season 5), the first year it aired on Channel 4.
Dessert Week has fluctuated though on where it falls on the schedule, sometimes coming as early as Week 4, while other times appearing as late as the quarter-final. That's because it's such a flexible proposition. Series 6 (Season 3), for instance, featured dishes as easy as creme brulees and cheesecakes. While the very next season had bakers struggling over family-sized roulades and dacquoise.
This season looks to be on the harder end of the scale, coming as late as it is in the season (though viewers still have a week or two before we get to the quarter and semi-finals.) For this Signature Bake, it's the yearly meringue challenge, one of the show's favorite torture devices desserts. It's a Layered Meringue Cake, which must be a minimum of three layers and, even more terrifying, "large enough to share with friends."
Let's see who if anyone wants to take the bakers up on sharing. As always, this is a Pass/Fail metric.
David Spiced Meringue Surprise Fail. Prue calls it a painting, but it doesn't taste as good as it looks. What have you done? cries Paul.
Priya Family Favourite Fail. Prue hates the color; Paul says the meringue is overbaked.
Rosie Layers of Lime and Raspberry Fail. It doesn't look great, but it's delicious.
Alice Black Forest Meringue Fail. Prue calls it charming, but it's too much chocolate
Michael Dark Chocolate Meringue Cake Pass, but barely. Despite muttering that there's too much chocolate, Prue gives him a pass.
Steph Eton Mess Pass. The judges love the look, but Paul says it's a little nutty.
Henry Towering Meringue Cake Pass. It's messy but tastes delightful, so much so Paul suggests the jam must be storebought. Henry is slightly miffed.
That's a lot of failure in one Signature. As for the Technical challenge, Prue sets it, and it's a doozy: Six identically layered verrines. Six what?
It's the French word for a specific kind of drinking/serving glass. So it's any vertically-layered dessert served within this type of particular glass. It's a pretty modern invention, credited to a Paris chef for making them a big deal in the 1990s. In the case of this layered dessert, Prue wants mango compote, creamy coconut panna cotta, fresh raspberry jelly, topped with coconut and lime streusel, and a short sable biscuit. (Did I use the closed captions to list all that? Reader, I totally did.)
Can this go worse than the meringues? The sheer terror with which the contestants oh-so-slowly carry their verrines to the table without dropping says yes.
7. Priya: Too much streusel, jelly's not set.
6. Michael: Layers aren't set properly.
5. Rosie: Raspberry and mango layers not set
4. Henry: Biscuit is thick, layers aren't straight
3. Steph: Good layers, but slightly flat.
2. David: Looks lovely, biscuits are perfect.
1. Alice: The lines are practically perfect in every way
Steph and Henry are at the top of the pack with the only full passes on the Signature, and in the top half of the Technical scores. But it can all be undone with the Showstopper. This is a bit of an English oddity, a Celebratory Bombe. Bombes are molded ice cream desserts from the Victorian era usually formed in a half-circle or a full circle.
These should have one baked element plus two more "dessert" elements, Sandi suggests ice cream or bavarois. The outer decor is as critical as the inside. It's not a good sign that multiple contestants admit they've been practicing at home to a host of failures. How badly will these desserts bomb during the unmolding process? Let's look over our seven celebratory rounds.
Steph's Mirror Bombe It's got a gorgeous mirror glaze shine on it. Choclate mousse melts in the mouth. Paul says it's one of the best things he's had to eat in a long time.
Rosie's Ruby Bombe The blowtorch made the otherwise glowy red icing look scorched. But the inside is colorful, even if the mousse is clumsy.
David's Delightful Bombe David might have worried his rose was cabbage-ish, but the layers are great, and the flavor's fantastic.
Michael's Black Forest Bombe Paul calls it something straight from a 1970s sweet trolley, and the cheesecake inside is runny. But the taste is bang on.
Alice's Tiramisu Bombe It looks like something I want to eat. The layers hold together well, and the taste is delicate.
Priya's Summer Fruit Bombe I'm sorry, but this is hilariously hideous. It's childlike. The layers are good, even if Prue says the mousse is too sweet.
Henry's Bonfire Bombe It looks unfinished. Paul calls it a scorched egg. The cakes a bit tough, and the apple flavor isn't strong enough.
With Henry out of the top running, that leaves the road clear for Steph to take a third Star Baker in a row, a rare feat. As for who is going home, Priya's luck finally ran out with no one to fail bigger than she does every week. Bye Priya!
---
By
for on October 7th, 2019
More to Love from Telly Visions