By
for on October 15th, 2013
First Look: David Tennant in Upcoming BBC Drama 'The Escape Artist'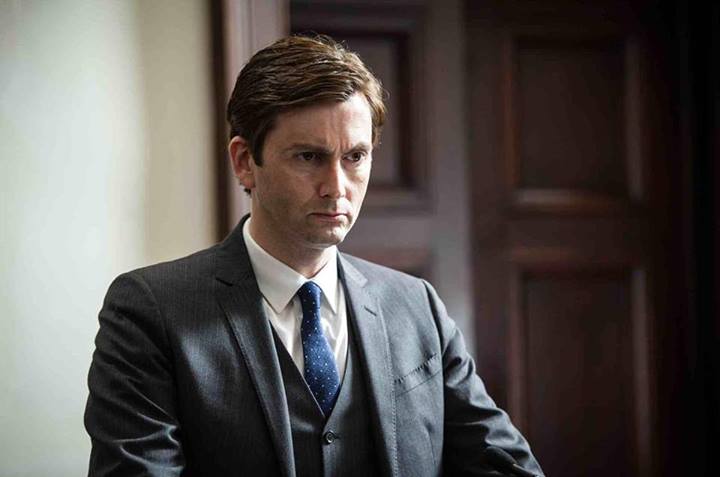 Former Doctor Who star David Tennant is seemingly everywhere at the moment – still riding high off the critical and popular success of mystery series Broadchurch, the actor is set to reprise his Time Lord role for the Who 50th anniversary special, and is gearing up to star in the American Broadchurch remake we're all not quite sure how to feel about.  Now he's got yet another drama headed our way, starring in the new BBC miniseries The Escape Artist.
Created and written by David Wolstencroft, the three-part drama stars former Tenth Doctor Tennant alongside Tony Kebbell, Sophie Okonedo, and Ashley Jensen. It follows the story of talented barrister (that's British for lawyer) Will Burton, who is known for never losing a case and for his ability to get criminals out of tight legal corners. (That's why he's called "the Escape Artist".) But when Burton agrees to defend a notorious murder suspect and manages to get him off on a technicality, the decision comes back to haunt him.
You can see a few snippets of footage in the BBC's Fall "Original Briitish Drama" trailer, but this is our first proper look at the mini-series.  Watch the trailer for The Escape Artist below. 
 "The law often seems like an intellectual exercise," said Wolstencroft. "But scratch under the surface, and it's all blood and guts. I wanted to write a thriller set in the legal world that's as much about those primal feelings as it is about the twists and turns of the case. David Tennant is one of the most accomplished and iconic actors of his generation. Seeing him in Will's shoes is incredibly exciting."
Want to know more about Tennant's character and his feelings on the role? Read his new interview with the BBC Media Centre.
The Escape Artist is slated to screen on BBC One this Fall. No word yet on when we might see this drama cross the pond for US fans, but given Tennant's increasing popularity here in the States (as well as our country's ongoing and ever present fascination with legal dramas), it certainly seems likely to find a distributor here. Fingers crossed, anyway.
So, what do you think of The Escape Artist?
---
By
for on October 15th, 2013