By
for on November 19th, 2018
'The Durrells in Corfu': Season 3 Finale Recap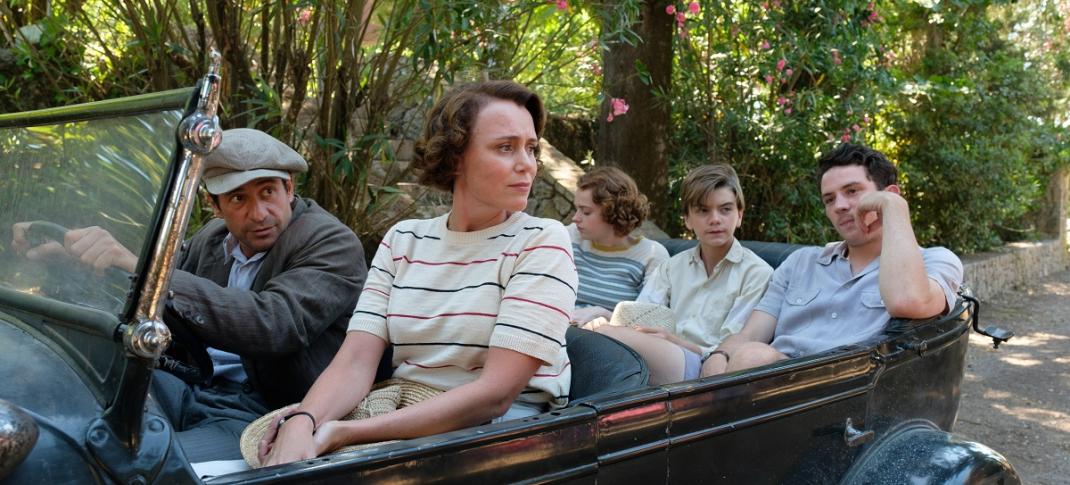 Last week, the Durrells had their hands full. Two friends needed rescuing - one from jail and one from dispair. Plus disappointing news arrived from England concerning an expected financial windfall was not to be after all. The full recap of last week's installment of The Durrells in Corfu can be found here. 
This week's season finale, on the other hand, turned out to be something like a chain reaction of toppling love dominos. Louisa and her three eldest children find themselves in the thick of relationship highs and lows while Gerry is concerned for the emotional welfare of their most recent animal lodger, Frank the sloth. But first, let's examine the how the Durrells came to join the circus.
The initial point of intersection between the Durrells and the circus folk was Larry and his insatiable libido for the exotic. After meeting a beautiful young contortionist named Elena (Charlotte Atkinson) at the café in Corfu town, Larry promises to enlist his family to help her traveling circus succeed. Half the acts have gone missing and nobody's buying tickets. After Larry clarifies that his new girlfriend is not a prostitute, Louisa is totally onboard. Mrs. Durrell loves all the mad acts and unpredictable animals and admits that while she's actually just described her everyday life, she thinks it will be magical all the same. And she'll get Spiro to take them there.
Once at the circus' campground, we learn why ticket sales may be sluggish. Spiro explains that people on Corfu are suspicious of these nomadic performer types as they are reputed to be Satan worshipers. He concedes that maybe they aren't, but they are strange all the same.  Louisa introduces herself to the Dragan the ringmaster (Goran Navojec) who is rather cryptic about the specifics of his operation. Nevertheless, Mrs. Durrell encourages Margo to offer to do an act. Margo has no knack for juggling and isn't keen on being a clown as that's a role she already plays at home. However, she is transfixed by a woman being fed grapes and asks Dragan what she does in the show. Apparently, she makes the audience gasp. (Cryptic, right?)
Margo decides to try her hand at being a magician and borrows some equipment from the ringmaster complete with instructions in a foreign language. Gerry suggests she call herself the Amazing Margoini or Durrelli, the Mistress of Delusion. Alas her first attempt at levitation finds Gerry clattering to the floor.
Speaking of Gerry, he is the natural choice to train up a few lions, tigers and bears, don't you think? After checking that the circus' animals are well-treated, young Mr. Durrell agrees to put together an entertaining and humane little show.
Louisa and Spiro do their part by driving around the island with a banner flying behind the car advertising "Dragan's Stupendous Circus." In the square they are joined by Elena, who gives the townsfolk a preview of her twisty tricks while Louisa teases "don't try this at home." On the day of the show, a decent size audience begins to arrive so the promotion helped at least a little.  Besides a giddy Louisa and Spiro, the crowd includes Dr. and Mrs. Petrides with self-proclaimed "gooseberry" Theo in tow, as well as Daphne and her father and Lugaretzia and a number of her large brood.
Once the Durrells take the center ring everyone is a hit. Gerry trots out his pelicans, donkey and Roger the dog to enthusiatic  of applause. Margo astonishes the crowd with her bullet catch trick - marksmanship provided by Leslie,of course. After the shot, Margo falls straight back to the ground eliciting a gasp from the crowd and bringing Dr. Petrides to her side in a panic.  Margo winks at him and spits out the cup with the bullet inside taking her bows to relieved applause.
And finally, Larry steps in for the temperamental Talking Head of Transylvania, appearing as a devilish cranium resting on a table with a not-at-all-suspicious fabric covered backdrop behind him. He predicts that in the future many people will come to the island and be happy and that everyone will have telephones. The ringmaster calls on Louisa for a final question but Larry claims to already know what's in the head of the pretty middle-aged lady, a question about finding love to which he posits she already has.
Aside from the all circus shenanigans, most of the Durrell family members had business of the heart to contend with as well.
Margo
Margo's big squidgy Turkish delight, Zoltan, has been acting strangely of late; all fidgety and running off without a word of explanation. The downturn in the life cycle of her relationship is affecting her performance at work and when Theo tries to point out that Margo has no proof that Zoltan plans to leave her, she questions her boss' expertise on the subject. Poor Theo initially takes offense only to admit his knowledge of women is far from vast. Margo decides to take a leave of absence from the x-ray clinic to concentrate on her circus act and work out her man problems.
When Zoltan finally comes clean, he informs Margo that he has to return to Turkey. Margo argues that the family business isn't as exciting as their couplehood , but Zoltan reasons that there is love and there is family and sometimes you cannot have both. He put on the moody act because he thought if she hated him, she wouldn't be as sad when he left. She asks Zoltan to come see her circus act just in case she gets shot in the head. And though he missed her performance in a last ditch (and sadly failed effort) to convince his father to let him stay in Corfu, Zoltan doesn't leave her empty handed. He has built Margo a touching going away present, a model of the Durrell house with Zoltan standing at the door and the ghost of Aunt Hermione lingering nearby. That way he can always be part of her life. Margo's farewell gift to Zoltan, as suggested by Larry, is one of her bras. This intimate token makes him as happy as one might expect. As Leslie said to Margo earlier, Zoltan was a real dope at times, but Margo licked him into shape and it will be sad to see him go.
Leslie
Poor dear Leslie! He'd just come around to the idea of not only of becoming a father, but really falling for Daphne in a big way. So much so that he proposes to her properly down on one knee and with a ring. Granted he made it out of wood, but it's a ring all the same. Daphne agrees to marry him, but oddly doesn't look happy about it what she claims to have wanted all these months.
Leslie seeks out his sister at the Petrides' clinic, but as Margo's gone off for her circus training, Florence offers to step in. When he describes the proposal and Daphne's less than happy reaction, Florence reassures him that at seven months pregnant, Daphne's brains are basted in hormones. In shock, Leslie says he slept with Daphne five months ago and bolts out very upset.
When Leslie confronts Daphne with the assertion that her baby is not his, she admits it's not. Leslie complains that for months she made him feel bad for not wanting "his" baby then not wanting to marry her. He gave up Dionisia, a girlfriend he adored, because he'd supposedly made Daphne pregnant. "How many boyfriends did you have?" he asks accusatorily.
Basically, the father of Daphne's baby abandoned them. She loves Leslie more than the baby's father. This does mean something to Leslie and he agrees the baby needs a father and he will be a good one. Daphne still wants to marry Leslie, but he's not sure anymore. When he tells his mother about this turn of events, Louisa is sympathetic to Daphne and her situation, but asks Leslie if he can trust her after all this.
Daphne finds Leslie the day after the circus performance to inform him that the baby's father came to her house last night. He's going to marry her and help raise the baby, so now Leslie is free. Despite this news, it makes Leslie sad since he had been fully prepared to settle down with Daphne and have a baby. Even the come hither looks of a flaming baton twirler aren't sufficient to lure Leslie back to his tomcat ways. For the time being he needs his mum to rescue him from a very persistent bearded lady.
Gerry
Frank the sloth is still hanging around in the Durrells' kitchen and Gerry's convinced that living with them is making him sad. Larry's theory is he's just a sloth being slothful. While working with Carlos, the animal minder at the circus, Gerry decides Frank needs to go home. Carlos is going back to Colombia and has agreed to take Frank with him and will ease him back into the wild. Margo thinks perhaps Frank will have a better chance for love there – seeing as there are no other sloths in Corfu this is likely to be true.
Larry
The eldest Durrell sibling is undoubtedly the happiest in the household this week. While he decides to publish his next novel in Paris to avoid the censorship of his sex-heavy prose, he's been contributing to the household coffers by writing some travel pieces for English newspapers. Heavily embellished to the point of fictional, Larry has been praising the treasures of Corfu for cold hard cash.
On the romance front, Larry has found a fun and flexible gal pal in Elena, but a long and lasting relationship with a traveling circus troupe member was never likely. While she was around Larry was full of joie de vivre, singing to a lonely sloth and saving the circus in more ways than one.  But as Louisa said to Margo upon witnessing Larry and Elena's goodbye, "We try to be fascinating and lovely, but all men want is a girlfriend who is really bendy."
 Louisa
Finally, we come to the most simultaneously joyous and heartbreaking love story of the season, the one so many had shipped since the show began, but was apparently doomed to fail.
Since coming out of self-exile, Spiro has been spending an exorbitant amount of time at the Durrell homestead. The kids have taken notice of the longing looks passing between their mother and the ever-present taxi drive,r and Lugaretzia has been keeping a watchful eye on the pair in her concern to protect the reputation of her employer. He tells Louisa he has yet to hear from his estranged wife who says she needs time to think. Louisa says she just wants him to be happy, and it's not for her to comment on his family. But we all know how she hopes this will pan out.
As the pair work together, the "thicket of hormones," as Larry calls it, bursts into full bloom at the circus performance. The flirting is fast, furious and very public. From their cozy body language and suggestive questions about contortionists to aborted lip-locks, the pair finally admit their feelings in the sweetest way.
Spiro: "While I'm still married I can't say I love you, but please imagine me saying it." 

Louisa: "I have, many times."
Back at home, Louisa tries to cheer her children about their love troubles all the while believing her lonely days will soon be officially over. Alas, the next morning Spiro has to inform Mrs. Durrell that his wife has returned from Athens with their children. He says he can still help her with handyman chores. but they are both obviously heartbroken. She asks Spiro to call her Louisa one more time and he does, taking her hands in his and kissing them. It's been a bad day for love for the Durrells, indeed.
Just then Larry appears and Spiro says he needs to check on the guests he brought to the house. Larry comforts his mother as she sobs and tells her they can stay there until all the tears are out. She says there will be more in the weeks and months and years to come. At this, he offers a distraction of sorts.
His travel journalism has born unexpectedly heavy fruit. A dozen or so people have come from England on the last ferry, in hopes of experiencing the Corfu that Larry depicted/fabricated in his articles. Margo and Leslie seem excited about opening up the house to these tourists and charging them for accommodations. A new revenue stream for the Durrells and plenty of wacky plotlines for next season to be sure.
So that's it for another season of The Durrells in Corfu. How did you feel about the resolution of the Louisa/Spiro love story? It appears the slate has been wiped clean of significant others for the Durrell children as well. Even the sloth got sent away! Are the Durrells destined to live in quirky isolation for eternity (or at least through the final season of the series)? Let's talk about the circus, lost loves and your hopes for season 4 in the comments!
---
By
for on November 19th, 2018
More to Love from Telly Visions