By
for on November 11th, 2018
'The Durrells in Corfu': Season 3, Episode 7 Recap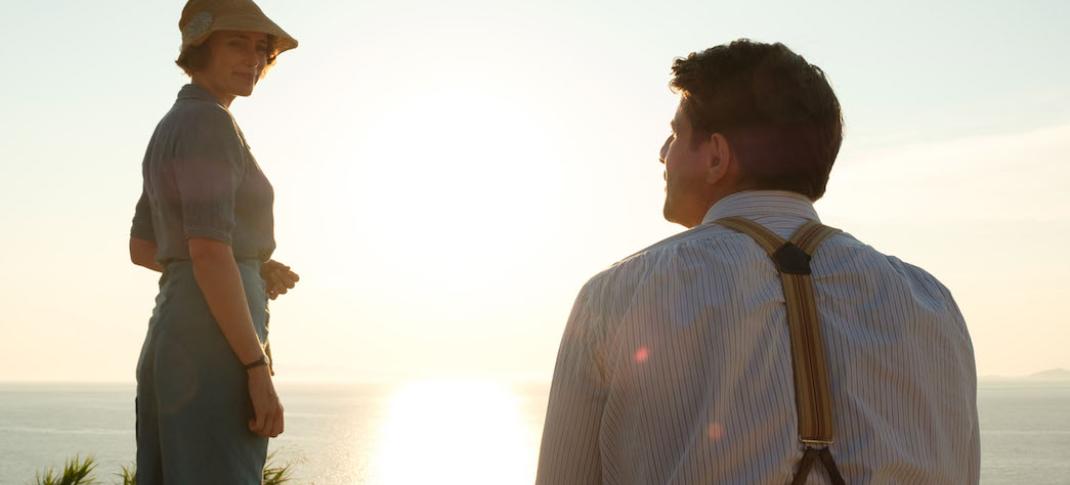 Last time we visited with the Durrells, the family celebrated Gerry's graduation to teenagehood. Well, everyone except Louisa who was loathe to let go of her baby. Mix in a plague of mosquitos, a dispirited Spiro and the sweet blossoming of Daphne and Leslie's affections and you have a Durrell party for the record books. For all the quirky, angsty details, check out the full recap of last week's episode of The Durrells in Corfu here. 
In this episode, we find Louisa Durrell a woman focused on at least two missions – the release of her former fiancé from police custody and the task of bringing her best friend, and very obvious object of her affection, out of the downward spiral he finds himself in. Add to this a philosophical feud between to her two oldest sons, hosting famous American writer and nudist Henry Miller (Trevor White) as a houseguest, waiting to discover the fate of a long-awaited inheritance and trying to break her youngest child of a rather inconvenient vegetarian habit and you realize it's just a typical week for this family.
Sven and his Crusaders
Mr. Miller's first night with the Durrells is rife with discussions of his banned novel, The Tropic of Cancer, and the associated political/moral dilemmas. Miller declares America a carnival of prudes while Leslie says there does need to be a standard of decency. Larry complains that Greece's government is getting more fascistic by the day putting their freedoms under attack. The rest of the family suggest Larry is only talking this way to impress Henry seeing as his usual topics of discussion are food and girls. Louisa adds that though her eldest may feel radical, they live in a nice conservative country and she'll hold him responsible for any embarrassments that take place.
Meanwhile, Leslie is still loving his career in law enforcement. A colleague asks if Leslie's family is friends with local goatherder, Sven, because word is that the government wants to arrest him and his "friend" Viggo for being homosexual. At home Leslie shares the worrying rumor about Sven and Viggo with his family.
Larry lashes out at Les for toeing the police line and takes it upon himself to warn Sven that he and Viggo are under police scrutiny. Sven isn't surprised and says he'll send Viggo away. He plans to stay put regardless of what the fascist regime does.
Soon after, Leslie's boss tells him to arrest Sven for gross indecency. Leslie argues that it's ridiculous and that Sven is a good man. The Superintendent says we may not like it, but they have orders to take a stand. If Leslie wants to keep his job, he needs to arrest Sven now. When Leslie goes to Sven's to perform the dreaded deed, the farmer is disappointed that Leslie is involved. Likewise young Officer Durrell is clearly unhappy about the arrest and offers to make things easy as possible for his family's dear friend.
Larry, on the other hand, is determined to halt this human rights travesty and so asks Margo to help him get access to legal books found in the vast library of her former employer, the Countess Mavrodaki (Leslie Caron). In the meantime, Larry and Henry Miller storm down to the police station demanding to meet with their wrongly imprisoned comrade. Leslie happens by just about then and respectfully and simply requests access to Sven on behalf of his brother. Once inside the jail, they find Louisa has already made her way in. Sven doesn't want to cause a fuss, but Larry insists on taking a stand against bigotry and prejudice. Henry tries to calm him with a scone, but Sven reminds them Louisa brought the picnic for him.
Back at home, Larry and Leslie argue over the arrest of Sven. Leslie, who believes in what he does for a living, has no doubt justice will be done and Sven will be released. While Larry doubts this and is distrustful of authoritarian institutions, Leslie tells him homosexuality is illegal and suggests his brother work to get the law changed if he doesn't agree with it.
When Margo finally goes to ask the Countess if Larry can borrow some of her books to help their incarcerated friend, the troubled old lady refuses explaining she has been the victim of recent thefts. She shows Margo the large, and allegedly loaded, gun she keeps at the ready. This does nothing to deter Larry so he moves ahead with a plan to breach the Countess' library under cover of night. (We did not see if Margo mentioned the weapon to Larry of course, so he may not have been aware of the danger.) As he scans a book on French law, the stealthy young Durrell hears the Countess enter the room and escapes through a window before she can shoot him. As expected, the Countess reports the break-in and Leslie jumps at the chance to take the call.  The elderly aristocrat tells him she didn't see the intruder's face which Leslie takes as a sign that his brother is in the clear. Unfortunately, when he suggests she put stronger locks on the windows or get rid of her books and use the library for a ping pong table, she says she knows that Larry did it and urges him to write that down (which he only pretends to do).
The legal standoff comes to a head when Larry, Henry, Theo and (the only real lawyer) Louisa's cousin Basil (Miles Jupp) show up in Corfu town with a slow-motion walk and determined looks on their faces. They demand the police let Sven go as he's being held without just cause. Larry attempts to chain himself to the cell in protest, but forgets some essential equipment, the lock. Instead he resorts to shaming the police saying "when the world has grown up a bit they'll look back at what they did to Sven and anyone who's different and it's them who will be embarrassed."  
In the end, it isn't demands, debate or protest that wins Sven his freedom. It's Louisa reassuring the Superintendent of Sven's heterosexuality by comparing him to a swashbuckling octopus and daring the Superintendent to override the orders of his superiors. She agrees to a drink with the officer and her assurances that she prefers Greek men.
Though Sven's story ends more or less happily, poor Leslie didn't fare as well. When the subject of his brother Larry being at the station comes up again, the Superintendent questions whether the Countess identified the thief who absconded with her books. His boss reminds Leslie how serious it is for a policeman to try to cover up a crime and gives him another chance to answer honestly. Leslie still denies Larry's involvement and offers his resignation.
Leslie is heartbroken at giving up the job for which he was so well suited. He despairs about the fact that he keeps making terrible mistakes in his life. His mother says yes, but not this time. Larry is sincerely grateful to Leslie for his sacrifice, even getting down on his knees in front of his brother. Larry tells him this whole thing has been about men loving men and wants to say he loves him too -  though not in that way and not all the time. The hug between the two brothers says more than any glib or fancy words Larry could ever string together.
The Campaign to Get Spiro Out of the Dumps
You may recall Spiro's wife left him last week and took their children with her to Athens. The usually jovial taxi driver has been despondent ever since. He's not been seen working around Corfu though he's thought to still be on the island. Out of concern, Louisa and Margo stop by Spiro's place to say hello. His house is in disarray and Margo sets about tidying up, comparing it to how their place looked when Louisa went away for the funeral. Spiro acknowledges he hasn't heard from his wife and hasn't been earning money because his car's brakes don't work. Louisa wants to give him part of the loan towards her aunt's inheritance, but he refuses.
Not sure how else to help her faltering friend, Louisa goes to Theo for advice. He says family is very important on the island and suggests she go to see Spiro's uncle who works at the town hall. Ever sensitive and observant, Theo notices the two men on the island Louisa loves most both need rescuing. (Sven and Spiro).
Louisa meets up with Spiro's Uncle Leonidas (Spiros Ioannou). He suggests moving in with Spiro for a while to bring order and good cheer. Louisa is relieved to hear he's willing to help, but asks if Leonidas' wife will be happy with that. "Yes," he replies, "if she notices I'm gone." He's not sure Spiro's wife will come back, but he hopes so. Louisa agrees and then adds, no really, when he looks doubtful of her sincerity.
Shortly after, Mrs. Durrell sees Spiro in the square. He apologizes for being in a bad mood (bear with a sore head) when she last visited. Confession time begins. She joins him for a drink in the middle of the day, something she says wouldn't normally do with anyone else but him. He admits that when he's with her, he misses his children more than his wife.
The next time Louisa drops in on Spiro again, she finds his place as bad as ever. Spiro's uncle has joined in the drinking and agrees there's no order, but he's remembered how to have a good time. Obviously, Leonides wasn't the right person to get his suddenly-single nephew on track. Spiro bemoans that his wife was right to say he's selfish. Louisa disagrees saying her family wouldn't have survived a week on the island without him. Spiro says perhaps that was selfish too, "because I loved you" (what?!)  then adds "all of you."  Louisa restates her resolve to help Spiro get back to his old self whether he wants to or not.
Louisa dispatches her family and friends in shifts to cook and clean for Spiro. First Gerry, Lugaretiza and Roger show up at his door followed later by Margo who plans to cheer Spiro with her philosophy on life. A spur of the moment visit by Henry Miller and Basil proves to be the last straw that forces Spiro out of his house for a drive.
Louisa, who always seems to know where to find her dearest and most handsome friend, locates him looking out to sea. He thanks Louisa for sending her team of helpers and he wonders if it's time he finally stopped moping.  Louisa says now it's her turn to be selfish. She feels lost without him. He takes her hand and assures her he's back now.
The Arrival of Cousin Basil and the Fate of Louisa's Inheritance
We first encountered Louisa's cousin Basil at the funeral for Aunt Hermione. Now he's shown up without warning on the Durrells's doorstep. When they work out that he's not the kind solicitor equipped to help them with Sven's case, Louisa questions Basil's vague explanation for visiting.  Pushed for the true reason, Basil reluctantly reveals that the value of the inheritance may be smaller than she was intially expecting. He's hiding out 1000 miles away from Cousin Pru in case the news turns out to be as bad as he anticipates.
When the dreaded telegram finally comes through, Basil has to explain that though Hermione's fortune was considerable at the time of her death, an investment he made on her behalf has decimated her estate. Something to do with insurance and a fire that destroyed the Crystal Palace. He apologizes for losing all her money. When Louisa muses about how they'll pay their debts, Henry Miller says "that's capitalism for you."
Basil later comes back with some slightly better news. Some of the items Hermione bequeathed were not affected by that fatal investment loss, namely a beach hut in England, two boxes of Coronation mugs, and a shed equipped with lawnmower. He suggests Louisa could sell these items and more to pay off her debts, but will basically be back to square one financially.
Louisa tries to look at the bright side. Sven can live his life with Viggo- though less in the open than before, Gerry has lost his battle with meatballs, Larry and Leslie are talking again and the family is happy Leslie isn't a policeman anymore, Money doesn't make one truly happy and at least she feels unburdened.
Season three ends next week so we can reasonably assume something will be resolved in the will they-won't they nature of Louisa and Spiro's relationship. My vote for this week's most amusing fun fact? Margo's fears are spiders and incontinence. Least surprising revelation? Larry experimented with same-sex relationships in school. It was NOT made up for his novels. And best way to get your child to abandon his healthy eating habits? Force him to cook all his own vegetarian meals. Way to go Louisa!
Let's chat about this week's happenings and your hopes for the season finale. The comments section awaits!
---
By
for on November 11th, 2018