By
for on September 4th, 2021
6 Shows To Stream For The End of Summer Holiday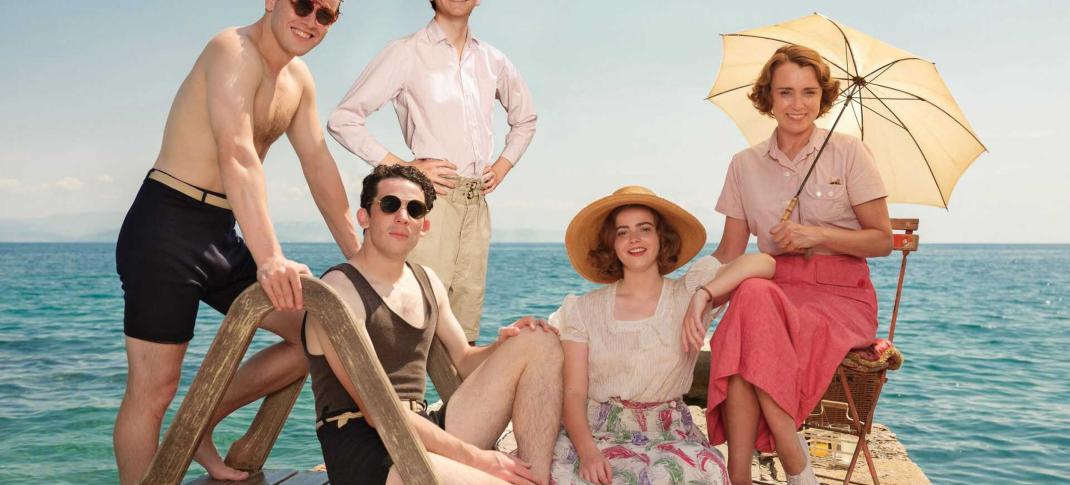 With travel once more ill-advised, it's time to gather around the television and enjoy some new and old favorites that close out the summer season. The pumpkin spice is already in the air, and at least one of us got a box that threatened Christmas before the kids had even gone back to school.
But before the leaves start falling and "spooky season" shows back up, insisting it's always been a trend even though no one had heard the term before 2018, let's say goodbye to the last of the summer wine with a few shows to binge.
Sanditon
If you haven't gotten on the Sanditon Sisterhood train, tickets are still available. The series stars Rose Williams as Charlotte Heywood and Theo James and Leo Suter as the two men she considers suitors.
This resort town set English summertime Jane Austen-inspired series wasn't a significant ratings-getter when it initially aired in January 2020 and was canceled. However, a passionate fanbase kept the campaign going until ITV relented, and now Seasons 2 and 3 are coming from BritBox UK and Masterpiece. The second season arrives in 2022, now's the time to get caught up. The first season is streaming on PBS Passport.
Death In Paradise
Death In Paradise is a break from the stereotypical British detective tropes for mystery lovers who want something bright, cheerful, and beach-bound. This British–French co-production, which has gone through several leading men since it launched, is set on the fictional Caribbean island of Saint Marie.
The first two seasons star Ben Miller, followed by Kris Marshall from Seasons 3-6 and Ardal O'Hanlon from Season 7-9, before settling on Ralf Little, who is still the current series' lead. Though the bodies pile up like it's a quaint English village, the seaside setting and the bright summer sun give this murder-of-the-week series a different and far lighter feel. All ten seasons are streaming on BritBox, with Seasons 11 and 12 greenlit for 2022/2023.
Seaside Hotel (Badehotellet)
This Walter's Choice series is a rare departure from the anthology series usual fare. One of the few foreign language series in the Walter catalog that isn't a dark and gritty mystery, Seaside Hotel (Badehotellet) is a bright, happy, beachside dramedy.
The Dutch-made (and Danish language) upstairs/downstairs story of the hotel focuses on the point of view of a brand new maid, Fie Kjær (Rosalinde Mynster), before expanding out to its residents. Though hotel guests pass away under sometimes mysterious circumstances over the seasons, this is a period piece romance drama (the first season is set in 1928) more than a whodunit. The first season is currently streaming on PBS Passport, with the second set to arrive at the end of September.
The Big Flower Fight
If you couldn't get to London's Royal Botanic Gardens at Kew, this floral competition will fill your summer gardens. Everyone loves The Great British Baking Show, which was, once upon a time, a summer staple here on PBS. But since moving to Netflix, the streaming service has been creating other reality competitions, of which The Big Flower Fight may be the most shameless ripoff.
But the art of flower arranging and building giant flower centerpieces is also seriously fascinating since it's such a niche hobby, turning this into one of the more creative forays into the reality competition genre. All episodes are streaming on Netflix.
The Beast Must Die
The Beast Must Die isn't much of a mystery, but boy does it have some performances for the ages. Set during the summer holidays on the Isle of Wight, this revenge thriller is awash in island life, with beach-bound holiday-making, garden parties and tennis, and boating at dawn.
The plot driver is technically a child's death in a hit-and-run with Cush Jumbo as mother Frances trying to prove George Rattery (Jared Harris) did it. However, it's far more satisfying as a character study and the drama of two people from wildly different walks of life colliding on an island where the class differences and privileges are stark. The first season is streaming on AMC+, with Season 2 planned for 2022.
The Durrells (In Corfu)
I want to go to Corfu one day, and it's all Keeley Hawes' fault. This British dramedy, known as The Durrells in the U.K. and The Durrells In Corfu over here, is based on the autobiography series by British naturalist Gerald Durrell. Hawes stars as Gerry's mum, Louisa, who announces one day the family is moving to the Greek island of Corfu after her husband passes away and the money troubles pile up.
Though the family struggles, Corfu turns out to be a paradise they can afford. The cast is a bit of a who's who with Callum Woodhouse, Josh O'Connor, Milo Parker, and Daisy Waterstone. All four seasons are streaming on PBS Passport.
---
By
for on September 4th, 2021
More to Love from Telly Visions