By
for on November 4th, 2018
'The Durrells in Corfu': Season 3 Episode 6 Recap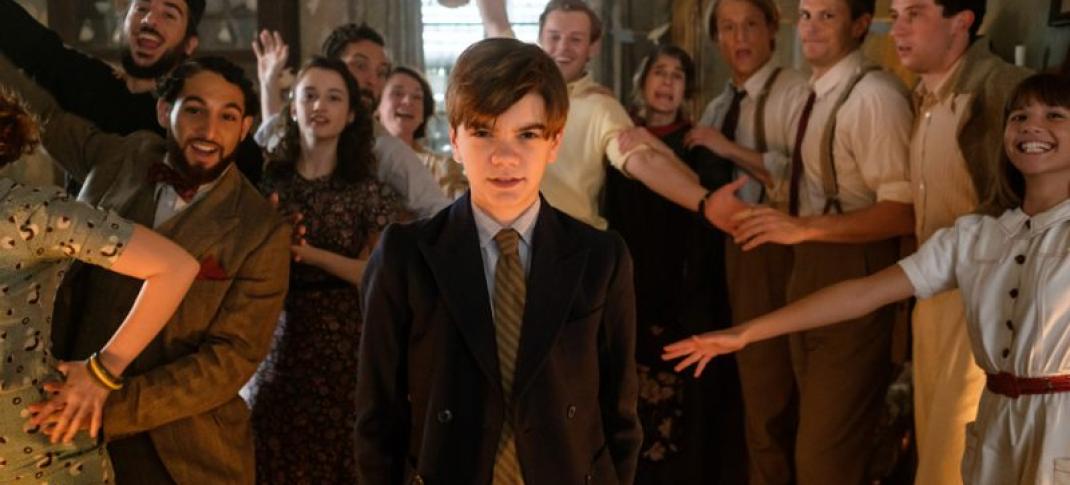 On our last visit with the Durrells you may recall a mysterious Italian family moved in next door, Louisa and Spiro had their first argument and Larry became a fireman for a hot second. Gerry found a new pal with whom to share the great outdoors and an insecure Margo aspired to emulate her poised and beautiful new neighbor. All the pertinent details of the episode can be found here. 
This week on The Durrells in Corfu, we find the island has been descended upon by a plague-like swarm of mosquitos. The Durrells, suited up in full-on beekeeping gear, are undeterred in their preparations for Gerry's birthday celebration. Though Louisa finally concedes they'll have to move the party indoors, she is bound and determined to make this day a memorable one for her little boy, even as Lugaretiza warns that Gerry has changed. More to the point, he's growing up without his mother noticing. Larry says in other cultures Gerry would be put through terrifying rituals at his age from teeth filing to adolescent circumcision. Meanwhile, Louisa is planning activities suitable for a five-year-old rather than a newly minted teenager.
The Guests
Many of the Durrells' friends, acquaintances, and lovers past and present have been invited to the birthday blowout, including Gerry's best friend and mentor, Theo, and Galini, his new nature-loving pal (not girlfriend according to Louisa). Margo taunts her current beau Zoltan by flirting with her former crush and holy man Pavlos (Nikos Orestis Chaniotakis). Others on the guest list include Leslie's "good friend" Daphne whom (through no fault of their own) he's having a baby with and Corfu residents from seasons past Sven (Ulric von der Esch), his partner Viggo (Martin Laer) and Gerry's former tutor Mr. Kralefsky (Vernon Dobtcheff).
Florence Petrides drags along her teenage niece Nelly (Grace Hogg-Robinson) who has come from England to help with the baby. But poor Dr. Petrides ends up running an impromptu clinic for the multitude of guests who approach him with their ailments at the party. All he wanted was the opportunity to dance!
Fun and Games
Louisa's party game agenda, though juvenile, wasn't a complete failure.
Apple bobbing contest – Mr. Kralefsky and Florence Petrides are the only takers for this game. Larry says it must be the highest average age for apple bobbers ever. Florence wins the matchup while the elderly tutor says he'd like to try again, but with bananas.
Pin the tail on the donkey – Blindfolded players Sven and Daphne inch around the sitting room in search of a live donkey. Daphne emerges victorious on this one.
Pass the parcel – see Gerry's teenage outburst below
Meanwhile, Leslie has rigged up a special zip-line of sorts for Gerry that he likes to call the birthday ride of death. Since no one takes him up on his offer to fly through the air like a bird, Leslie decides to demonstrate it himself. Margo helps him out with an unexpected push through the window and he crumples in a heap on the ground after hitting the safety mattress.
Later Pavlov braves Leslie's contraption, but gets stuck midway along the line. Margo has to fetch a ladder to get him down.
As the afternoon progresses, Theo seems to take over the role of games master. His contributions are a relay race requiring contestants to pass a briefcase from one to another with their knees, a rousingly intellectual game of "Spiro Says" and asking the guests to say "yamas" in all the languages they speak.
From there, Larry takes control of the merriment by cranking up the Victrola and announcing the music and drinking portion of the party. Soon after, an obligatory conga line forms.
Gerry's Teenage Angst Erupts
Gerry has let it be known that he doesn't want any speeches or games at his party, but that's exactly what Louisa has planned.  Wondering what's put him in such a mood, she instructs her other children to shepherd some of Gerry's animals into the house. Not surprisingly, this does nothing to improve Gerry's mood.
Once the party is underway, Louisa pauses the festivities to say a few words about Gerry on his special day.  She invites her other children to share their "memories" of their brother and eternal baby of the family. Margo forgets the end of the story she made up about losing Gerry while on a trip to the shops. Larry takes over with a Mark Twain quote about an interesting life and ends with a joke about something that looks like an arse. Louisa then asks the guests to raise a glass to Gerry on his twelfth birthday.
Louisa error is the last straw and Gerry can hold it in no longer. He corrects his mother saying he is thirteen and everyone else knows but her. He's embarrassed by the way she treats him like an infant and refuses to let him grow up. He knows the stories his siblings told are made up. He's a vegetarian and Louisa has cut ham into the shape of carrots as though his convictions aren't serious. Finally, he tears open the "pass the parcel" parcel and reveals a childish stuffed animal inside. Gerry stomps away to his room and won't answer door to his mother.
A bit flustered and obviously very sorry, Louisa goes to talk to Larry who teases her about Gerry's refusal to warm to their finely-honed reminiscences. Louisa says she just wants to squeeze Gerry like he's five again, but Larry says that's his point. Gerry has leapt ahead and she's failed to notice. To demonstrate his brother's growth, Larry shows her samples of something Gerry wrote when they first arrived in Corfu and then just last week. He says Gerry's going to be a really good writer. She's proud, but saddened that her children need her less and less each year. Wisely Larry says, "Look what replaces that. Living as equals, us helping you for once, holding your hand, helping you cross the road." (Larry never lets me down when it comes to these insightful heart-to-hearts with his mother.)
Louisa resolves to treat Gerry as a thirteen-year-old from now on. And then goes a bit overboard. First she apologizes to her youngest son for getting his age wrong and brings him a shandy as a peace offering. Gerry finally comes out of his room to join the party and Louisa introduces him to Florence's niece, Nelly. She sits the two off on their own so they can get to know one another, leaving a confused Gerry with a pack of cigarettes and an obviously much older teenage girl. Gerry tries to start a conversation about the birds of prey native to Yorkshire and ends by saying they couldn't be boyfriend and girlfriend. Nelly in disbelief, refers to herself as a worldly wise woman and Gerry a flaming kid before stroppily walking off.
After that disconcerting misunderstanding Gerry retreats to his room once more where we see him furiously scribble something on a scrap of birthday card. But eventually Galini shows up at the party and saves the day by bringing a smile to Gerry's face and giving him a present (dog worming powder) he really wanted. The two join the party and the conga line downstairs. The piece of card Gerry wrote on drops from his pocket and Louisa retrieves it only to find it's a poem about how she is suffocating her son. Larry tells her you can't be a mother and a friend.
Once the party breaks up, a lonely Louisa takes refuge in Gerry's room with Frank the sloth cradled on her lap. Gerry walks in and asks her to stay. He thanks her for the party. She apologizes for always messing up, but says she won't apologize for wishing he could stay twelve forever because, though she'll always love him, he's especially perfect right now. He says he'll always love her too. He knows she saw his poem, but that was just his first draft. His new attempt is sweet and makes her cry because he says he'll always return to her mad, warm nest of love. He certainly got the emotional words right this time.
What's Eating Spiros Halikiopoulos?
A well-established fixture at all Durrell occasions, Spiro arrives laden with supplies for the party. Alas, everyone's favorite taxi driver is definitely not his usual blithe and festive self. In fact, when Louisa asks him where the buoyant Spiro is, he responds, "Dead. I'm his miserable twin brother Roy." Then he says bad things have happened to him and walks away,
Spiro comes into a still moping Gerry's room and suggests they be "miserable sons of bitches" together. Spiro picks up a guitar and begins singing a sad Greek song while Roger accompanies him. The birthday boy can only tolerate Spiro's dirges for so long before he is ejected and shuffles off to depress Larry instead.
Spiro tells Larry he will teach him songs that will make him cry hot tears of sorrow and that's it's important for men to be sad together sometimes. Larry says he wasn't sad until Spiro dragged him into his crucible of despair. Larry asks him to explain, without singing, what's bothering him. Spiro says that sometimes you think you know someone, but you don't. His wife has left him.
Larry tips Louisa off about Spiro's domestic problems, but Spiro is reluctant to share his troubles at first. Later in the evening, when the party has broken up and her children's significant others are heading home, Spiro returns and finally tells Louisa that his wife has left and taken their children to Athens. He's ashamed that he let his family break apart and he's not sure why it even happened. It could be the money he loaned and lost to the Ferraris or the fact he spent so much time with other people, including Louisa. He's not sure how he feels about his marriage, but he can't bear not having his children near him. Spiro is glad he could tell her about his woes, but isn't sure if or when he'll be happy. Louisa tells him he can always be happy with her family.
The Courtship of Leslie and Daphne
Finally, I couldn't fail to mention the Daphne/Leslie adorableness that unfolded during this episode…
When Daphne arrives at the Durrells' place, Leslie seems genuinely pleased she's there. She tells him she slept all day so she could be lively at the party. Leslie's been reading about pregnancy (circa late 1930's) so he pours her a glass of wine. Daphne joins in the games and seems to be thoroughly enjoying herself.
Later when the couple are chatting alone in the kitchen, Daphne says she's looking forward to their baby's parties. When he asks if she's scared about having the baby, Daphne replies, "Why ruin the joy by being scared?"  Daphne obviously notices a change in Leslie's attitude towards her and remarks that he likes her more now. He explains that he always liked her, but when she got pregnant, she became the mother of a child he thought he didn't want. When she asks how he feels now, he smiles and puts his arm around her.
As the party winds way down, the remaining guests lounge about the living room. Margo remarks that the canoodling Leslie and Daphne finally look like they're in love and asks if he is happy about the baby. Leslie says he is and that he's ashamed it took him so long to feel that way.  Daphne cries happy tears which makes this viewer wonder if wedding bells might be in the cards for this young couple.
For those who hope for a Spiro/Louisa love match, how do you feel about this week's turn of events? Spiro might soon be free of his wife, but is devastated by the absence of his children. How about that delightfully quirky, misguided birthday party? Would you take a chance on Leslie's birthday ride of death or is apple bobbing more your speed? Only two episodes remain in this season. I invite you to discuss all things Durrells in the comments below!
---
By
for on November 4th, 2018
More to Love from Telly Visions