By
for on September 19th, 2019
'The Durrells in Corfu' Highlights: Season 1 Episode 5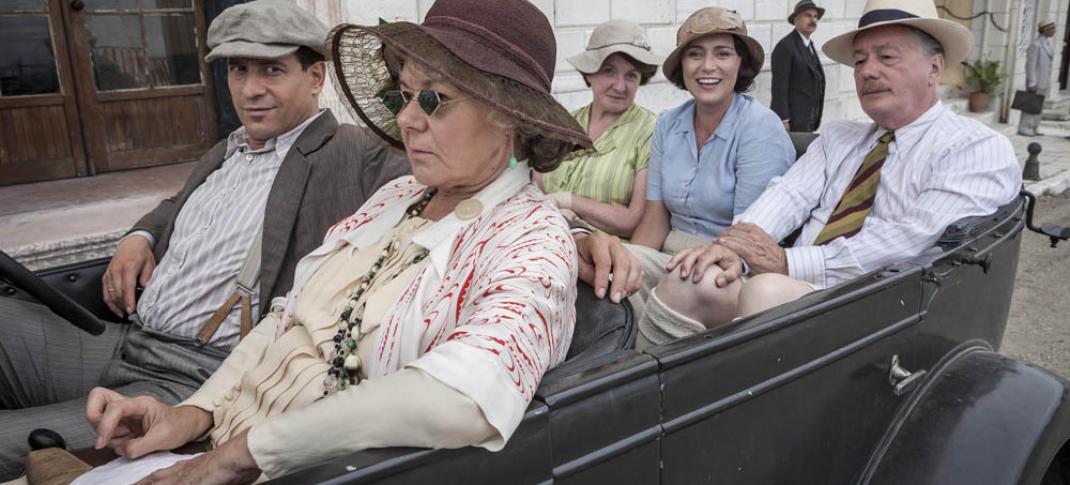 Our The Durrells in Corfu season one highlights continue as we await the debut of the fourth and final season!
When last we saw Louisa and her brood, Leslie was in more than a spot of bother with the law. Margo was finding her companion position very beneficial indeed. Meanwhile the romantic tension between Louisa and Sven finally reached a resolution. All the details are right this way.
In episode five, there are two major storylines.  One is the unwelcome arrival of Louisa's relatives on the island. The other is the quickly escalating seriousness of Sven and Louisa's relationship.
Aunt Hermione Pulls Rank
A telegram from Louisa's Aunt Hermione (Barbara Flynn) announces she her minions will soon be making an uninvited visit to Corfu. The complaining begins as soon as Hermione and her traveling companions, Cousin Prue (Felicity Montagu) and her husband Geoffrey (Jeff Rawle), disembark the ship. The one pleasant surprise is that Larry's girlfriend Nancy (Lizzy Watts) has come along for the ride.
As anticipated, the relatives do not appreciate Louisa's rather rustic lifestyle. Aunt Hermione refers to Gerry's menagerie as "an immoderate volume of creatures" and is unimpressed with Margo's new position calling her a paid jester. Spiro has tracked down a cheap generator that blows as soon as the lights begin to flicker on.
Sleeping arrangements are inconvenient as well. Gerry and Leslie have to double up and Louisa and Margo end up sleeping on the living room floor. Cousin Prue complains of the darkness and the noises coming from Larry and his lady friend's room.
Sensing that Louisa is hiding something from her, Hermione corners Leslie who, with very little resistance, lets slip that his mother is seeing Swedish farmer. Hermione finds this situation concerning and fears Louisa may never wish to return to England.
In fact, the family matriarch is so troubled by this turn of events that she issues an ultimatum.  In Hermione's opinion, Corfu is no place to bring up a family as Louisa's children have fully demonstrated. Her plan is for them to return to England immediately. She will pay for a boarding school for Gerry, help Margo and Leslie secure new careers and will give Louisa a sum of money or a house to start a new life.
At first Louisa acquiesces with a "Thank you, I'll give it careful thought." When Larry encourages his mother to rebel, Louisa can't ignore that her aunt has a considerable amount of power over her, not to mention, a lot of money that would help raise them out of poverty for the rest of their lives.
But after she and Sven confess their feelings for one another (more on this later), Louisa's attitude brightens. She will take her English relations on a tour of Corfu to prove it is a haven for beauty, love and culture. The tour will end at Villa Mavrodaki where Hermione will see the magnificent library and meet an actual aristocrat. Spiros will drive the group and Margo will handle things with the Countess.
Alas the island excursion is a flop. Hermione is not charmed by Spiros and his love of all things British. The group is bored by Theo's enthusiastic mollusk lecture and the museum in town is closed. The one highlight for Cousin Prue is a glimpse of a bare-chested Sven as they drive past his farm on the way to the Countess's estate.
Anybody else ever wondered why Sven's Scandinavian skin doesn't burn in the burning Greek sun?
Once at Villa Mavrodaki, no one answers Louisa's knocking so she tries the door and leads her company to the darkened library. The Countess, who happens to be going through one of her fragile moods, screams when she sees the group of strangers enter the room. Louisa hurriedly ushers her relatives out as the truant Margo appears and runs towards the Countess.
With the sightseeing fiasco as further ammunition for her case, Aunt Hermione orders Louisa and her children to come home with them now. Hermione's threat to take legal custody of Gerry is the last straw for Louisa. She evicts her aunt from the house, bundling her into Spiros motor car and driving her off to a guest house in town.
Fueled by a repressed rage, Louisa tears around the Corfu countryside like a mad woman until a sharp turn brings her to an abrupt stop. Perched on a sharp incline heading down to the sea, Louisa and Hermione are forced to sit quietly in the car until someone comes by to their rescue.
Fortunately, a local man spots the damsels in distress and goes in search of help. Sven and his donkeys are able to pull the women from their perilous position.  Also on the scene is Spiros who admonishes Louisa to never do anything like that again but then kisses her hands and remarks they smell like his steering wheel. (Quite forward for Spiros, at this point in their friendship anyway.)
Later Louisa finds her aunt sitting alone in the dining room.  Hermione apologizes for her earlier conduct and expresses admiration for Louisa's principled defense of her children. The matriarch concedes that Louisa alone should decide where her family lives. She also admits that this was her misguided attempt to bring her beloved niece back to England.
Sven and Louisa Fast Track Their Relationship
When we last saw Louisa and Sven they were having a smooching session on the veranda. Now that they are a couple, Louisa is debating about when to go public with their relationship. She obviously shares this news with bestie Florence Petridis but swears her to secrecy for now. (At this point we also learn that Florence is dealing with infertility problems which sets the stage for events in season 2.)
But when Spiros happens upon an amorous Louisa and Sven at the farm, their secret is on shaky ground. Being well aware of Spiros penchant for gossip, Louisa decides to let her kids in on her news. Everyone is fine with their romance except Leslie, who feels the need to protect Louisa's honor in his father's absence.
In order to keep their relationship a secret from the English contingent currently lodging at the house, Sven makes himself scarce for a while. When he finally meanders over on his donkey, Louisa runs to hug him saying he's sight for sore eyes. She's had a bad day what with her aunt ordering her back to Old Blighty. Turning the intensity of their courtship up a notch, Sven tells Louisa, "I have decided I love you." She reciprocates the sentiment, but we all know "decided" is not how one normally expresses being in love.
The final stage of commitment is precipitated by the drama of Louisa's wild ride with Hermione and the realization of the damage it could have caused her children. Sven gets down on one knee and asks Louisa if she wants to marry him. She says she'll think about it and they walk back to the house hand in hand.
Not long afterwards, the Durrell family and friends gather to celebrate the fact that no one died, I suppose. The eager bridegroom-to-be returns for his answer with that blasted accordion in tow. The pair step away from the rest of the party and Louisa happily accepts Sven's proposal.
Meanwhile the Durrell Children Continue to Struggle (Margo Drops the Ball at Work, Larry's Career Hits a Bump, Gerry Disappoints a Conservationist)
Margo's dalliance with the Countess's gardener continues, though she's playing it cool – a lesson she learned from her disastrous crush on Larry's friend Max.
Unfortunately, a little clandestine snogging with Angel in the garden causes Margo to miss her mother's arrival at the villa. This leads to the Countess being startled in the library. Margo rushes in to calm the elderly woman, but the damage is done. The Countess is embarrassed and apologetic about her frailty, but Dennis the butler is angry that Margo abandoned their employer. Miss Durrell is coldly told to just go away.
Meanwhile, Larry's ego takes a beating when he gets the news that his publisher isn't interested in his novel. Ever the diva, he announces that he's giving up writing and will instead concentrate on manly things.  Louisa points out that the lavatory roof needs mending. This chore does not go smoothly.
Declaring himself not suited to this "handyman crap", Larry goes in search of proper paid work on Sven's farm. The Swede suggests Larry try his hand at digging holes which, of course, he can't do without injuring himself.  With Sven off rescuing Larry's mum, he enters the house in search of some medicinal alcohol for his pain. Looking about the place, he notices Sven has a very particular taste in art.
Eventually Larry limps home from Sven's and into Nancy's arms. He apologizes for putting her through his angst and says he's never going to be anything but a writer. They kiss which inspires Cousin Prue and Geoffrey to cuddle a little.
Finally, Theo brings Mrs. Vadrukakis, a local conservationist, by to meet Gerry. She is keen to start an organization for the humane treatment of animals on Corfu and who is more passionate about all creatures than young Mr. Durrell?
Case in point, Gerry is concerned about his baby owls' failure to thrive. They need meat so Leslie offers to shoot some sparrows for them. Just as they start shooting, Mrs. Vadrukakis shows up. Despite Gerry's explanations, she denounces their actions as murder and tells Gerry she's ashamed of him if this is idea of conservation. Not to worry, they patch things up in the end with both parties apologizing and Gerry promising to conserve animal life whenever possible.
There's something about Corfu that eventually works its magic on even the most uptight Englishman or reticenet Swede. When Spiro's generator fails a second time, no one even minds because the U.K. news on the wireless is so gloomy and the company at the Durrells is so pleasant. Only one more recap remains before we start anew with season four.  Let's reminisce about the Durrells' younger selves while we can!
---
By
for on September 19th, 2019