By
for on September 3rd, 2019
'The Durrells in Corfu' Highlights: Season 1 Episode 3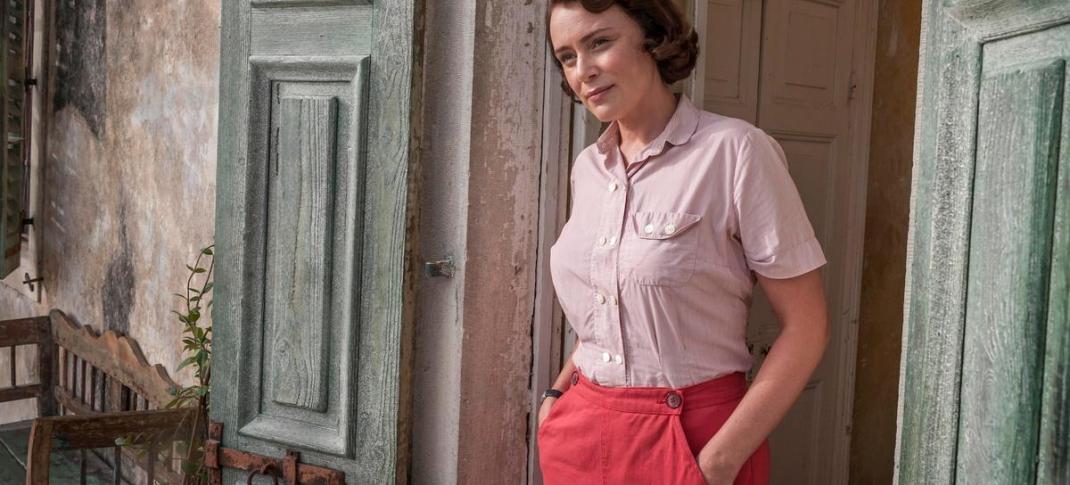 With just less than a month to go before the debut of the final season of The Durrells in Corfu, we have reached the halfway point of our season one highlight recaps. 
When we last visited with the Durrells, various family members were struggling financially, romantically and physically. Fortunately, a small group of locals banded together to help their new neighbors. All the details from the episode two recap can be found here.
In Season 1's third episode, Gerry brings home a stray of another kind, Margo becomes gainfully employed and Louisa and Leslie find themselves at different painful stages of romantic relationships. Let's dive into the details, shall we?
Gerry's Mysterious New Friend
Theo is away at a mollusk convention, so Gerry sets out alone to collect some specimens. At the water's edge he comes upon a stranger fishing. It just so happens that Kosti (Christopher Sciueref) is a convict from the nearby prison island who is given leave on weekends. The two hit it off so well that Kosti gives Gerry his gull named Alecko and asks the boy to return tomorrow to do some more fishing.
Back at home, Gerry reveals his new friend is a prisoner. Louisa wants to know what crime he's committed, as any responsible mother would, then forbids Gerry to see him. Larry isn't too concerned, but notes that crimes are treated differently in Corfu than in England. Murderers only get three years in jail, while dynamiting fish will land you in clink for five.
After a bit of reflection Louisa changes her mind and permits Gerry see Kosti if he takes someone with him. Leslie is the first to be assigned chaperoning duty. Kosti is a bit uneasy about Gerry's gun toting brother, but is even more uncomfortable when young Master Durrell takes him home to meet the rest of the family. He helps Gerry to build a pond for Old Plop, the terrapin they caught. But when Louisa tries to ask Kosti about his three-year incarceration, he refuses to say more and leaves.
Louisa tracks down Spiros to see if he knows anything about Gerry's convict pal. He recalls a Kosti who murdered his wife. His son was taken away to live with his grandparents and suggests this is perhaps why he likes spending time with Gerry.
Larry tries to calm his mother's concerns by questioning what sort of violent murderer would be given days off to go fishing. Louisa lets the outings with Kosti to continue and gives Larry the next shift as Gerry's protector. As Larry types from the shore, Kosti tells Gerry about his son who he is no longer allowed to see. Gerry shares that his father died when he was three. He doesn't remember much about him except for watching goldfish together in their pond.
Unbeknownst to Mrs. Durrell, Kosti and Gerry arrange to sneak off and procure some goldfish from the pond of the Corfu's fanciest estate. By the time Louisa tracks them down, some workers at the villa have apprehended the convict. Louisa pulls her child protectively into her arms. The startled butler, still in his dressing gown, informs Mrs. Durrell that Kosti has stolen from the Countess Mavrodaki (Leslie Caron) and warns her and Gerry to leave.
Back at home, Louisa tries to break the news of Kosti's violent crime cleverly uncovered by Margo (more about that later) to Gerry. But it just so happens that Kosti is a common name and Gerry's Kosti Panapoulos is not the same as the  Kosti Papadopoulos that brutally stabbed his wife. Gerry is worried that this petty theft by his friend will mean he'll never be released from prison.
In the morning, Louisa goes to the police station to petition for the release of Kosti, pleading that was just trying to help her fatherless son. Spiros shows up (funny that he's always nearby to rescue the Durrells…) and talks the police into letting Kosti go but not without a bit of yelling. Upon Theo's return from his conference, he explains that their Kosti's wife had cheated on him. He accidently knocked her over in a drunken passionate rage and she hit her head and died.
In the end, Louisa goes to the cemetery and apologizes to Kosti who is visiting his wife's grave. He says he still loves her and cries about what happened all the time. She commiserates with him saying her husband died too…though she didn't kill him.
This week, other members of the Durrell family were having relationship troubles.
Leslie's Heartbreak
As the episode begins, Leslie is setting out to celebrate his two-month anniversary with Alexia. The love-sick lad is bringing her a picnic and a pink bicycle and Lugaretzia insists he is Louisa's best child. When Leslie gets to his sweetheart's house, however, he finds that Alexia has reunited with her ex-boyfriend. Leslie challenges his rival to a duel, but the couple laugh this off, leaving him hurt and humiliated. At home, he breaks down in Louisa's arms. Apart from his guns, Alexia was the first good thing that had happened to him.
Larry finally gets fed up with Leslie's moping about. His plan is to act as Leslie's wingman at the town bar and get his brother a new girlfriend. Leslie isn't on board with said plan and instead gets obnoxiously drunk.
Just as Larry tries to take him home, Alexia and her boyfriend enter the bar and Leslie confronts them. A fight ensues and Alexia seems flattered by all the attention. But it's Leslie who gets taken to the police station for starting the altercation. I guess we are to assume that a night sobering up in a jail cell is the true cure for a broken heart.
Louisa and Sven Sitting in a Tree
In episode two we met hunky Swedish farmer Sven when he saved Larry's life by performing an emergency appendectomy on him. Since then, the road to romance between Louisa and Sven has been rather rocky.
With lipsick freshly applied, Louisa sets out to visit Sven at his farm. First she apologizes for insulting Sven by offering to pay him for saving Larry. They discuss being foreigners in Greece and Sven praises the honesty of the Greek people. But when he asks Louisa's opinion about his accordion, her blunt response offends him and she makes an awkward departure.
Louisa gets defensive about people, Larry and Florence in particular, constantly asking her about Sven since they never seem to get on. (Knowing how this relationship ends, in hindsight, do you find it a bit surprising everyone was shipping this match?)
Eventually, Sven shows up at the Durrells' place. Leslie refers to him as the "goat chap" and Sven admits to Louisa that, like Gerry, he prefers animals to people. As a peace offering of sorts, he suggests a solution to her olive harvesting dilemma – nets to place under her trees that collect the fruit for her. Before he takes off with his donkey, Sven tells Louisa (in Greek) that she knows where she is if he needs him.
Margo Finds a Job and Then Another
Louisa goes to see her new bestie Mrs. Petridis with Margo in tow in hopes of finding her daughter a job. Florence agrees to try her out in the doctor's office on a temporary basis; nothing medical, just running errands and tidying.
At home Margo tells her brothers she'll be busy healing the sick and the lame like a better-looking Florence Nightingale. But on her first day of work Margo gets queasy at the sight of a boil then faints when she sees Dr. Petridis taking blood from a patient. (I found it odd that Margo is so easily fazed by the tamest of maladies but, in season three, finds her calling as an x-ray technician.)
To get her away from the patients, Florence sets Margo the task of filing but, of course, Miss Durrell can't read much Greek. While trying to work out a system, Margo comes across a stack of old files containing the aforementioned police report detailing that the other Kosti P. brutally stabbed his wife. Margo "borrows" the file and promptly quits her job, much to the Petridis' relief because all parties involved knew this arrangement just wasn't working out.
After the Kosti mix up is sorted, Louisa insists that her children return all ill-gotten items including Gerry's pilfered goldfish. At the Mavrodaki estate, Margo offers up the details of how the family came to be in Corfu.
The Countess finds Margo a breath of fresh air and hires her on the spot to be her new companion. She also gifts Gerry the goldfish from her pond.
We hope these recaps are bringing back fond memories of the Durrells we have come to know and love. All comments are welcome!
---
By
for on September 3rd, 2019
More to Love from Telly Visions