By
for on August 27th, 2019
'The Durrells in Corfu' Highlights: Season 1 Episode 2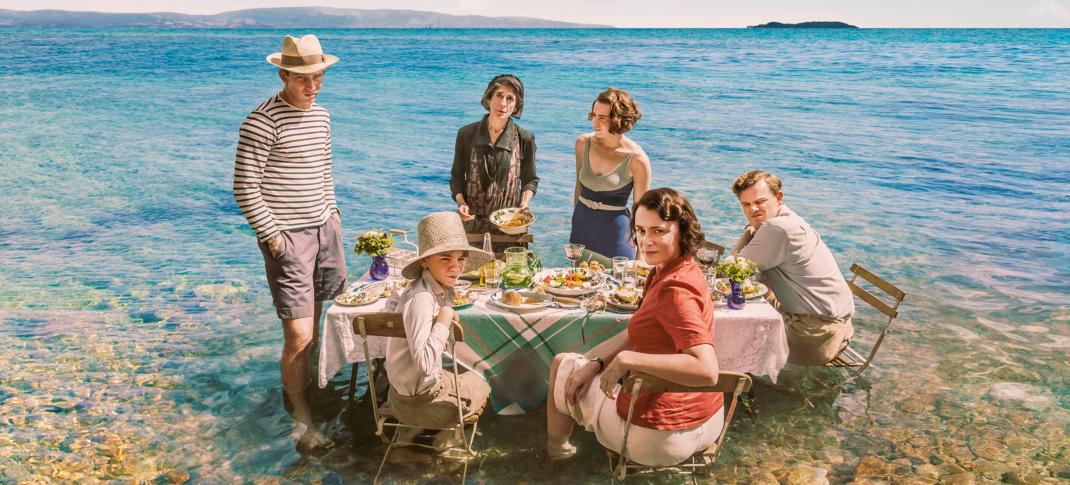 Welcome to our second installment of highlights from The Durrells in Corfu Season 1! 
As you may recall Louisa and her clan had just made the decision to move from England to Corfu in hopes of changing the outlook and prospects for their family. While the sailing was smooth, the adjustment to life on a Mediterranean island paradise was a rude awakening. All the details of from the episode one recap can be found here.
In episode two we find the Durrells settling into their new lives on Corfu. In other words, Louisa struggles to cope with a lack of funds, the very real possibility of malnutrition and a house that is literally crumbling down around her. Meanwhile the Durrell children (who some, including their mother, might consider feckless) are busy getting on with their own lives. That is until a scary accident unites the family once more.
Let's take a closer look at what happened in this episode:
Louisa's Money Woes
As large chunks of plaster begin to fall from the kitchen ceiling with frightening frequency, Louisa's frustration grows. Her widow's pension has yet to arrive at the bank in Corfu and her children are nowhere to be found when she needs them to pitch in. Spiros takes up her cause by verbally assaulting the bank manager, but her money has yet to make an appearance.
Feeling overwhelmed, Mrs. Durrell confides to Theo that she misses the company of women. He suggests she visit the English wife of the island's doctor. Alas, Louisa finds Florence Petridis (Lucy Black) to be less than sympathetic about her situation. Florence has fully embraced Corfu and considers herself a "committed migrant" rather than an entitled expat. Louisa contends that you can be proud of being British, but still embrace your new home.  The two women obviously disagree and part company on a snippy note.
The condition of the house continues to deteriorate which pushes Louisa to her wits' end.  She commands her children to get up and contribute to the household in some measurable way or they will be on the next boat back to England. But these are the Durrell children we're talking about…
Margo's Unrequited Love
Since the arrival of Larry's friends, Margo has been head over heels for Max (Max Befort) a handsome young German with absolutely no interest in his pal's little sister. He calls her Margy-Bargy and roundly rebuffs her flirtations.
Mrs. Durrell hates to see her daughter moping around in such pain and so instructs her sons to be kind to Margo by offering her some romantic advice. Larry tells her to forget about Max who is out of her league and consider his other, rather smitten, friend Donald (Ben Hall) who would be a reliable companion for her. Leslie suggests she lose weight because most men don't go for fat girls. (Wow, Leslie!)  And Gerry, who at eleven years old has zero relationship experience, proposes she imitate the mating ritual of the black widow spider to which Margo responds that she's giving up on love forever.
Gerry's Menagerie Grows
In the spirit of helpfulness, Gerry attempts to forage some food for his mother, but ends up with a bag of squashed berries and an armful of poisonous mushrooms. Meanwhile, Theo informs Gerry about a litter of puppies on a nearby farm. Considering their inability to properly feed the human members of the family, Louisa firmly limits her animal-loving child to one pup. Though the puppies have yet to be weaned from their mother, Gerry promptly goes to the farm and selects the adorable furball he will eventually raise.
When the time comes, however, the wrong puppy is delivered to the Durrells' home. Gerry discovers the error and returns to the farm to find the old woman about to bury the rest of litter alive. In his anger, Gerry rebukes the lady and confiscates the bag of whimpering puppies. In the end, Louisa allows her animal crusader to keep two puppies and the rest are adopted out to friends of the family.
Larry Really Isn't Good at Anything Except Writing
Larry, being the eldest and only legally adult Durrell child, is understandably the one in which Louisa is most disappointed. He spends most of his days typing away in his bathrobe and reasons that disappearing on a drunken holiday with his friends is helpful because his absence means there's one less mouth to feed. Larry also points out that he's sent off his short story to England, so they'll soon be rolling in the proceeds of his prodigious talent.
Louisa reiterates their urgent financial situation, but when Larry offers to just ask Max for money, she immediately refuses on the basis of pride. The argument escalates which results in a slightly hung-over Larry grabbing one of Leslie's guns with the intention of shooting some dinner.
As expected, Larry's attempt at feeding his family is a failure. The recoil of the rifle knocks our inexperienced hunter backward down a hill. Afterwards he complains of a lot of pain in his abdomen and Louisa basically calls him a wimp.
Turns out young Mr. Durrell isn't overreacting or faking his discomfort. He has begun vomiting and is obviously very ill indeed. Unfortunately, Dr. Petridis has left the island for a couple of days, but Florence and Theo (who studied medicine for a few months) agree that Larry has ruptured his appendix as a result of his tumble.
Theo leaves to fetch the handsome - sometimes bare-chested - farmer Sven (Ulric Von Der Esch) who has performed a similar procedure on one of his goats. As family and friends gather in the waiting area, the operation begins. With Florence monitoring anesthesia and Theo guiding Sven based on illustrations in some medical books, Larry survives the appendectomy and his prognosis looks good.
Louisa tells Spiros that she feels guilty about pushing Larry to provide for them and wishes she could just enjoy her children's company. Spiros assures her she is a perfect mother and then marches purposefully back to the bank. This time Spiros is successful in procuring some cash, but it turns out the money is payment for Larry's story, not the widow's pension. Larry can finally claim to be a proper writer even though he must turn his earnings over to his mother.
In the end, Larry returns home to recuperate where he and Lugaretzia can continue their malicious game of inaccurate vocabulary lessons. During his convalescence,  he's also had time to notice the attraction between Louisa and Sven or as he puts it "I know naked lust when it's in the room." Once again, Larry's kind of right, but not completely.
The rest of the gang gathers at the water's edge for a meal in the cooling sea. Donald and Max sail past to say goodbye and invite Margo on board for a drink. At first, she deigns to accept, but then enthusiastically swims out to the boat which leaves everyone wondering if Margo is ever coming back.
As we revisit these early episodes do you feel the Durrell children have matured since we first met them? Are you remembering any moments now that with hindsight make them more poignant? Let's chat about the beginnings of the Durrells' adventure and what you hope to see in the final season in the comments!
---
By
for on August 27th, 2019
More to Love from Telly Visions