By
for on August 21st, 2019
'The Durrells in Corfu' Highlights: Season 1, Episode 1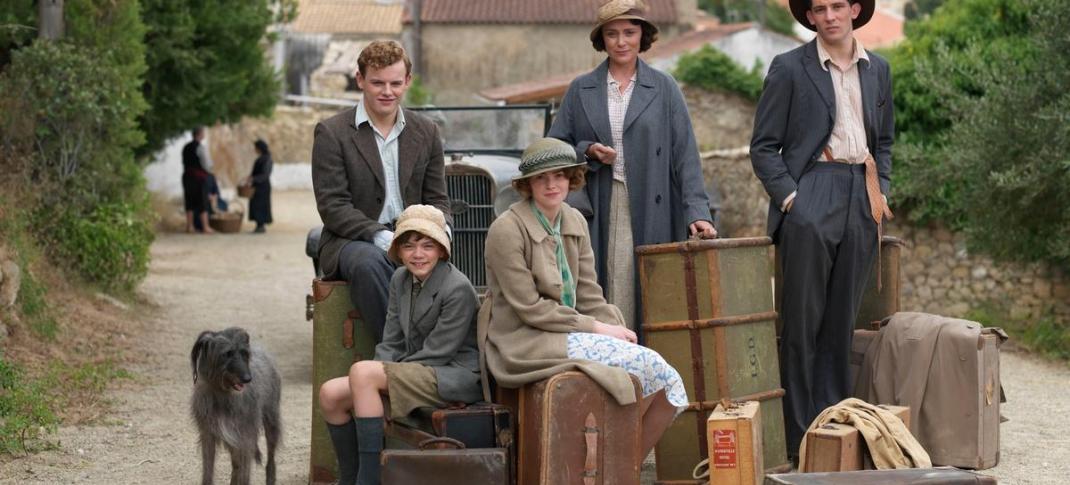 Kalimera! As fans of The Durrells in Corfu are probably well aware, broadcast of the fourth and final season of the series is fast approaching - Sunday, September 29th at 8 pm ET on PBS to be exact. (As always, check your local listings for exact dates and times, just to be doubly safe.)  
So, as Telly Visions' recapper of Durrell escapades - and a latecomer to the series overall - for the next few weeks I will be looking back at the highlights of the show's debut season. (Since it's the only one we haven't recapped to date.) Please join me on this little walk down memory lane in advance of Louisa and her clan's farewell run in just a few short weeks.
The very first episode of The Durrells in Corfu aired on PBS on October 16, 2016. We meet the family in 1935 on a dreary day in Bournemouth, England. It's one o'clock in the afternoon and we find Louisa Durrell (Keeley Hawes), widowed mother of four, partaking of a little gin when she receives a call from her youngest child's school. Gerry (Milo Parker) skipped class and has subsequently been caned for his truancy.  Louisa is furious about her son's treatment and informs the headmaster that Gerry will not apologize, nor will he be returning to a school that beats fear into children.
The chaos continues that evening when Louisa's eldest child Larry (Josh O'Connor) comes home from work, complaining about being an estate agent when he is destined to be a writer. Middle son Leslie (Callum Woodhouse) has decided to leave school himself and 16-year-old Margo (Daisy Waterstone) mentions her plans to halt her education as soon as she can find a husband.
When a widowed neighbor proposes that he and Louisa marry and send the kids to boarding school, Mrs. Durrell finally faces the fact that her family has stopped moving forward and is, in fact, sinking in money problems and an overall lack of direction. Larry suggests the best solution to their situation is to move to Corfu, where the cost of living is dirt cheap and they can all get a fresh start.
Flash ahead a few weeks or months to the Durrells' arrival in bucolic and temperate Corfu. The family is visibly relaxed as they soak in the sun on the deck of the boat. But the children's sense of contentment soon dissipates, as they are forced to lug all their worldly goods into town. Louisa reminds them they are not on holiday and have nothing but her widow's pension to live on.
At this point we meet most the characters that will become an extended family to the Durrells during their time in Corfu.
First of all, there is taxi driver Spiros Halikiopoulos (Alexis Georgoulis). Little do the Durrells know when they encounter him on the road to Corfu Town they are getting more than just a much-needed ride. Spiros, an admitted Anglophile, takes pity on frazzled "Mrs. Durrells" and her brood. He helps them find a house to rent and is, by all accounts, a world-class haggler. When Mrs. Durrell asks Spiros why he helps a family with no money and who argue constantly, he tells her the Greeks have a word "philoxenia" which means love to strangers, and besides they really seem to need the help.
Spiros also brings Louisa some household help in the form of Lugaretzia (Anna Savva), a cheap but hypochondriacal domestic. She speaks little to no English though Louisa teaches her the word "bastard." Early on Lugaretzia is run off when Leslie narrowly misses her while doing a bit of target practice with an air gun. She eventually returns and not only forgives Leslie, but takes a shine to him for trying to learn Greek.
Finally, Gerry happens upon Theo Stephanides (Yorgos Karamihos) while both are birdwatching. The two nature-lovers hit it off immediately discussing kumquats and the habits of Egyptian vultures. When Theo says his friends regard his interest in wildlife as a form of madness, we know Gerry has met a kindred spirit. The Durrell children initially consider him a possible match for their lonely, sex-starved mother, but after a brief interview, Theo is immediately dismissed as too intellectual and mild-mannered for Louisa.
We also meet the very uncouth Captain Creech (James Cosmo) in this episode. Larry, bless him, has made it his mission to find his mother some manly company and so ventures into town where he finds a grizzled old sailor drinking alone and strikes up a conversation. Larry is quite partial to Creech, whose strengths include storytelling, a good sense of humor, a straightforward manner and the very mistaken assumption that a man of the Captain's position must have some money.
Not surprisingly, Larry's matchmaking attempt is an unequivocal fail. It turns out the Creech is a filthy old lecher who tells inappropriate stories at the dinner table, uses coarse language and drinks himself into a stupor. And sleeping off his inebriation in the Durrells' kitchen does little to improve his manners. After a series of unwelcome compliments and an even more uninvited physical advance from the Captain, Louisa grabs one of Leslie's rifles and drives the sailor from her property. She then orders Larry to stop trying to find her a husband. Their father was the love of her life and she doesn't want a pale imitation of him. Larry says it's sad that she's given up, but they haven't. As we know, Larry isn't wrong. He was just wrong about Creech.
In this episode, we also witness Margo's tenacity and powers of negotiation. The somewhat vacuous teenager's main interest in her new home is the opportunity it affords her to get a tan. Alas, her sunbathing spot is positioned directly below a monastery which causes a fair amount of scandal. After a few run-ins with an agitated monk, Margo notices his smoking habit and brings him cigarettes as a peace offering on her subsequent visits.
Leslie's excursions away from the Durrell compound have brought him in contact with locals as well. When her gun-crazy brother starts leaving the house unarmed, Margo's curiosity compels her to tail him into town. She finds him wooing a young lady with the help of a Greek dictionary. Funny, Leslie's all about snogging girls, but he removes the "X" from Larry's typewriter to prevent him from using the word "sex" in his stories. (Don't worry, Larry gets him back by fashioning an "X" out of gun parts and hanging it from a tree.)
Starting over in a new land is a stressful undertaking and an overwhelmed Louisa  will be pushed to the breaking point by her unruly children more than once this season as they settle in to their new surroundings. For now, Gerry's menagerie is in its infancy, Larry's first completed short story will make his family "mildly pleased in a complicated way" and Margo is headed for an ill-advised love triangle with the arrival of Larry's friends Donald and Max.
Are you looking forward to the new season of The Durrells in Corfu? Are you sad to see it end? Let's reminisce about the early days of the show in the comments! (And if you'd like to re-watch the episodes we're covering here, Season 1 - as well as the rest of the series - is available to stream on PBS Passport.) 
---
By
for on August 21st, 2019
More to Love from Telly Visions