By
for on September 4th, 2013
'Downton Abbey' Star Allen Leech to Join Benedict Cumberbatch's 'The Imitation Game'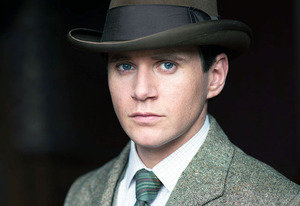 Big news for Downton Abbey fans – another of its leading men is has been cast in a major film, starring opposite some faces you'll definitely recognize.
 Allen Leech, the man who plays everyone's favorite former-chauffeur-turned-upstairs-aristocrat Tom Branson, confirmed an ealier report in British paper The Mirror that he will be making the jump to Hollywood features, alongside several other notable British stars.  Leech is set to join the cast of The Imitation Game, an upcoming biopic about noted British great Alan Turing, which has already signed Sherlock star Benedict Cumberbatch and Oscar nominee Keira Knightley as its leads.
"Downton was a dream come true for Allen but getting a part in a Hollywood film is out of this world," a source told the Mirror. "He is a massive fan of Keira and Benedict and he starts filming in September. It's going to be a very interesting film about the life of Alan Turing – a ­subject which Allen is very interested in." 
Cumberbatch is set to play Turing, the brilliant mathematician/computer scientist/codebreaker/all around genius who was the man most responsible for unraveling the Germans' Enigma Code during World War II. Knightley is playing an unidentified female character from a conservative background who develops a complicated relationship with Turing that lasts the rest of his life. After the war, Turing was prosecuted by the British government for being homosexual, underwent chemical castration and subsequently committed suicide by eating an apple laced with cyanide. The story of his life is a breathtakingly tragic one, so pack some tissues.
According to Variety, Leech will be playing a Scottish spy for the Soviets who plots against Turing. Dun dun dunnnnn.
Leech is following in the footsteps of Downton co-star Dan Stevens, who has made several films since departing the series, including Summer in February, A Walk Among the Tombstones and Wikileaks drama The Fifth Estate, in which he also stars opposite Cumberbatch. (It's a small world in the British acting community, clearly.)
The Imitation Game begins filming in London on September 15, and is slated for a 2014 release date. Since it seems like one of those films that's tailor-made for awards season, it's likely we'll be hearing a lot more about this project in the months to come. 
---
By
for on September 4th, 2013