By
for on May 1st, 2018
Don't Be Shocked if We Don't See Any More 'Sherlock' Anytime Soon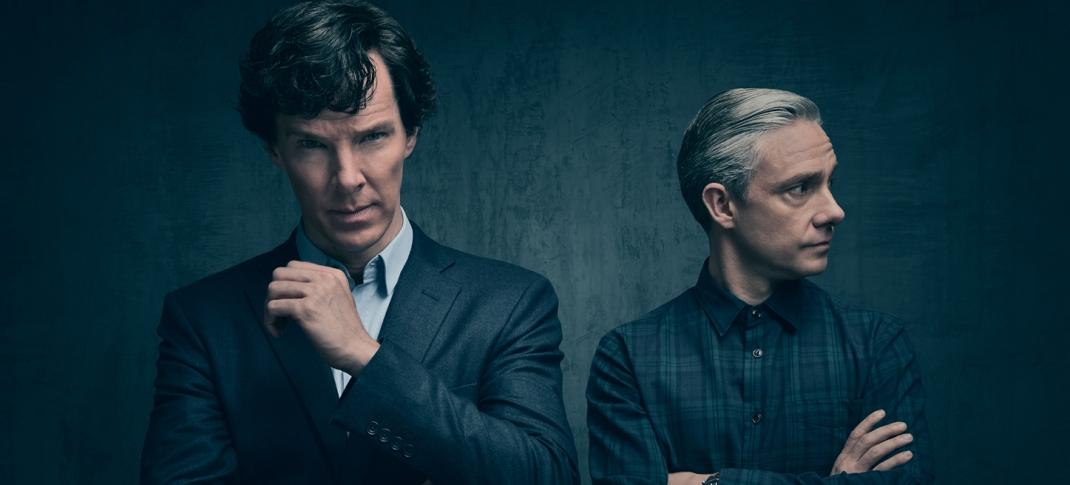 It's been over a year since Sherlock Season 4 concluded. Since that time, there's been no official word on the possibility of a fifth season, but that hasn't stopped literally everyone from speculating, or asking the cast and producers about it every time they get the chance.
Now, at this point it seems kind of obvious that if a fifth season of Sherlock happens, it won't be any time soon. Not only does the end of Season 4 work as potential series finale should the folks in charge decide to take a break that lasts longer than the series' usual hiatus periods, but everyone's schedules so incredibly packed it's hard to know when they'd even film.
Stars Benedict Cumberbatch and Martin Freeman are involved with multiple other projects. They're both part of the Marvel Cinematic Universe now, with Freeman recently appearing in Black Panther and Cumberbatch popping up in the just-released Avengers: Infinity War. Cumberbatch's latest series Patrick Melrose will drop on Showtime this spring, and Freeman's zombie film Cargo just debuted at the Tribeca Film Festival. Even co-creators Steven Moffat and Mark Gatiss seem busy with other things, most notably their slightly bizarre-sounding new adaptation of Dracula.
To put it kind of bluntly: No one really has time for a trip back to 221b Baker Street. Moreover, it's not entirely clear that anybody wants to do so, anytime soon.
In an interview with The Telegraph earlier this year, Freeman complained that Sherlock was "not fun anymore" thanks to rising public pressure and fan expectations of what the show should be.
The Telegraph article is behind a paywall, but Entertainment Weekly has the money quote(s):
"To be absolutely honest, it [was] kind of impossible," he explained. "Sherlock became the animal that it became immediately. Whereas even with [the U.K. version of] The Office, it was a slow burn. But Sherlock was frankly notably high quality from the outset. And when you start [that high] it's pretty hard to maintain that.

"Being in that show, it is a mini-Beatles thing," he concluded. "People's expectations, some of it's not fun anymore. It's not a thing to be enjoyed, it's a thing of: 'You better f—ing do this, otherwise, you're a c—.' That's not fun anymore."
Freeman's attitude and choice of words rubbed some fans the wrong way, and kicked off another round of speculation about when the popular detective series might return. (Spoiler alert: No one knows, really, and that's the honest answer.)
The issue came up again during the most recent round of press junkets for the new Avengers film, in which Cumberbatch was supposed to be talking about reprising his role as Dr. Stephen Strange. Instead, someone asked about Sherlock – specifically, Freeman's comments – and Cumberbatch was sort of obliged to weigh in.
His thoughts are a bit different than his co-star's, however, though no less contentious in their own way. (Once again, thanks to Entertainment Weekly for pulling the relevant quotes from the original Telegraph piece.)
"It's pretty pathetic if that's all it takes to let you not want to take a grip of your reality. What, because of expectations? I don't know. I don't necessarily agree with that … There's a level of obsession where [the franchise] becomes [the fans'] even though we're the ones making it. But I just don't feel affected by that in the same way, I have to say."
Maybe working in the Marvel universe has given Cumberbatch some perspective about large and active fanbases? Who knows.
On the plus side, however, head honcho Moffat does seem fairly confident that Sherlock will continue. Eventually. Sure, we don't know exactly when that might be. And it could be a lot longer than most fans anticipate. But, it's possible that everybody involved needs a cooling off period for a bit anyway.
Absence, as they say, does make the heart grow fonder.
What do you think? Do you want to see more Sherlock or are you generally okay with the way they left things in Season 4? Let's discuss.
---
By
for on May 1st, 2018
More to Love from Telly Visions