By
for on November 1st, 2022
All the British Shows & Movies to Stream in November 2022 & Where To Find Them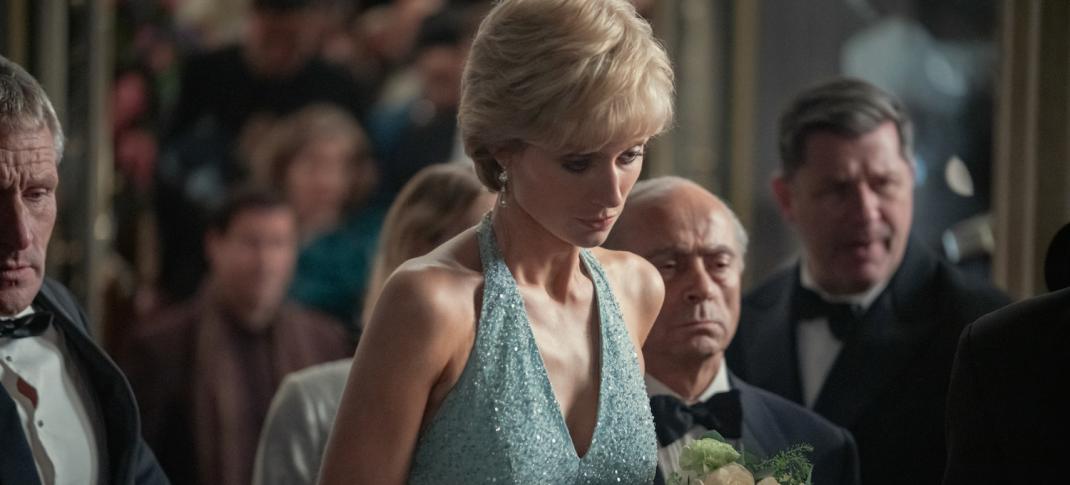 November is upon us, and the clocks have already fallen back if you're overseas. (If you're here in the states, they'll fall back this weekend. That means earlier sunsets, colder weather, and holiday specials are all on the way. The holidays are a big time for TV, as one of the few points of the year when watching releases day and date is still part of the cultural experience. (No one watches Christmas tree lightings in January.) Since the holidays are a ratings magnet, some channels start as early as mid-October here in the states with their Christmas-themed movies.
With the U.K. not paying much attention to Thanksgiving (though Black Friday is now universal), most streamers relying on holiday offerings start them in mid-November, including the big three of HBO Max, Netflix, and Disney+. While several will be American-themed, a few U.K. imports are filling out the roster. Meanwhile, the more niche streamers that aim at fans of British television will be holding their holiday releases until December, giving viewers a choice of when (or if) they want to start tuning into the holidays on TV.
So what's coming to streaming this November in U.K. programming? Here's a complete rundown.
Whitstable Pearl Season 2
Most of Acorn TV's new episodes for November are shows that debuted last month, with Whitstable Pearl's second season as the only new Acorn original title debuting this month. Starring Kerry Godliman as Pearl, the titular detective will transition from being a chef who solves crimes to a full-time investigator, sometimes working with (and sometimes competing with) DCI Mike McGuire. Two episodes premiere Monday, November 28, with double episode releases weekly through December 12.
My Policeman
The Harry Styles-Emma Corrin film My Policeman, based loosely on the life of author E.M. Foster, will exit theaters and head to streaming on Prime Video starting Friday, November 4.
The English
The new Western craze meets U.K. star power, with Emily Blunt starring in The English. Blunt plays an English aristocrat out for revenge on the man who killed her son and teams up with Pawnee scout Eli Whipp (Chaske Spencer) for a will-they-or-won't-they adventure. All six episodes arrive in a binge drop Friday, November 11.
AMC+/BBC America/Sundance Now
The Suspect
AMC+ manages a Netflix-rivaling six U.K. debuts this month, thanks to pulling from its various niche streamers. First up, the Aidan Turner thriller The Suspect, where Turner plays Dr. Joe, a man who may not be as innocent as he claims regarding murder. All six episodes arrive on Sundance Now and AMC+ on Thursday, November 3.
Mood
BBC America's Mood, starring Nicôle Lecky and based on her critically acclaimed Royal Court play Superhoe, premieres on linear on Sunday, November 6. AMC+ will debut the first two episodes the same day, with one a week to follow, so subscribers get to stay an episode ahead of those watching on BBCA.
Gangs of London Season 2
AMC+'s series, Gangs of London, returns for a second season this mother, with the surviving Wallaces scattered, the Dumanis estranged, and ex-undercover cop Elliot Finch (Ṣọpẹ́ Dìrísù) now forced to work for the Investors. Two episode premiere arrives Thursday, November 17, with one a week to follow, only on AMC+.
The Dry 
Sundance Now scooped up Roisin Gallagher's comedy-drama The Dry, about an Irish lass who comes home for a wake while struggling to maintain sobriety, as one of its binge premieres this month. All episodes will also drop on AMC+ on the same day, Thursday, November 17.
Top Gear
AMC+ third arrives on Thursday, November 17, courtesy of BBC America, with the premiere of yet another season of Top Gear, including a special episode celebrating the BBC's centenary. Unlike Mood, AMC+ has to follow the BBCA schedule, so it's one episode a week through December 15.
Life in Colour
And finally, BBC America has scored David Attenborough's limited series Life In Colour for all your soothing natural documentary needs. Like Top Gear, it will also arrive on AMC+, where all three episodes will debut as a binge Saturday, November 19.
Crossfire
Britbox's big debut for November is Crossfire, an action-thriller about a vacation gone wrong when gunmen take a hotel hostage and guests are forced to make life-or-death decisions. Executive produced by and starring Keeley Hawes; it's based on the novel of the same name by Louise Doughty. All three episodes arrive Tuesday, November 15.
Hope Street Season 2
BritBox's other original is the return of Hope Street. Season 2 begins six months after Season 1, with the arrival of new detective Al Quinn, and Nicole and Clint's efforts to start a family and other residents' daily struggles and triumphs in their beloved town. All ten episodes arrive Monday, November 28.
Save Our Squad With David Beckham
With all the build-up to the World Cup, even Disney+ is getting in on the football act with Save Our Squad with David Beckham. The series chronicles superstar Beckham returning to East London to save a grassroots team from relegation. All episodes drop Wednesday, November 9.
Elton John: Farewell from Dodgers Stadium
For those who don't watch Dancing with the Stars, the American version of Strictly, you might not realize Disney+ has become one of the few streamers who can support streaming live events. It's showing off this skill with Elton John: Farewell from Dodgers Stadium by broadcasting both the red carpet arrivals starting at 7:30 p.m. PT (that's 10:30 p.m. ET and middle of the night in the U.K.) and the main event at 8 p.m. on Saturday, November 20. Good thing Saturday Night's alright for fighting.
The Harry Potter Collection
HBO Max and Discovery haven't fully merged yet, but they host each other's content quite a bit now. Still, HBO Max is the only one with the Harry Potter collection, which quietly keeps shifting between Peacock and HBO Max due to decisions made by Warner Media three or four owners ago. All of them transfer back to HBO Max Tuesday, November 1.
Mary McCartney Serves It Up
Meanwhile, Discovery+ stocks up on more shows that will bridge the gap nicely between HBO's upscale British fare, HBO Max's middlebrow UKL reality TV, and Discovery's basic Food Network and Cooking Channels. To that end, they've scooped up all Mary McCartney Serves It Up episodes, which also arrive on Tuesday, November 1.
Vardy vs. Rooney: The Wagatha Trial
But as Americans know, Discovery+ is super basic, so of course, they also have the documentary Vardy vs. Rooney: The Wagatha Trial. Don't pretend you don't know what that is or won't watch. It arrives Saturday, November 19.
Planet Sex with Cara Delevingne Season 1
Supermodel Cara Delevingne did a documentary, Planet Sex with Cara Delevingne, exploring the "big questions" about human sexuality, examining issues including relationships, sex appeal, and the popularity of pornography. Don't pretend you don't know what that is or won't watch. All episodes arrive Tuesday, November 29, and no, there's no trailer.
Enola Holmes 2 
Netflix has so much this month, starting with adorable scamp Millie Bobby Brown and her self-executive-produced Sherlock Holmes fanfic Enola Holmes 2, where she plays his younger sister, Helena Bonham Carter is her mom, and Henry Cavill plays the man himself. The new film premieres Friday, November 4.
The Crown Season 5
Whether you started watching The Crown when Claire Foy played the role with quiet dignity or turned up last season to see Olivia Colman flustered by Emma Corrin's Diana, we'll ALL be tuning in to Season 5 when Imelda Staunton takes on Queen Elizabeth living through Diana and Charles divorce. All ten episodes arrive Wednesday, November 9.
The Wonder 
We reviewed The Wonder when it premiered at the London Film Festival last month. The Florence Pugh starter is now streaming on Netflix starting Wednesday, November 16.
The Great British Baking Show: Holidays Season 5 
Closing out The Great British Baking Show Collection 10, Netflix will once again air last year's Christmas and New Year's GBBO specials under The Great British Baking Show: Holidays banner. Both episodes arrive Friday, November 18.
Christmas on Mistletoe Farm
Netflix also pads out its Christmas offerings with British films, with the adorably cliched Christmas on Mistletoe Farm, which features a widowed father, scheming kids, and holiday romance just in time for Thanksgiving. The film debuts Wednesday, November 23.
The Swimmers 
And finally, The Swimmers is a Jack Thorne-penned drama aiming for Oscar contention with a limited theatrical release ahead of a Thanksgiving debut on Netflix. The film is based on the true story of swimmers from war-torn Syria who made it to the 2016 Rio Olympics. The film debuts Wednesday, November 23.
The Capture Season 2
The Capture was the best series on Peacock when it debuted in 2020 as part of the streaming service's initial lineup. After a pandemic delayed filming, the second season finally arrives with a new story about the perils of CCTV and deepfaking, this time in hopes of tipping political policy in Big Tech's favor. All six episodes arrive Thursday, November 3.
World Cup 2022
It's that time of year again, except the biggest sporting event in the world is being held in winter because no one goes to Qatar in July. The first rounds start November 20 and go through until December 18.
Dangerous Liaisons
It's not actually British, but like The Serpent Queen, we costume drama period piece lovers will take it. This serialized TV show of Dangerous Liaisons is actually a prequel to the movie when Pascal and Camille were young lovers scheming to make their way up the social ladder. The series debuts on Sunday, November 6, with weekly releases to follow.
---
By
for on November 1st, 2022
More to Love from Telly Visions