By
for on October 15th, 2022
'The Wonder's Best Moments are Those Rooted in Mercy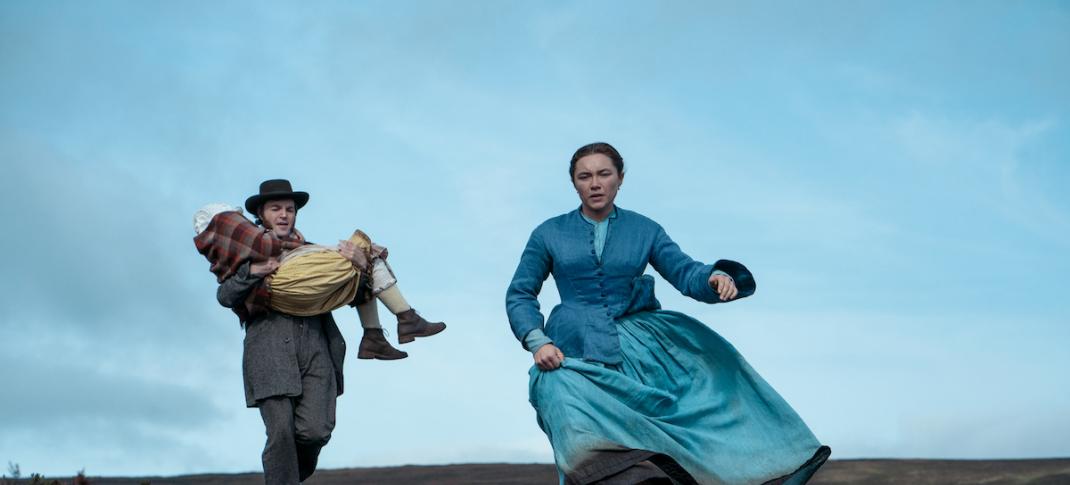 The first reactions I heard about The Wonder, the new film from Sebastián Lelio (Disobedience, A Fantastic Woman), initially puzzled me. "Why does it start and end like that?" Immediately you get the confusion; the film begins and closes on a soundstage, pushing into and pulling out of a constructed set filled with actors, bookending the religious drama with Brechtian calls to the film's fictionality. The point becomes clear through narration; like stories, faith is predicated on a requirement to believe the reality of something that defies rational thought. 
It's a solid, if underdeveloped, parallel between the audience and protagonist Lib Wright (Florence Pugh), an English nurse who's pitted against a staunchly Catholic Irish community when she arrives to ascertain the cause behind a young girl's miraculous four-month hunger fast. This context is crucial; a child is surviving without the need of food in the years after the Great Famine, and an Englishwoman comes bearing intentions to force-feed an Irish citizen if needs be — both these factors are extremely loaded with the slightest knowledge of Irish history.
If the religiosity of rural Ireland rises en masse against Lib, she finds two unlikely connections; a similarly skeptical journalist William (Tom Burke) looking, and, strangely enough, the miracle child herself, Anna (Kíla Lord Cassidy). The two women are playful with each other's names, sharing a cautious camaraderie Lib doesn't have with any medical or spiritual experts in the community. The most interesting break-out child stars are undoubtedly the ones who debut in films that feel dark or strange, and Cassidy is no exception – she performs like Anna with a healthy mix of mysticism and hauntedness, terrified of the implications of her situation but aware of the power she holds by keeping secrets. 
Lib's frustration at simple science being rejected drives the narrative momentum, sending her into a gradually building frenzy over Anna's health. The appeal of The Wonder will be the clashes between science and faith and how one attempts to explain the gaps in the other's knowledge. It's particularly resonant in the period the film is set; not only does religion hold all the power, but medicine is nowhere near advanced enough to explain the extent of humankind's ailments. And yet, aside from a striking moment where Lib describes holy communion as just wheat, the erosion of Lib's steadfast beliefs (seen in some intermittent but impactful blood rituals) and the push-and-pull between science and religion is not as gripping or fleshed out as it should be. The most pertinent moment comes at the end of the narrative between Lib and a nun also sent to watch over Anna (the nun is held in higher regard than Lib). The scene gives a potent reflection on how religion has affected the quality of life for everyone vulnerable instead of trying to prove which has more sway in unexplained matters.
Anna believes she's been blessed by God – is this something she's been told and internalized? In a deeply religious family, where every value has been inscribed by elders, there's no unbiased or wholly original thought, something the educated English nurse – still reeling from watching first-hand carnage in the Crimean War – can identify but can't dismantle. Inside Anna's dingy loft bedroom, where each rustle can be heard, and every breath of air pushes up against you (aided by the magnificent choral gasps and harsh percussive clangs of Matthew Herbert's score), there's certainly not a mystical atmosphere, but rather the punishingly austere and mundane mood commonly associated with Catholic penance. Outside, over the rolling moors and hills, Leilo allows his camera to move in sweeping moves; inside, his shots are locked down and immobile. For Lib, it's a punishing atmosphere to try and cut through, and one she attempts to break relentlessly.
The reliability of Pugh as a commanding performer now goes without saying, and her adoption of a regional English accent only makes Lib stand out more in a hostile environment. It's peculiar to see a couple of English actors take on Irish roles, with Tom Burke and Toby Jones helping and hindering Lib's quest, respectively; while it's difficult for either performer to do a bad job, they stand out amongst the native Irishmen and women. It's a minor complaint amongst a largely pitch-perfect ensemble (come for Ciarán Hinds' detached priest, stay for Elaine Cassidy's tortured mother). 
As things roll on, and Lib has to choose to pull a religious con of her own, the breathlessness of the score starts creeping into your body, and The Wonder's bleakness resolves to a fine point; negligence is never piety, and suffering is not holy. For a story about the feud between faith and medicine, The Wonder is most compelling when it reminds us of its emotional reality – the context that allowed a young girl to suffer and those who bend over backward to save her.
---
By
for on October 15th, 2022
More to Love from Telly Visions