By
for on October 20th, 2022
The Trailer for 'The Crown' Season 5 is a Bittersweet Symphony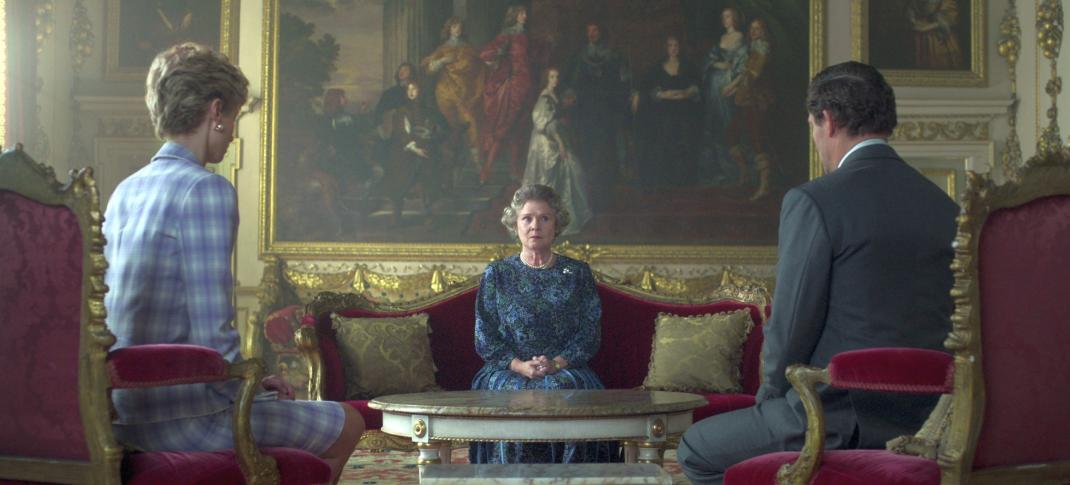 Queen Elizabeth II hasn't been gone for 45 days yet, and yet, her story is about to become one of November's most highly anticipated debuts. Netflix's The Crown, which has been chronicling the life of the late monarch decade by decade since 2016, has reached the most dramatic part of her extraordinarily long life, the 1990s, when everything seemed to be falling apart,
The series has always been somewhat controversial since Netflix announced it in 2014 when Elizabeth was still in the prime of her health. The idea of telling a fictionalized dramatization of a living monarch, especially one at this scale, was a bold choice. However, for the first two seasons, with Claire Foy and Matt Smith as the young Queen and her consort Philip and Vanessa Kirby as sister Princess Margaret, it felt less like fiction and more like hagiography, a propaganda piece doing its Shakespearean damnedest to be the authoritative voice of the Second Elizabethan Age, with small-time viewership to match.
But that has faded since the show reached its second casting with Olivia Colman, Tobias Menzies, and Helena Bonham-Carter as the central trio. The difference was Diana, who arrived in Season 4, with Josh O'Conner and Emma Corrin as the doomed Prince and Princess of Wales. The ratings shot through the roof, but so did the royal family's response, with the first official complaints and demands for Netflix to put disclaimers at the beginnings of the episodes stating this was all fiction. It didn't help that Elizabeth's health was starting to fail, and the imminent King Charles III was the one who was not being made to look good on screen.
But with Season 5, the outcry has grown louder. Screeners for the new season have not yet gone out to critics, and yet everyone, from Tory politicians to actors not involved with the series (like Dame Judi Dench), has been publicly decrying the new season, sight unseen. Accusations that the portrayal of Charles' divorce in particular are coming under fire, which is a sure sign that this is pre-emptive complaining based on assumptions Season 5 will be as unflattering as Season 4.
Of course, they're probably right, but that doesn't make the complaining any less foolish. If anything, the publicity will have the Streisand Effect of gaining more attention to Netflix's show. Not that it'll need it, as the first trailer, which focuses on Imelda Staunton as Queen Elizabeth, Dominic West as Prince Charles, and Elizabeth Debicki as Diana, shows this season is going to be a doozy.
The new cast stars Jonathan Pryce and Lesley Manville as Prince Philip and Princess Margaret. Timothy Dalton will play Peter Townsend, Margaret's could-have-been boyfriend from the show's early seasons. James Murray plays Prince Andrew with Emma Laird Craig as his wife Fergie; Claudia Harrison plays Princess Anne and Sam Woolf as Prince Edward, Marcia Warren is The Queen Mother and Olivia Williams is Camilla Parker Bowles. Timothee Sambor and Senan West play Young William; Teddy Hawley and Will Powell play Prince Harry.
Jonny Lee Miller is Season 5's Prime Minister, John Major, with Flora Montgomery as his wife, Norma. Bertie Carvel will play Labour leader Tony Blair, and Lydia Leonard is his wife, Cherie Blair. Humayun Saeed has been cast as Dr. Hasnat Khan, Diana's first boyfriend after leaving Charles, Khalid Abdalla as her next boyfriend, Dodi Fayed, with Salim Daw as Dodi's father, Mohamed Al-Fayed. Also, Prasanna Puwanarajah will play Martin Bashir, the journalist who conducted the infamous interview where Diana revealed Charles' long-term affair with Camilla.
The Crown Season 5 will arrive with ten episodes on Netflix on Wednesday, Nov. 9, 2022.
---
By
for on October 20th, 2022
More to Love from Telly Visions