By
for on May 28th, 2021
'Bridgerton' Casts Rupert Evans As The Late Family Patriarch For Season 2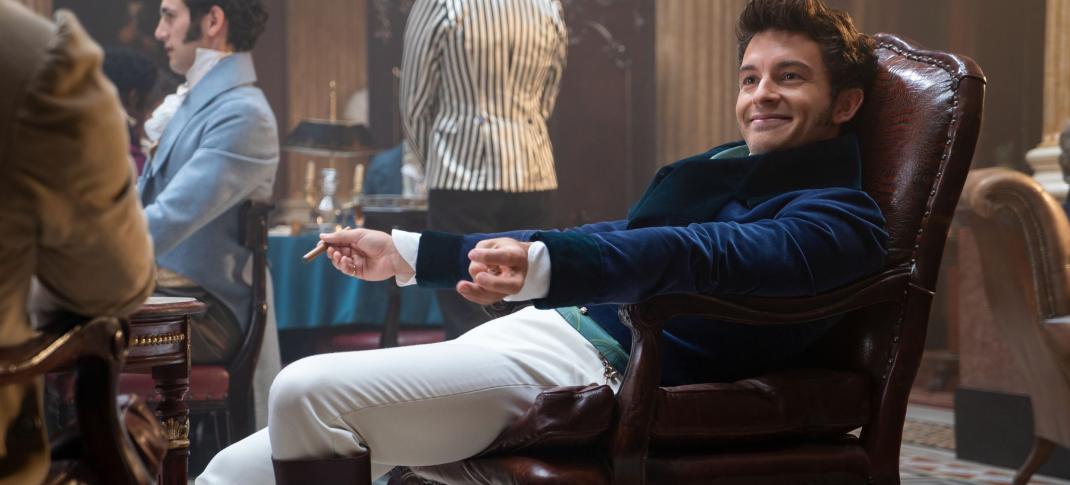 As Netflix and Shondaland continue to develop a Bridgerton-based empire, production on Season 2 of the series is happily humming along in London. But the latest casting news has implications not just for the current series but perhaps the spinoff as well. Rupert Evans (The Man in the High Castle) has been cast in the new season as Lady Violet's late husband, Viscount Edmund Bridgerton, father of the series' titular siblings. Americans probably know him best from the current Charmed reboot, but PBS-heads will remember him as Frederick from 2004's North & South.
With Daphne married (and her story so over, her husband is departing from the series), Season 2 has promised to focus on the next sibling in line to get married, eldest son and current titleholder Anthony Bridgerton (Jonathan Bailey). As Season 1 hinted, Anthony still has a lot of baggage surrounding the passing of his father when he was 18, and part of his issues with settling down stem from that unresolved trauma. The first season also ended with a big "easter egg" for fans of the books, zeroing in on a honey bee hanging out on the window sill, which directly references Anthony's coming romance, which gets a big assist from the tiny insect.
According to Deadline, Netflix is describing the late Viscount thusly: "Evans' Edmund is a loving and devoted husband, whose true love match with Violet Bridgerton gave them eight perfect children. He's also an endlessly patient and kind father who takes special pride in guiding his eldest son Anthony through life."
Dearest readers, Rupert Evans joins the cast of @bridgerton as Edmund Bridgerton, the loving and devoted husband of Violet Bridgerton and an endlessly patient and kind father who takes special pride in guiding his eldest son Anthony through life. pic.twitter.com/2ajkDipvZS

— Netflix Queue (@netflixqueue) May 28, 2021
Though Anthony's father never appears as a character in any of the Bridgerton novels, Anthony's memories of his father, and his recollection of the day he died, are a significant part of his character development. By casting Evans, it seems like Bridgerton will go full force into the past and re-enact some of the scenes in question and perhaps tip hard into flashbacks of Anthony's childhood. It also guarantees fans will probably see portraits of the late Viscount — a significant portion of the second Bridgerton book, The Viscount Who Loved Me, takes place at the family's estate outside of London.
That being said, Deadline notes that Evans is not being listed as a series regular, so fans shouldn't get too worried that the whole of next season will be littered with flashbacks. But bringing in Edmund as a character from the past may also signal the show's planned tie-in to the forthcoming limited prequel series. As noted, Netflix's announcement said Queen Charlotte's romance with King George would be the series' main focus. But both Violet and Lady Danbury's love lives would also be explored, something none of Quinn's novels have done so far. Establishing Violet's late husband in viewers' minds as part of Season 2 will help spur interest in seeing their romance play out. 
Bridgerton Season 2 is currently filming in London. There is currently no release date for the series return. However, with Netflix's holiday season already packed with highly-anticipated arrivals like Season 2 of The Witcher, fans aren't expecting the show to return until 2022.
---
By
for on May 28th, 2021
More to Love from Telly Visions