By
for on April 3rd, 2021
'Bridgerton' Season 2 Casting: Regé-Jean Page Departs As New Faces Arrive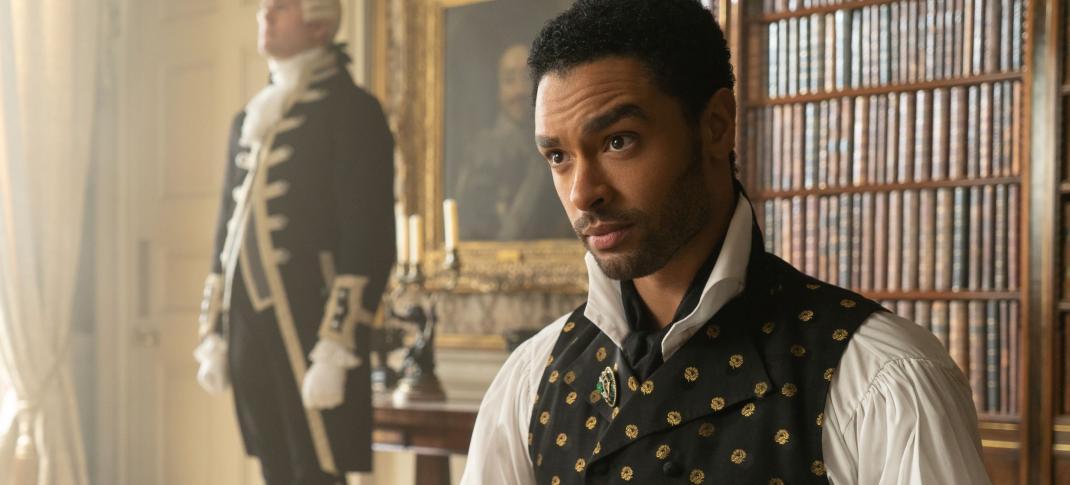 Netflix's Bridgerton has only just started filming for Season 2, but already the show is making waves. The significant addition to the second series is, of course, a new love interest, this time for Bridgerton sibling Anthony (Jonathan Bailey). As we reported, the original character, Kate Sheffield, is being altered to add South Asian characters in primary roles. The updated version will be Kate Sharma (Simone Ashley), a new arrival on the London scene who recently immigrated to England. It was unclear at the time if the series would also include the rest of the original character's family, but in an announcement, it seems her sister, Edwina, will also be part of the show.
According to Deadline, actress Charithra Chandran, a relative newcomer, will be playing the role of Kate's younger sister. Other than Bridgerton, Chandran's only role has been in Alex Rider, the first original series from IMDb TV. Moreover, it does seem like Edwina will remain the season's diamond of the first water, as Deadline described her role as the one who first catches Anthony's attention. Also, Rupert Young (Merlin) has been cast in an as-yet-undisclosed romantic role. Though some speculate he may be introduced as another Bridgerton sister's love interest, it's a better bet he may wind up with a Featherington.
But all that has been overshadowed by a major departure from the Bridgerton cast. Breakout star Regé-Jean Page, whose character, Simon Basset, has been the face of the series, will not be returning for Season 2. Perhaps understanding what a colossal seachange this represented, Bridgerton and Netflix put out a Lady Whistledown missive warning fans the actor would not return. 
Your Grace, it has been a pleasure. pic.twitter.com/kX1nIG8pz7

— Bridgerton (@bridgerton) April 2, 2021
Fans are already wildly speculating that something happened to make the production let Page go, but that doesn't seem to be the case. Viewers who have not read the books may not realize this, but the Julia Quinn series does not feature not the rollicking ensemble of the Netflix series. Though the immediate Bridgerton siblings appear in nearly every book, their love interests/spouses rarely do, other than in their specific love story. (The big exception being Penelope Featherington, for obvious reasons.) Kate, for instance, was not in Season 1; chances are Sophie (Benedict's true love) won't turn up until Season 3, and though fans got a glimpse of Eloise's eventual spouse, I highly doubt he'll be back until the show reaches her story.
Page concurs the role was only ever meant to be for a single season. Speaking to IndieWire, he said Netflix pitched it to him in a way that made his participation feel like "a limited series." As he saw it, "I get to come in, I get to contribute my bit, and then the Bridgerton family rolls on."
"One of the things that is different about this [romance] genre is that the audience knows the arc completes. They come in knowing that, so you can tie people in emotional knots because they have that reassurance that we're going to come out and we're going to have the marriage and the baby…I have nothing but excitement for Bridgerton continuing to steam train off and conquer the globe. But there is also value in completing these arcs and sticking the landing."
Bridgerton Season 2 has just begun filming. Though there is no stated release date, fans are hopeful the next installment will arrive by the end of the year.
---
By
for on April 3rd, 2021