By
for on March 13th, 2021
'Bloodlands' Star James Nesbitt on Playing Traumatized Characters, His Love of Northern Ireland and More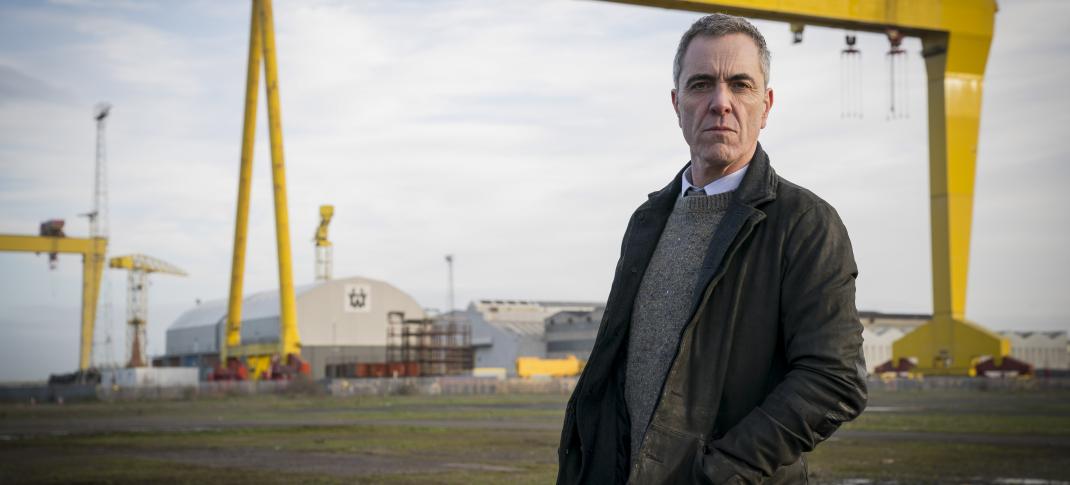 When you hear the name James Nesbitt, you may think of any one of the Northern Irish actor's dozens of film and television roles over the past three decades, including Cold Feet, Peter Jackson's The Hobbit trilogy, Waking Ned Devine, and The Missing. His career has indeed been prolific.
And as we've already reported here at Telly Visions, Nesbitt has a starring role in the new BBC mini-series called Bloodlands arriving on Monday, March 15 on Acorn TV. The Jed Mercurio-produced thriller about a detective investigating the apparent return of a shadowy Troubles-era assassin is set and was filmed in and around Belfast.
I got to meet the veteran actor "face-to-face" earlier this week. Seated at a desk in his London home, dressed in a white button-up shirt and sporting distinguished dark-rimmed glasses, James filled me in, via Zoom call, on the long and persistent road to his involvement in Bloodlands.
"Jed and I met when I was filming Jekyll a very long time ago, (Mercurio's partner, Elaine Cameron, was a producer on the 2007 series), and we kind of formed a friendship.  I would bump into him at things and say, 'Right, come on, when are we going to work together?' He'd say, 'Oh, we will, we will.' And then Line of Duty started and was filming in Northern Ireland, even though it wasn't set there. The more series that went on, I would be saying to Jed 'Listen, why am I not in this? I mean, it's filmed in my backyard!'"
Eventually, writer Chris Brandon sent Mercurio the script for Bloodlands which turned out to be the first commission under his own production company, Hat Trick Mercurio Television. This was the kind of Northern Irish character and story the producer had been waiting for and Nesbitt was all in.
"I mean, primarily it was because of the writing, because of Jed, because of the thriller aspect, Nesbitt explained. "But also a drama which was examining the balance between how important it is protecting the peace in Northern Ireland with justice for past crimes appealed to me."  
Though the actor admits he wasn't always keen to embrace the violent history of his homeland in his professional life.
"I'd spent so much of my childhood trying to distance myself from the Troubles because I was geographically distanced from it, even though it was just up the road. But I didn't want the notion of the whole world thinking where I came from was so wrapped in this kind of conflict."
The turning point in his attitude was when he starred in 2002's Bloody Sunday.  With the help of director Paul Greengrass, Nesbitt says he embraced Northern Ireland and the Troubles as "his King Lear".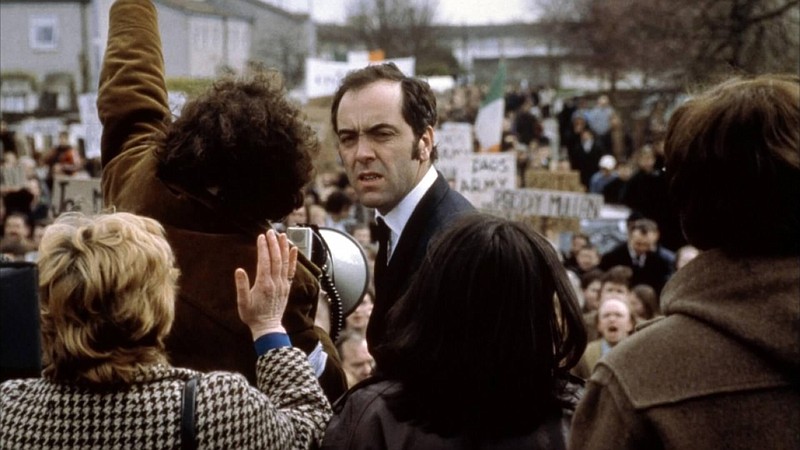 Since then, Nesbitt has been an openly proud cheerleader who, not only loves where he comes from, but wants the world to see its beauty and potential. He sees Bloodlands as a great vehicle for a global audience, and particularly an American one, to take another look at his homeland.
"To get to see an emerging Northern Ireland -the beauty of Strangford Lough, the beauty of the mountains of Mourne, Belfast as a cosmopolitan, vibrant, and now diverse city emerging from peace was very important to me," Nesbitt said. "We're at a very important juncture in the history of the North of Ireland and its relationship with the island of Ireland and with the British Isles. And as much as this show's about entertaining and having people on the edge of their seats and getting involved with the characters, but hopefully, they get immersed in the place that I call home, with which everyone has had a very complicated relationship, in a sense."
I mentioned that his Bloodlands character DCI Tom Brannick put me in mind of another cop he played in the past, Tommy Murphy from Murphy's Law. Both are family men who have suffered an agonizing loss.  I went on to add the devasted father in The Missing (2014) to this list of traumatized characters. I asked where he draws that desperate emotion from.
"It's hard to deconstruct in a sense.  You just have to spend enough time with the character. I spent enough time with them in my head," James said. "And also I am a father, you know, so I can draw on that. I am from Northern Ireland. I've dealt with that."
Of Tom Brannick, Nesbitt said he appreciates the frailty and complexity of the character, the conflict between a good, decent soul and the slow dissipation of morality. Characters you grow to love, and at the same time, get angry with. With another role, however, James went a bit more method.
"The Missing, in particular, was more interesting because I really did, for the first time in my life, try to live the life of Tony, the character I played. It helped that I was in Brussels, and we filmed all the present-day stuff at first, so I was really living on my own in an apartment," he explained. "Not necessarily looking after myself that well; I was probably drinking too much. And it's also about being in the moment."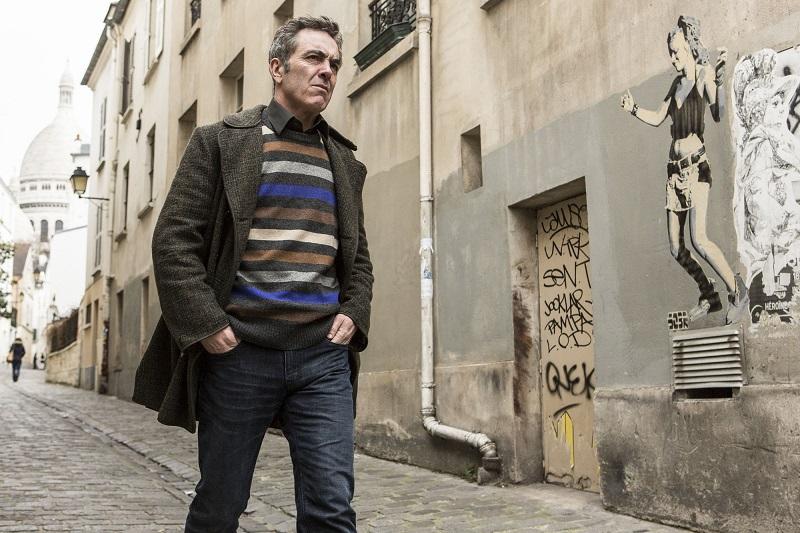 Or to put in more succinctly, Nesbitt concluded, "Also it's the job I suppose."
We moved on from fictional traumatized characters on screen to helping real victims of trauma. I had heard about the WAVE Trauma Centre in Belfast some years back and had read that James was a patron of the organization. He continues to be heavily involved and was happy to talk about its origins and the help they still provide today, over two decades after the Good Friday peace treaty was signed.
"WAVE Trauma was set up in the 90s by two bereaved widows, I think, on both sides of the Troubles, and it was expanded to offer counseling to anyone that was bereaved, traumatized or affected by the Troubles. When peace came, their funding was going to be sort of taken away, typically, because 'Oh the peace is here, you're cured' but actually, when the peace came, people all of a sudden began to want to have their voices heard," Nesbitt said.  "So we raised a lot of money back in the day."
During the conversation, the actor points out a portrait of himself as Tommy Murphy on the wall behind him. It was painted by the artist Tracey Emin who provided lots of artworks for WAVE fundraising.
"The last number of years WAVE's been really dealing with and I've been spending time with the families of the disappeared in Northern Ireland. And the Independent Commission for the Location of Victims Remains, which features in Bloodlands with our fictionalized disappeared, are the very body that we've been working with. They've managed to locate thirteen of the bodies' remains out of sixteen over the years. So, of course, it had an enormous resonance and reverence for me."
Another real-life/screen crossover he was proud to share was the story of Joe Griffin who, at nine years old, witnessed his brother being murdered by a UVF member. Griffin got help through WAVE and is now a trauma counselor himself. Nesbitt portrayed Joe in the film Five Minutes of Heaven.
Bloodlands finished filming last March, and the U.K. locked down shortly after. James has only just gone back to work in the past three weeks and is currently filming a Netflix series in England called Stay Close, based on a Harlan Coben thriller. He says he's playing yet another cop which made him laugh a bit.
"Unbelievable. I don't know what the hell people see in me. Although they're often a wee bit corrupt, but this one's a nice, optimistic character."
During the lockdown, Nesbitt remained in Northern Ireland instead of returning to London as originally planned. This unexpected break turned out to be a wonderful and timely gift.
"I was able to spend five, six months with my father, who was 91. And that was really, really special because I lost him in August," James said. "But I mean, I got to kind of rekindle a friendship with him. He was my primary school headmaster, he was my best pal when I was a kid. And so I got to sit and listen to him. And you know, we got to the stage where I think we both knew that lockdown had given me an opportunity to look at him with gratitude, and he was able to look at me as, 'You did all right, son'."
That being said, Nesbitt does have some apprehension about the societal repercussions of the pandemic going forward. One of his concerns is for the generation that includes his youngest daughter Mary, aged nineteen. Like many teens she missed the ceremonies and celebrations that go along with the transition from high school to college. She also had to skip going to Honduras to teach English with the Project Trust charity and has been working for a food bank at home instead.
Though his family has been quite lucky, Nesbitt says he fears for these students who've lost so many experiences and been a bit overlooked, in his opinion. A big football fan and a self-described foodie who's as eager as the next person to go out and partake in a pint of Guinness or a glass of wine, Nesbitt also hopes that we don't lose the good that has come out of lockdown.
"As brilliant as it will be for people to kind of re-integrate, I just hope that we don't forget the impact of what has happened," he said. "I hope that we understand that community and collaboration and charity – actually,  in the old sense of the word charity - and love has really carried a lot of people through this. I hope there's a renewed sense of responsibility that people feel toward others. [And] I'm including myself in that."
---
By
for on March 13th, 2021
More to Love from Telly Visions