By
for on January 7th, 2022
5 Ice Cold British Thrillers For Winter Warmth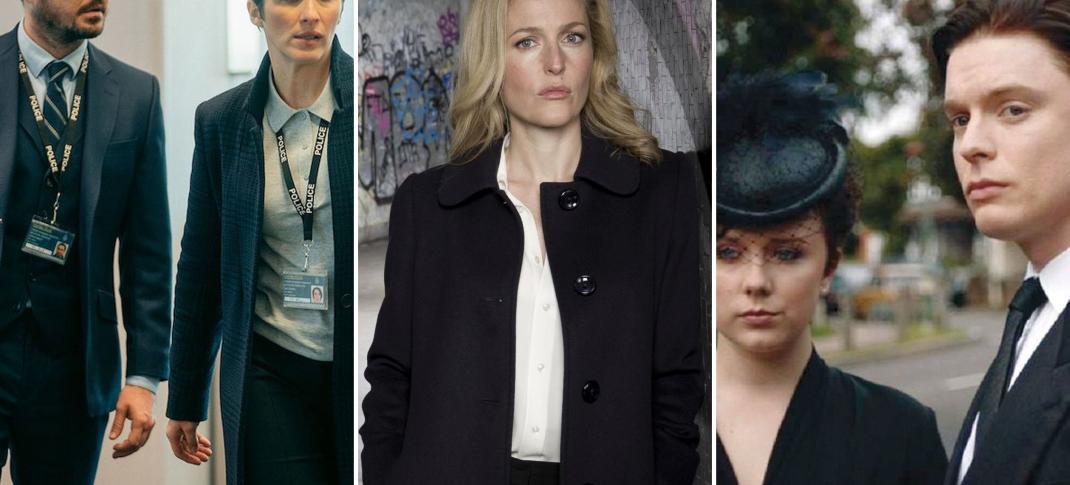 The doldrums of winter are a time when it gets dark early and stays that way. It's perfect TV watching weather, made even more so these days with coronavirus variants and flu threatening to take out those who aren't careful. If you're looking to forget the world's current problems and channel that energy into thriller television, this is a perfect point in the calendar to indulge in the uneasy. Unlike the standard British mystery whodunits of Grantchester or Endeavour, these shows are more of a cat and mouse game, as the protagonist and antagonist dance around a takedown.
The BBC and ITV are home to many fantastic thriller series, including some that haven't made it over here yet. (Showtrial, I'm looking at you.) But the plethora of streaming services across the vast American landscape makes finding British thrillers almost as tricky as tracking a bad guy across multiple episodes and seasons. Here are some of the best choices available and where to stream them.
The Murders at White House Farm
HBO Max is happy to promote its BBC America offerings like Doctor Who and Luther, but less well-known are the U.K. originals it's been importing to help keep up with the Netflixes. One of the best of the streaming service's short lifespan is The Murders at White House Farm, a dramatization based on the true-life White House Farm murders of 1985.
Freddie Fox stars as accused Jeremy Bamber with Stephen Graham and Mark Addy as the ones to nail him, with the help of Cressida Bonas and Gemma Whelan as survivors Sheila Caffell and Ann Eaton.
The Murders at White House Farm is streaming on HBO Max.
The Fall
A classic of the genre that jumpstarted Jamie Dornan's career, the three-season series The Fall ran from 2013-2017 and stars Gillian Anderson as Detective Stella Gibson and Dornan as the serial killer Paul Spector who she's trying to take down. Set in Belfast, the story of the BTK ("Bind, Torture, Kill") serial killer Dennis Rader inspired the series.
Michael McElhatton, Aisling Franciosi, Ian McElhinney, and Laura Donnelly co-star in this ongoing arc that watches Gibson become obsessed with finally taking Spector down.
The Fall is streaming on PBS Passport.
Bloodlands
The Northern Ireland-set series Bloodlands starring James Nesbitt looks at first blush as your standard police procedural with a few former IRA overtones but quickly twists into something deeply unexpected when the killer is seemingly revealed halfway through the series.
The back half becomes a race against time and a desperate game of following one's instincts, even as the show includes just enough plausible deniability as to whether or not the killer is who you suspect it is. Season 2 has already been greenlit and is expected on BBC One in 2022.
Bloodlands is streaming on Acorn TV.
The Serpent
The highest-rated series on BBC iPlayer during the early months of the 2020 lockdowns, The Serpent is a true-crime dramatization of the infamous 1970s era titular serial killer that's as much a recreation of a specific time and place as a chase to take out a murderer.
The series stars Tahar Rahim as Charles Sobhraj and Jenna Coleman as his accomplice girlfriend, Marie-Andrée Leclerc. Billy Howle and Ellie Bamber are the two determined to take them down, but it's also a love letter to the height of the hippie trail era and Thailand's Prachuap Khiri Khan Province.
The Serpent is streaming on Netflix.
Line of Duty
Most Americans have watched Bodyguard, the Richard Madden-starring series on Netflix. Not nearly enough of you have sat down to binge its predecessor hit Line of Duty, which at this point has aired six seasons of edge-of-your-seat thrill rides.
Martin Compston, Vicky McClure, and Adrian Dunbar star as the internal investigators of AC-12, dedicated to taking out the bad apples within the fictional Central Police Force. Each season is set in a distinct police division, with a different central corrupt officer the team aims to take down, played by high-caliber guest stars like Keeley Hawes, Thandiwe Newton, and Kelly Macdonald.
Line of Duty Seasons 1-5 are streaming on Hulu. Season 6 (and all future seasons) can be found on BritBox.
---
By
for on January 7th, 2022
More to Love from Telly Visions