By
for on January 28th, 2022
AMC+ Announces 'Happy Valley' Final Season In Production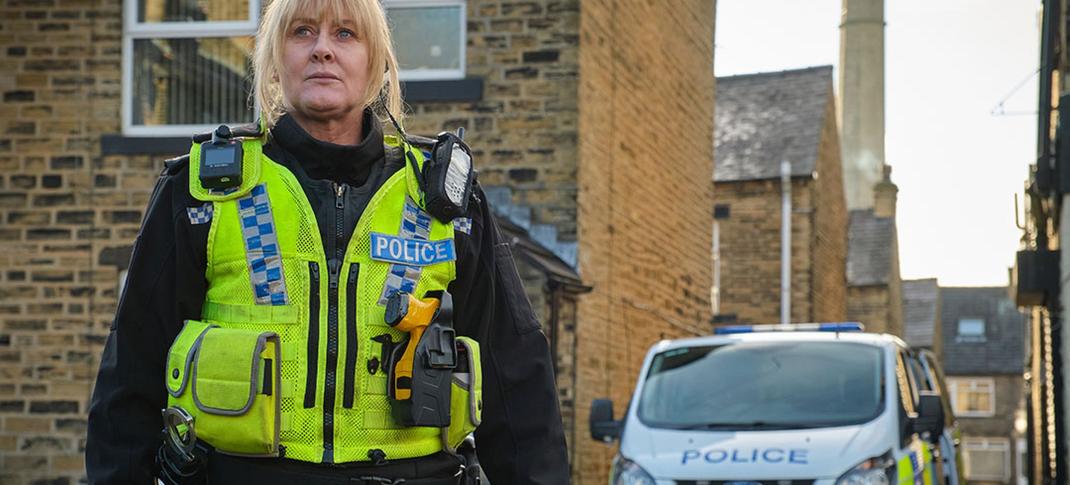 Happy Valley Season 2 aired back in 2016, two years after the show's initial debut on the BBC. The series, which stars Sarah Lancashire (Last Tango in Halifax) as Sgt Catherine Cawood and James Norton (Grantchester) as the man who raped her daughter and drove her to suicide, Tommy Lee Royce, spent two seasons with Cawood tracking down Royce's various masterminded plots. Season 1 put Royce away for what he did to Catherine's daughter Becky and for trying to kidnap the boy who resulted, Catherine's grandson, Ryan (Rhys Connah). Season 2 had Royce framing Catherine for the murder of his mother, forcing her to solve the crime and prove her innocence.
At the time, the ending of Season 2 felt like a series finale. The killer, DS John Wadsworth (Kevin Doyle), threw himself off a bridge to his death when Catherine confronted him. Meanwhile, Frances Drummond (Shirley Henderson) revealed that Royce was conning multiple women into becoming engaged to him and manipulating them into doing his bidding. The final scene of Season 2 seemed to tie up loose ends, with Royce put away for good, with no contact with visitors ever again. Catherine went home to her sister Clare Cartwright (Siobhan Finneran) for the two of them to raise Ryan right. But in a tag, Ryan receives a letter from his father, slipped out before Royce was put away, suggesting the happy ending might not last.
It took five years for the show to get greenlit for one last round. However, in October 2021, the BBC announced it would produce one more season of the series, bringing back Lancashire as Sgt Cawood alongside Finneran and Norton reprising their respective roles as Clare and Royce. AMC Networks would partner in the production and have exclusive rights to stream the third season when it debuted. (Seasons 1 and 2 are already streaming on AMC+.) AMC+ has put out a press release with further details, including the new cast, an updated synopsis, and word that filming is underway.

 
Here's the final season's synopsis:
When Catherine discovers the remains of a gangland murder victim in a drained reservoir, it sparks a chain of events that unwittingly leads her straight back to Tommy Lee Royce. Her grandson Ryan is now sixteen and still living with Catherine, but he has ideas of his own about what kind of relationship he wants to have with the man Catherine refuses to acknowledge as his father. Still battling the seemingly never-ending problem of drugs in the valley and those who supply them, Catherine is on the cusp of retirement.
Con O'Neill (Chernobyl) will join Lancashire, Finneran, and Norton once again as Clare's recovering alcoholic boyfriend, Neil Ackroyd. George Costigan (Line of Duty) will be back as Nevison Gallagher, with Charlie Murphy (Peaky Blinders) as his daughter and Catherine's police colleague Ann and Rhys Connah as Catherine's grandson Ryan Cawood. Other returning favorites include Derek Riddell (Gentleman Jack), Karl Davies (The Tower), Susan Lynch (Unforgotten), Rick Warden (The Beast Must Die), and Vincent Franklin (Bodyguard). New guest stars for the final season include Amit Shah (The Long Call), Mark Stanley (The Girl Before), and Mollie Winnard (All Creatures Great and Small).
Filming will continue in and around West Yorkshire for the next few months. Happy Valley Season 3 will consist of six hour-long installments and will almost certainly debut weekly on the BBC, and hopefully also on AMC+. There is no word as yet on when fans can expect to see the final season, but most are hoping it will be by the end of the year.
---
By
for on January 28th, 2022
More to Love from Telly Visions