By
for on October 27th, 2021
'Happy Valley' To Return For A Third & Final Season In 2022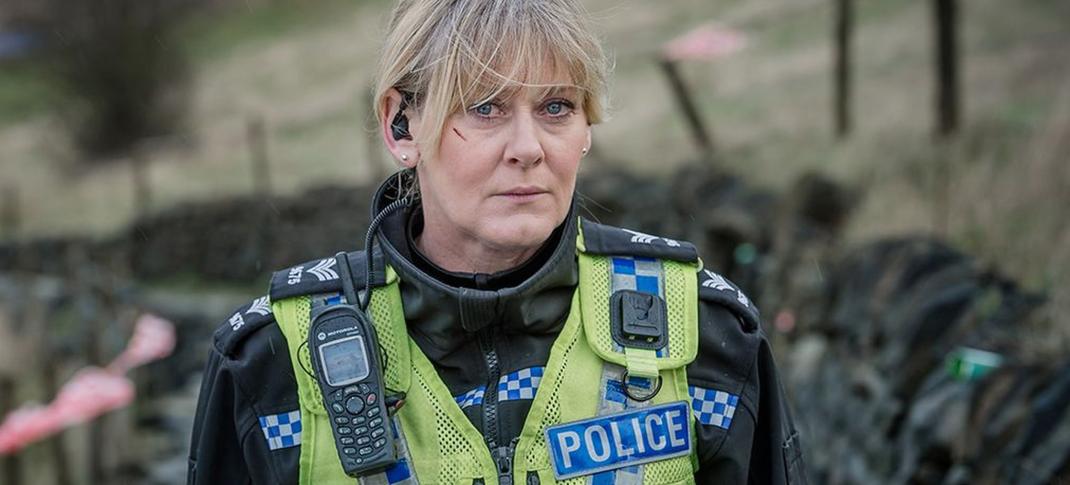 When Happy Valley debuted in 2014, the cop drama was the third hit series from the mind of Sally Wainwright, who was also known for her mystery series Scott & Bailey and her family drama Last Tango in Halifax. The series starred Sarah Lancashire as the iconic Sergeant Catherine Cawood, another in a long line of TV cops whose struggle with families that have been destroyed by tragedy. But after two seasons, the BAFTA award-winning series went dark for several years. Now the BBC has announced a third and final installment is coming to TV next year.
Set in Calder Valley, West Yorkshire, Lancashire's Cawood started in Season 1 as a PC, who struggled to come to terms with her daughter Becky's suicide eight years ago after being raped by Tommy Lee Royce, played by Grantchester's James Norton. Cawood and her sister, Clare, played by Downton Abbey's Siobhan Finneran, had banded together to raise Becky's young son, Ryan (Rhys Connah), Tommy Lee's child. Season 1 focused on Royce's release from prison and Cawood's obsession with putting him back inside. Season 2 flipped the tables, beginning with the death of Royce's mother and attention falling on Cawood as the main suspect, forcing her to prove her innocence.
Lancashire will reprise her role as Sgt Catherine Cawood, with both Finneran and Norton reprising their respective roles as Clare and Royce. No word if Connah will return as the now-teenage Ryan or be recast. (The BBC has hinted at other returning cast members, but said those will be announced "in due course.")
As for the new series, it seems like the murder will bring Cawood and Royce face to face again after his being put away for life at the end of the first season. But Tommy Lee isn't far out of the picture as family either:
In the final season, Catherine discovers the remains of a gangland murder victim in a drained reservoir — an incident that sparks a chain of events that unwittingly leads her straight back to Tommy Lee Royce. Her 16-year-old grandson Ryan still lives with her but has ideas of his own about what kind of relationship he wants to have with the man Catherine refuses to acknowledge as his father. Catherine is close to retiring, but a pervasive problem with drugs still haunts the valley.
Season 1 aired in mid-2014 and Season 2 in early 2016 in the U.K., followed by successful streaming runs in the U.S. on Netflix, where it became something of a cult hit. Both seasons of Happy Valley were available on Netflix streaming until March 2020, when they moved to AMC+. Apparently, that was no accident, as AMC Networks has partnered with the BBC to bring back the show for this final installment. The U.K. production side has also moved house, with Lookout Point, Wainwright's now-preferred production vehicle, taking over from Red Production Company, who made seasons one and two.
Happy Valley Season 3 is expected to start filming in early 2022 in West Yorkshire for a six-episode season. The series will air on BBC One and on AMC+ here in the states. Happy Valley Seasons 1 and 2 are streaming on AMC+.
---
By
for on October 27th, 2021
More to Love from Telly Visions