By
for on April 1st, 2020
12 British Shows To Stream in April 2020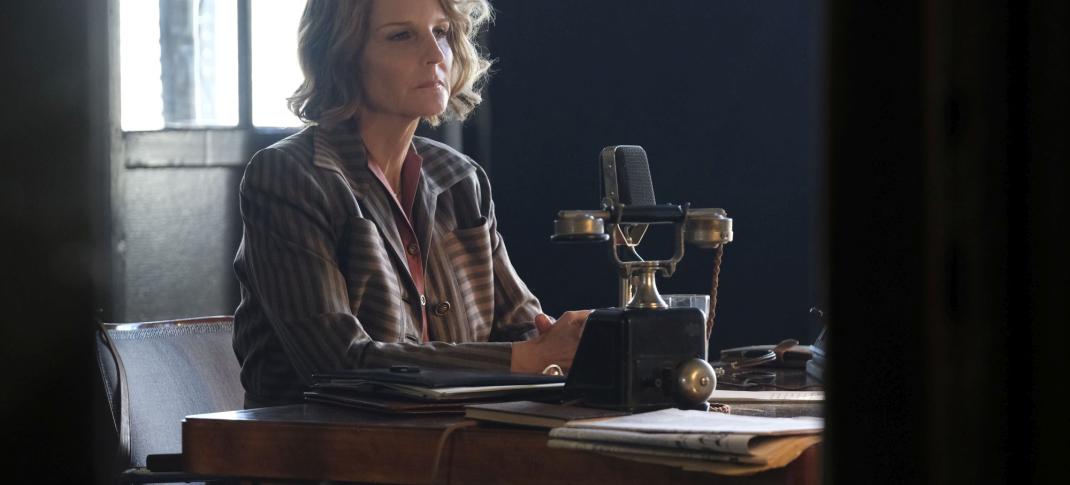 It's official. The COVID-19 social distancing guidelines remain in place until April 30. Since the next time life will be normal won't be until (at least) May, we're all going to need more TV to keep us sane. From Netflix to PBS Passport, there are several new series arriving to hopefully help drive away those indoor blues.
What's coming to the U.S. in British TV in April? Let's run down the biggest titles arriving this month.
PBS
World on Fire 
Masterpiece's big World War II drama, World On Fire, stars Helen Hunt (Mad About You), Sean Bean (Game of Thrones), Lesley Manville (Harlots), Jonah Hauer-King (Little Women) and Blake Harrison (A Very English Scandal). 
The series begins airing on Sunday, April 5 and will run for seven episodes, but PBS Passport members can binge the whole thing starting on premiere day. (Our recaps will still go week to week though.)
Baptiste Season 1
One week after the World On Fire premiere, PBS' Sunday evenings will add Baptiste, the new mystery spin-off starring Tchéky Karyo reprising his role as French detective Julien Baptiste from the BBC hit The Missing. For this first outing, he'll be joined by co-stars Tom Hollander (The Night Manager) and Jessica Raine (Call the Midwife). The six-episode series begins airing April 12, but PBS Passport members can once again binge the whole thing starting that first week. Once again, recaps here at Telly Visions will follow the weekly schedule.
Call The Midwife Season 9
Speaking of Call The Midwife, the series began airing on Sunday, March 29, but because of the complex nature of online rights surrounding the show, streaming is a slightly more complicated affair.
PBS Passport members do get a bit of a treat, however. Each episode will be available to stream two days prior to the Sunday on-air debut, so that members can watch up to 48 hours before airtime. Following its broadcast, each episode becomes available for free streaming online and via the PBS Video App, which you can download to your phones, tablets, smart TVs etc., regardless of whether they support their local station. Each episode is available on the app for 14 days after airing before moving off. Once the season ends, then the whole set will then move bag and baggage to Netflix, where the first eight seasons are currently streaming.
Netflix
After Life Season 2
As for Netflix's big debuts this month, the first is Ricky Gervais' follow up to last year's After Life. The new season will see his character, Tony, will try and find happiness in a post-grief world. And don't worry, animal lovers, Gervais promises that nothing bad happens to the dog. All six episodes arrive on Friday, April 24.
Time to Eat with Nadiya Season 1
For The Great British Baking Show fans fiending for a few cakes, Netflix is bringing one of the franchise's famous chefs to our shores.
Time To Eat With Nadiya, which first aired on BBC Two, stars the Season 3/Series 6 winner, Nadiya Hussain, will launch a new cooking series on Wednesday, April 29. Like last year's Salt Fat Acid Heat from Samin Nosrat, this show is named after Nadiya's recent cookbook Time To Eat. The six episodes will feature everything from very British recipes like Spotted Dick Bread to the more universal Chocolate Chip Pan Cookies.
BBC America
Killing Eve Season 3
Like Call The Midwife, the streaming rights to Killing Eve (and everything on BBCA) are about to get a whole lot more complicated when HBO Max rolls out in May. The series now starts Sunday, April 12, two weeks earlier than initially planned. The show will then stream on the BBC America app. Much like the PBS app, each episode will be available for 14 days after it airs. Once the series ends in May, it will then move to HBO Max, either right when or just after the launch happens.
Acorn TV
Deadwater Fell 
For those who signed up for a free 30-day trial to binge Miss Fisher, Acorn TV has a new high-profile series coming this month.
Deadwater Fell stars BBC favorite David Tennant (Doctor Who), alongside Cush Jumbo (Vera), Matthew McNulty (The Terror) and Anna Madeley (The Crown). The synopsis: "When a seemingly perfect and happy family is murdered by someone they know and trust, the small Scottish community they call home becomes torn apart with mistrust and suspicion as those closest to the family begin to question everything they thought they knew about their friends." This four-episode series will be a weekly release with new installments every Monday starting April 6.
Vintage Roads Great & Small Series 2
With the All Creatures Great & Small revival expected to arrive in the 2020-2021 TV season, Acorn TV is bringing 2019's Vintage Roads Great & Small to its streaming service starting Monday, April 13. The original series' Peter Davison and Christopher Timothy celebrate  "early motor car travel" and explore the history and heritage found along Britain's vintage highways in this lighthearted look at the forgotten byways of the British Isles.
Lovejoy Series 5-6
The last two seasons of Ian McShane's Lovejoy join the first four, as Season 5 arrives on April 13 and Season 6 (the final season) joins it on April 27.
BritBox
Father Brown Series 1-6
The first six seasons of Father Brown, the long-running TV mystery, are now collected in one place on BritBox, starting on April 1. Starring Mark Williams as Father Brown, the eponymous crime-solving Roman Catholic priest. For those who haven't seen it, the series is set in the 1950s and based (loosely) on the short stories by G. K. Chesterton. With the show now the third-longest-airing non-soap opera show on the BBC, one should expect further seasons to join them.
Easter from King's 2020
With COVID-19 forcing churches to stream services from an empty parish on Easter Sunday, why not tune in to the one at King's College? BritBox will be streaming the annual British tradition from the historic chapel on April 12. Considering the restrictions the church will be working under; this may well be a historical curiosity worth checking out, even if Easter isn't your thing.
Waiting For God Series 1-3
The 1990s-era sitcom Waiting For God stars two elderly eccentrics, Diana Trent (Stephanie Cole) and Tom Ballard (Graham Crowden), refusing to grow old gracefully arrives on Friday, April 24, with the first three out of five seasons.
---
By
for on April 1st, 2020
More to Love from Telly Visions