By
for on February 27th, 2020
'Deadwater Fell' with David Tennant Snags April Acorn TV Release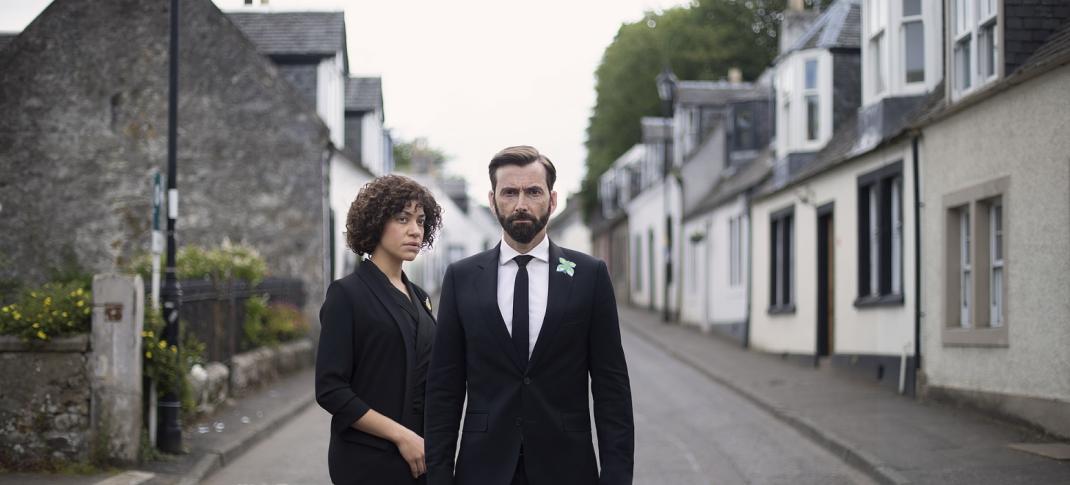 Mark your calendars: New David Tennant drama Deadwater Fell will premiere on Acorn TV this April. 
To be fair, we already knew that it was headed our way at some point this spring, but now that we have an official airdate, it makes the wait much easier to deal with. The four-part mystery series will premiere on Monday, April 6, and will drop new episodes every week through the end of the month. 
Tennant plays Tom Kendrick, a local Scottish GP with a picturesque marriage and family, who ends up accused of a heinous crime after his wife and three daughters die during a horrific fire - of which he is the only survivor. The case - and the debate surrounding who is responsible for the murders - rips apart their small community, as lines are drawn, secrets are revealed and the residents begin to question how well they really knew their friends. 
Everyone, after all, has something to hide. It's the show's tagline for a reason. 
Anna Madeley stars as Tom's wife Kate, who struggles with post-partum depression and other mental issues, while Cush Jumbo and Matthew McNulty play the Kendricks' best friends, who're going through some relationship problems of their own. 
Watch the Channel 4 trailer for the series below: 
Though the story upon which Deadwater Fell is based is fictional, it is at least sort of connected to true events.
Writer Daisy Coulam and producer Emma Kingsman-Lloyd have both explained in the past that they were inspired by the HBO true crime documentary The Staircase, which in turn followed the story of novelist Michael Peterson, who was suspected of killing his wife after she fell down some stairs in their home in 2001. After an autopsy found injuries inconsistent with death from a fall, he was tried for her murder. Throughout, Peterson and his daughters maintained that he was innocent.
(In a weird twist, Peterson not only maintained his innocence, but insisted that his wife was killed by an owl attack. Yes, really. You can learn more about this wild story on a variety of true crime podcasts, most notably, the first episode of popular series Criminal. It's worth a listen.)
How Deadwater Fell will choose to tell their version of this story is unclear - pretty much everyone in the trailer above looks shady at best and a cold-blooded killer at worst. So, you know, a lot of things could happen over the course of the story.
Will you give Deadwater Fell a look? (And as always: Should we recap or review it?) Let's discuss in the comments. 
---
By
for on February 27th, 2020
More to Love from Telly Visions