By
for on March 2nd, 2020
10 British Shows To Stream In March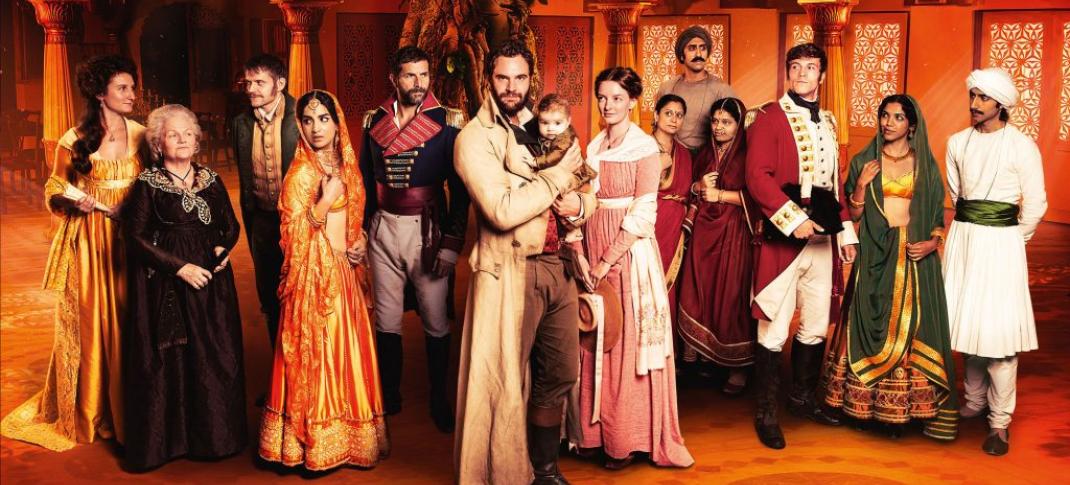 March comes in like a lion, goes out like a lamb, and its new streaming offerings are every type of animal in between. From Netflix to PBS Passport, there are several new series arriving just in time for the flowers that bloom in the spring.
What's coming to the U.S. in British TV in March? Let's run down the biggest titles arriving this month.
PBS
Beecham House
Launching on PBS Passport beginning March 1 as an exclusive early release before it airs on PBS stations later in 2020, Beecham House is a lavish series set in 18th century India.
The six-episode single-season series follows the wealthy and mysterious John Beecham (Tom Bateman, Vanity Fair), "a former soldier who purchases an opulent house to start a new life with his family." The cast reads like a PBS who's who, with Lesley Nicol (Downton Abbey), Gregory Fitoussi (Mr. Selfridge), Leo Suter (Sanditon), and Dakota Blue Richards (Endeavour).
Netflix
The English Game
Netflix dives into period sport drama on Mar. 20 with The English Game, a new series from Downton Abbey's Julian Fellowes that will explore the origins of football, tracking it back to Northern England in the mid-1800s.
The story traces "how those involved in its creation reached across the class divide to establish the game as the world's most popular sport," which was invented in the U.K. Edward Holcroft (Wolf Hall) plays the First Lord of Football, Arthur Kinnaird, and Kevin Guthrie (Fantastic Beasts) is Glasgow native Fergus Suter, who was the first professional footballer. Niamh Walsh (Jamestown) and Charlotte Hope (The Spanish Princess) co-star.
Acorn TV
Lovejoy, Series 3-4
Continuing from last month, the Ian McShane-led series drops Series 3 on Mar. 2 and Series 4 on Mar. 23.
Blood Series 2
Starting on Mar. 9, Acorn begins airing the second season of Blood every Monday, beginning with two installments, and then once a week to follow. The 2018 series stars Adrian Dunbar (Line of Duty) as Jim Hogan, a respected ex-doctor in a small Irish town. Series 1 is already on the service in full.
Miss Fisher & The Crypt of Tears 
Acorn TV's most-anticipated release of 2020, Essie Davis finally returns to the role of the Hon. Miss Phryne Fisher in a brand new, globe-trotting feature film mystery on Mar. 23. Nathan Page will return as Det. Jack Robinson and Izabella Yena (Preach) joins the cast. Miss Fisher & The Crypt of Tears will also have a limited release in theaters.
Liverpool 1, Series 1-2
Closing out the month on Mar. 30, Liverpool 1 is a gritty police drama set in the heart of Liverpool's underworld from the late 1990s. It stars Samantha Womack (Kingsman: The Secret Service) as DC Isobel de Pauli, part of the vice squad at Bridewell, "at the sharp end of the fight against the drug pushers, porn barons, pedophiles and pimps who run the crime networks in this renowned port." The series co-stars her husband Mark Womack (Sorted) and Paul Usher (Robin Hood).
BritBox
Rosemary & Thyme
The mid-aughts series Rosemary & Thyme kicks off Britbox's offerings on Mar. 1. The gardening consultancy started by Rosemary Boxer (Felicity Kendal, Doctor Who), and Laura Thyme (Pam Ferris, Luther) turns into a detective agency as the two solve horticultural problems as well as murder.
Bancroft 
ITV's highest-rated drama of 2017 finally finds its way to this side of the pond. Bancroft stars Sarah Parish (Broadchurch) as the title character. Her stellar reputation on the police force is threatened "when an ambitious recruit (Faye Marsay, Game of Thrones) takes on a cold case that threatens to bring a long-hidden part of Bancroft's devastating past into the present."
Dr. Who and the Daleks & Dalek's Invasion Earth 2150 A.D.
Britbox was launched on the back of having the most extensive collection of Classic Who episodes in one place. Now it adds to those on Mar. 13 with these two Doctor Who stories starring Peter Cushing as the only Doctor not technically recognized by the present-day series.
Casualty 1900s: London Hospital, Series1-2
Also coming Mar. 13, the period spinoff of BBC's longest-running medical drama Casualty. As one would expect, Casualty 1900s: London Hospital trades the modern medical mysteries and diseases for the turn-of-the-last-century maladies like tuberculosis, pneumonia, and measles, and the period horrors of the early emergency rooms. 
---
By
for on March 2nd, 2020
More to Love from Telly Visions