By
for on April 26th, 2020
The Phony War is Over on 'World on Fire'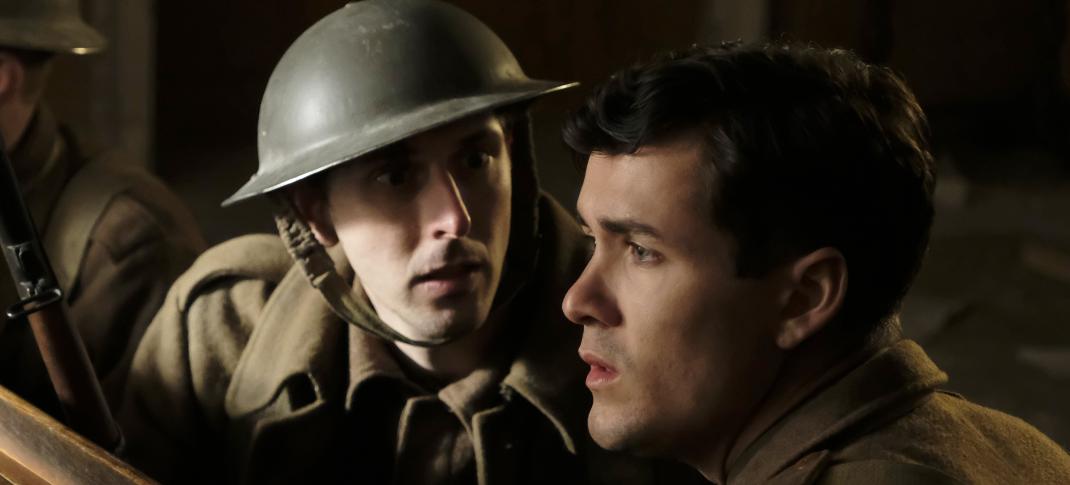 Efficiency, journalist Nancy Campbell reflects in Berlin as World on Fire's fourth episode opens, is what the Germans excel at and which may win them the war. Nevertheless, she's determined to air her piece on euthanasia, despite her handler Schmidt's objections. Although her neighbor Mr. Rossler has ordered Nancy out of his family's apartment, she's still friends with Mrs. Rossler and her daughter Hilda. To Mrs. Rossler's dismay and Nancy's, Mr. Rossler now wears a Swastika lapel pin, indicating that he's officially a member of the Nazi party. It's necessary, he argues, to protect the family.
Douglas: You had the courage and good grace to come and tell my girl about your lad, and the thing is what she didn't tell you, what with pride and what have you, is that she's having his baby. Harry's baby.
Nancy takes the precaution of having her script delivered to the studio, but Schmidt intercepts it. Worse, we find that Schmidt knows all about the Rosslers, confirming the family's fears, and Nancy is forced to agree to non-controversial topics for her broadcasts. Whether she can trust Schmidt is doubtful, though. She returns home to find that Mrs. Rossler and Hilda are going to their summer house while Mr. Rossler stays in Berlin. Nancy and Mrs. Rossler, both putting a brave face on things, say farewell, and Nancy gives Hilda some American candy as a going-away present.
We haven't heard from Nancy's nephew, Webster O'Connor, for a while. He's still on the staff of the American Hospital in Paris, still in love with Albert Fallou the saxophonist, and is a poster boy for compassion and tolerance. He treats an elderly, frightened Jewish couple who have been attacked on the street and shouldn't even be in the hospital; just as we saw in Warsaw, anti-semitism is on the rise in Paris in anticipation of the Germans taking the city. Nurse Henriette Guilbert (Eugénie Derouand) confesses to Webster that she carries forged papers: she is Jewish but chose to remain when her family, like so many others, fled. Webster thanks her for staying. Not even the discovery of a pig's head on the doorstep and a swastika scrawled on the door of Albert's apartment shakes his complacency much.
In Manchester, all the Bennetts are home. Lois confesses to her father that she's pregnant, and I think it's interesting that Douglas knows ("I'm shell-shocked, not stupid") and doesn't seem particularly concerned. It may be a working-class attitude that unwanted babies happen, but you deal with it. But we don't know Lois's true feelings about her pregnancy. She's had to leave her position with the band and looks on angrily as Connie takes over as vocalist and later apologizes to her. What are her plans now? I hope we'll find out soon.
The Bennetts receive a visit from Robina and Jan. Robina tells Lois Harry is married and feels it's unfair to keep her in ignorance. He's only a man, she implies, so Lois should try not to judge him too harshly. She pays Lois the doubtful compliment that if she'd known Harry was to marry a Polish waitress, she would have considered Lois more of a prospect. Douglas returns the visit later that day, Robina, her usual argumentative, provoking self. It's a sort of combative yet unpleasant flirtation in this context, asking Douglas what he thinks of Hitler and Churchill and frowning at the amount of sugar he puts in his tea. He deflects by telling her Lois is pregnant. Robina is at a loss for words.
On leave, Tom has decided he is now a pacifist and asks his father for help. But Douglas explains it would discredit the peace movement to have a deserter join; Tom could face arrest and even hanging. Lois won't take his side either. Tom teases Robina went she arrives before letting her in. (I particularly liked his suggestion that she was Douglas's fancy woman). Whether Tom has truly riled her up or it's her intention all along, she goes in with guns blazing and demands to know what the family wants. Money? Involvement in the child's life? Nothing is decided, and Douglas explains that Robina wasn't thinking straight, which I think is extraordinarily generous.
In Warsaw, Kasia has graduated to committing murders herself and she and Tomasz are cruising churches. (Frustratingly, we're not seeing what's happening with the rest of the Resistance.) When she targets and kills a high-ranking SS officer, the Germans retaliate by seizing and executing 20 random people. One of the women being dragged away throws a brooch wrapped in paper in their direction. It has an address, and Kasia insists they take the clip there. She tells the family that she is responsible for the woman's death. As they leave, a German officer is invited into the neighboring apartment. Kasia may have blown it. But she is committed to killing 25 Germans in retaliation.
Kasia's brother Grzegorz and his fellow soldier Konrad are still on the run in eastern Poland, and they encounter a group of German soldiers who give chase. When the two become separated, Grzegorz meets yet another German soldier, nervous and alone, who can't handle his rifle (not the first time this plot point has been used). As the young man hesitates, Grzegorz offers to shake hands, but Konrad appears and shoots the German. They quarrel fiercely but then meet up with British tanks and join them. Konrad is killed and Grzegorz is devastated. We see him wandering alone in the forest, weeping.
Finally, Harry. He's still a totally useless officer, and his sergeant Stan scoffs at him and demands he do his job, not bothering to hide his friendly contempt. The men don't seem to care, probably because everyone is exhausted and frightened. They are in retreat from the Germans in Belgium, taking what rest they can in abandoned buildings. Their situation is dire enough that Harry gives the order to his men to write letters to their families. He stays up all night writing to his mother, or so he tells Stan (do you think he was brave enough to mention impending grandmotherhood?). German troops arrive at dawn, and Stan tells him they should get out immediately, and Harry hesitates. Finally, they retreat to a spot outside, where they receive radio orders to go north to France. One of Harry's men is shot by snipers from an upstairs window and lies screaming in pain.
Stream Now
World On Fire
Emotionally gripping World War II drama World on Fire premieres on Sunday, April 5, 2020.
Image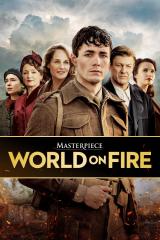 Harry makes the decision to go back into the building and discovers two German soldiers, one dead and the other very much alive and on the attack as Harry hesitates. Fighting for his life, Harry grabs the other man's knife and stabs him several times in a berserk rage. Stan, who's followed, watches in amazement and then in sheer confusion when Harry closes the dead man's eyes.
Later, as they occupy an abandoned mansion, Harry tries to explain himself to Stan and thanks him for his help. His father, Harry says, messed up in the last war, and now he understands (whatever that means). But it's only a brief respite. They have no radio contact now, and a burst of enemy artillery fire begins, taking them by surprise.
We're over the halfway point of the series now, and we're getting to know most of our characters fairly well, although some are more convincing than others. Surprisingly, Douglas Bennett, who attributed courage and good grace to Robina, possesses both of these qualities himself. Lois, who was so fearless and strong, and whose career as a singer has now probably ended, is diminished. And, again, when will Harry become more like his mother? Or, simply, who is in the most trouble?
---
By
for on April 26th, 2020
More to Love from Telly Visions