By
for on April 12th, 2020
'World on Fire' Brings Fear, Disruption & Loss Across Europe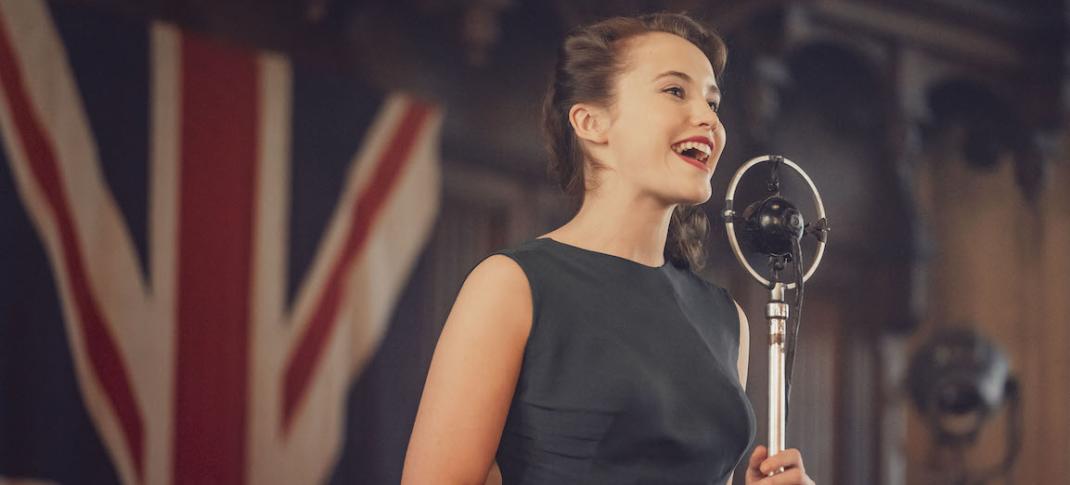 Warning: There are scenes of brutal violence in this episode that some viewers may find upsetting.
As the second episode of World on Fire begins, we're one month into the war and our characters continue to grapple with love and loss, and make irrevocable decisions. Watch the seires' opening titles closely — in this episode the images we see in quick succession include a collage of happy family photos before the war mixed with the British government's war maps, rifles, suitcases abandoned on a railroad station covered with dust and rubble, and a woman drawing stocking seams onto her legs. I think that's probably Lois, who, still ambivalent about whether she should accept an offer from ENSA, is auditioning with her friend and pianist Connie (Ysa Daley-Ward).
Robina: I thought it was the Jews who are in trouble. Why isn't he Jewish?
Harry: Would you like me to go back and exchange him? 
We'll be staying in Manchester for a while as Harry has arrived home with little Jan. Robina's face, as she watches them get out of the taxi, is a mask of wordless horror. She continues to needle her son in between outraged claims that she has no maternal instincts whatsoever, a claim that's probably not a surprise to anyone. After walking in on Harry shaving, she makes a snide remark about his intention to go socializing that evening. She adds, as a throwaway comment, that his razor is "the blade he used, your father." It's easy to write off Robina as a 100% horrible person but I believe she is probably more damaged by her past and World War I than we know at the moment.
But don't feel too sorry for Harry. He, too, covers up his pain and in so doing hurts others. He tries to find out how Kasia's neighborhood fared in the bombing, with Jan sitting anxiously by when he's on the phone. And yes, his intention is to go socializing that evening, and at the club where Lois is singing. I'm not sure that he really meant to tell her what was going on, but instead he allows her to fling herself into his arms and tell him she loves him. She knows he's changed by his experiences in Warsaw, but he doesn't share much. Besides, he doesn't expect to be around much longer, as the foreign service will send him on another assignment.
Back in Warsaw, tanks are rolling in as bombs fall, and the citizens are panicked. Kasia and her mother, Maria (Agata Kulieza), like many others, are planning to leave while they can. Dodging collapsing buildings and gunfire, Kasia rescues a trapped resistance fighter, Tomasz (Tomasz Zietek), and takes him back to the apartment. At any moment, German troops could arrive. He's covered in dirt from explosions, so Kasia pulls out one of her elder brother's sweaters for him. As he changes, she catches a quick glimpse of the Star of David he's wearing.
When German soldiers arrive at the apartment, they accept that he's her brother. They tell her Warsaw has surrendered, the conversation switching between German and English. It's a frightening moment; the soldiers are armed and volatile, and we've already seen them randomly attack people in the streets. Maria mutters comments under her breath that life in the city will now be hell. Kasia explains fear and shock are to blame for her mother's behavior, and the soldiers seem to believe her. But as they leave, their leader casually shoots Maria dead.
Radio journalist Nancy Campbell has returned to Berlin, where she and her minder and censor Schmidt (Max Riemelt) battle about what she can and can't say on air. She finishes an emotional account of the fall of Warsaw with the question, "What will Britain do?" And adds, to Schmidt's rage, "What will America do?"
Stream Now
World On Fire
Emotionally gripping World War II drama World on Fire premieres on Sunday, April 5, 2020.
Image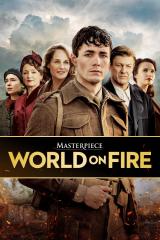 We see Harry listening to Nancy's broadcast, and then the scene fades to Kasia's apartment. She is cleaning the blood from around her mother's body. She lies down next to her and embraces her, and then the scene fades to Webster and Parker waking in Paris, arms around each other, following a tender declaration of love the night before.
And … back to Manchester and our favorite petty criminal, Tom Bennett, who is being released from jail on the condition that he join the military. Tom has a solution for that — he's going to try for conscientious objector status. However, he blows his new identity when he's accused of cowardice by some other men at the recruiting office and gets into a fight.
As a result, he cheerfully announces to his pacifist family that he's joined the Royal Navy as a compromise, "I don't really believe in anything for long, Dad. At least I'm fighting on the right side." Lois thinks he's made the right decision, but he and their father argue, and Tom slams out of the house. Lois chooses this moment to tell Douglas that she's taking the ENSA job.
Lois visits Robina, who once again goes into an outraged soliloquy on the enormity of being expected to look after a small child (who may well understand some English), but she's found him a jigsaw puzzle to play with. I only hope that Robina has a friendly cook or some other servant who's looking after little Jan. But the child opens up to Lois, delighted that she can pronounce his name correctly, and they happily put puzzle pieces together. During the visit, Harry comes back from his trip to London, where we know he's been fired from the Foreign Office and offers to drive Lois home. She confides in him her longing for action.
At her insistence, they drive to the countryside and have sex in his car - her first time - and that, she tells him, marks the end of their relationship. She's guessed that Harry had not been honest with her. She angrily tells him she knew there was more to his rescue of Jan and Harry's relationship with the Tomaszeski family than he let on because Kasia was the only one he didn't name. And, once again, Harry doesn't apologize; just acts like a passive lump. Harry returns home and tells his mother he's been fired. She's furious because, in her eyes, he's failed her and once again compares him to his father.
We see Kasia next with a priest in a bombed-out ruin of a church, laying her mother to rest, after which she goes back to work at the cafe, now crowded with German soldiers. She spits in the soup and I don't blame her one bit, and talks back to a German soldier who wants to know if her employer is Jewish. He reacts violently and she flees onto the street. Amid the crowds, she sees Grzegorz, her brother; it's a bit unlikely, but he probably came back to see his family, not realizing that now Kasia is the only one left. She follows him into a ruined building where Konrad (Borys Szyc), who fought with Grzegorz in Leipzig, holds a gun to her head before realizing who she is. The three have a hurried conversation. Kasia does not tell her brother their mother is dead but advises him to get out of Warsaw. They leave her with a gun.
Back out on the street, she sees German soldiers harassing an elderly Jewish man. They call for scissors, and a pair is dropped from above, apparently from a neighbor whose home has not yet been destroyed, an ominous foretelling of what will happen in the city. As the soldiers begin to cut the weeping man's beard, Kasia prepares to fire but is hustled out of the way by Tomasz, the resistance fighter she saved. They confront each other and she refuses to give her weapon up. Pointing the gun at him, she announces that she wants to fight.
In Berlin, Nancy befriends her neighbors, the Rossler family. They are very nervous about their young daughter Hilda (Dora Zygouri), who is not going to school, and even more alarmed by the interest shown in them by another neighbor, Frau Pessler (Helene Grass). Nancy finds out why when she goes to the movies with the family: as they watch the newsreel, Hilda experiences a seizure brought on by the loud noises and flashing screen. Frau Kessler, a few rows away, takes note. The Rosslers and Nancy carry Hilda home, where her parents refuse to call a doctor. Hilda has epilepsy and is in danger from the Nazi regime.
The episode ends with a series of short scenes. In Manchester, Harry lingers outside the recruiting office and then returns to his mother's house with a parakeet as a present for Jan. The news that Robina will have to care for yet another sentient being and that her son has signed up for the army (which can certainly use his language skills) does not go over well. Douglas Bennett has realized that he has to let Lois go to pursue her career as a singer. Their reconciliation is warm and tender, in contrast to Harry's departure. In Warsaw, Kasia takes a last lingering look at the photograph of her family and Harry before she is sworn into the Polish resistance. Tomasz looks on proudly.
---
By
for on April 12th, 2020
More to Love from Telly Visions