By
for on April 19th, 2020
War Brings Out The Best & Worst in People in 'World on Fire'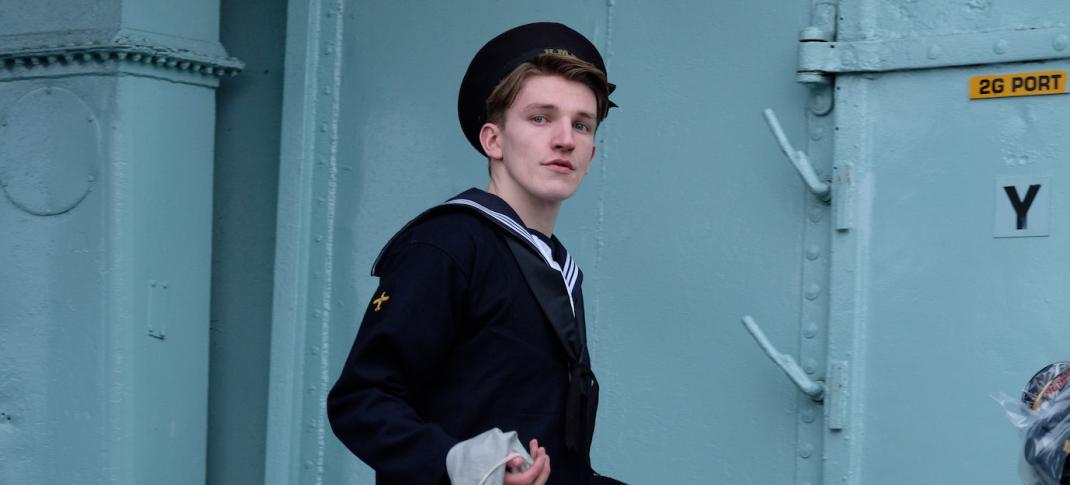 I don't know about you but I'm becoming accustomed to the very episodic nature of World On Fire — the series demands your attention and it's easy to miss details (this is by way of apology for naming a character Ginger Beard in this recap because I did not catch his name). That said, it is also so appropriate for our times with a worldwide fight of a different sort taking place and the widespread sorrow, confusion, and misinformation that always seems to accompany a crisis.
Roberta: "Now then. Listen to me. This young man is Jan and his father is a war hero. His father died fighting that dreadful Hitler. His brother is fighting as we speak. His sister is fighting Hitler too. Yes, Adolf Hitler. Any boy who attacks this fine young man must be on Hitler's side in this war."
This episode is dominated by the Battle of the River Plate, a significant sea battle in the South Atlantic off the coast of Argentina. Tom, who you may remember, joined the Navy and is aboard the HMS Exeter as a gunner. His ship is part of a four-vessel pack hunting down Admiral Graf Spee, a German ship with bigger guns and a greater range, which is wreaking destruction among British vessels.
Tom is up to his usual tricks, running a pool for the date and time of the ship's canaries' first egg. (I suspect canaries aboard ship are some sort of archaic naval tradition, like in coal mines) This garners a mixed reaction from his fellow sailors, some of whom enthusiastically join in, while others think it's disrespectful to the warship's mission. Tom is on the verge of a fight with Ginger Beard when the alarm sounds and they both run to their station. And we see Tom the trickster morph into a competent gunner and fighter, and then, when their ship is hit, become a hero. Tom looks up to see a ring of fire around the gun hatch and, amidst the smoke, discovers the body of his friend Vic and the badly injured Ginger Beard. They rain insults upon each other as Tom applies a tourniquet.
Tom returns to his canaries and finds that the female has laid her egg, but the fun has been knocked out of the venture. He's stone-faced at the burial service at sea and sneers at the suggestion that he gives the take from the betting to the widows and families of the dead men. But in a surprise move, he goes to visit Ginger Beard — who's lost an arm — and presents him with the money. In true bloke-ish fashion, Tom asks him not to tell anyone, and both are quick to assure each other that it doesn't mean they're friends now.
Word about the battle has gone out, thanks to one of Nancy's broadcasts, and Douglas, like so many others in his situation, relies on the radio for information about his son. But he's beginning to become depressed and smashes his radio in frustration. Then, when he's selling Peace News in the enlisting office, he's scornfully told that HMS Exeter has been hit. He's terrified, and shortly after, there's a knock on his door, and in wartime, that can mean only one thing — a telegram announcing a death. Fearfully, he opens the door to find the postman with an item too big to fit in the mail slot, sheet music for Lois.
Lois is away with ENSA, entertaining the troops in northern France, where Harry is serving. He's an officer, but not a very good one, failing to find rapport with the men under his command. He tries to joke with them, and his sergeant Stan Radding (Blake Harrison) suggests Harry try his jokes out on him first. Sure enough, the ENSA group comes to his camp, and, oh dear, here we go again. Harry visits Lois when she's putting on makeup and she tells him to go away; no surprise. He has the nerve to ask if they can just be friends. She and the band receive a very enthusiastic reception for her performance (including much whistling and uninhibited audience participation) while Harry gloomily tries to make cigarettes look sexy again.
Stream Now
World On Fire
Emotionally gripping World War II drama World on Fire premieres on Sunday, April 5, 2020.
Image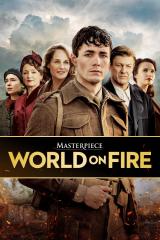 After the show, Lois is making out with a soldier who's under Harry's command, but she's just asked him to hold her instead. Harry discovers them and hits the soldier, and that, plus his subsequent slut-shaming rant, does not help his case at all. He and Lois quarrel, and then the next day, Harry and Stan interview the clueless soldier, who cheerfully reveals that nothing happened because she'd told him she was pregnant, and it put him right off.
Harry confronts Lois as she's about to get on the truck with the band, and she tells him it was a trick to distract the amorous soldier. He doesn't believe her. And … that's that until the next time. Harry does finally tell his sergeant the whole story, claiming he's in love with both women. "You shock me bowlegged," Stan comments and suggests what Harry almost certainly suspects, that Kasia is dead, given what's happening in Warsaw.
Kasia, now a member of the Resistance, has a narrow escape transferring her gun to a basket in the kitchen of the cafe just as a German soldier walks in demanding service. Ludwig, the leader of the resistance, berates her for her carelessness and orders her to prove herself by picking up a German soldier and leading him into a trap to be executed. She does so — but at the last moment, changes her mind. It can't revenge her mother's or anyone else's death. But when she and Tomasz see Ludwig, on his way back to the resistance headquarters, ambushed and killed by Germans, she tries again, and this time she successfully lures a soldier into a deserted spot. Tomasz holds a gun to his head and shoots him as she walks away. The Resistance is collecting weapons, but we don't really have much of an idea what they're doing.
Kasia's brother Grzegorz and his companion Konrad have reached Eastern Poland, where Konrad has a friend who reluctantly invites them into his house. They are starving, the family is nervous, and that's before a Russian truck draws up. The Russians inspect the kitchen, noticing a crust of bread on the table and used plates in a bowl, as the two fugitives hide in the cellar. After the soldiers have left, Grzegorz and Konrad are hustled out of the house. But the Russians return, and the sound of gunshots and screams tells us all we need to know about what happened to the family.
Kasia's first assassination attempt was on a soldier named Klaus Rossler, the eldest son of the Rossler family whom Nancy has befriended. Nancy has become more frustrated about reporting from Germany with Schmidt, her handler, watching her every step. She has been thinking about the Reich's eugenics program — which officially does not exist — since the Rosslers confided in her about their daughter's epilepsy. She discovers there is a clinic run by Dr. Vossler, which will not admit her for an interview. So she lingers outside until a van drives in with a number of children, one of whom clearly has Down's Syndrome.
She tells Schmidt that she wants an interview with Vossler, and it could be difficult for him if she starts investigating on her own. Schmidt arranges an interview. Vossler chillingly defends the reasons for "not infecting" the gene pool and praises the Reich's courage in following the precepts of science and reason. Nancy tells the Rosslers what she has learned, and the process is chilling. Letters offering treatment are sent to parents of children with disabilities. If they do not voluntarily give up the children, the parents can lose custody and be sent to a labor camp. And the children are murdered, not treated.
She doesn't get the reaction she expects. The Rosslers are furious and more frightened than ever. Doesn't she realize that she's probably been followed and observed and that she has now betrayed them?
Back in Manchester, Jan is sent to school, accompanied by a bracing lecture from Robina about how it will make him a better person. The other children laugh at his name and surround him shouting "German!" and this probably goes on for days. Poor Jan cries at night and Robina realizes he is being bullied. And this is where Robina comes into her own. Yes, she should be in charge of the Polish resistance or at least take over from Churchill in the War Office. She escorts Jan into the schoolyard and gives this extraordinary speech:
It's Jan's birthday and we briefly see Kasia in Warsaw improvising a cake with candles and singing for him. Robina takes him to a tea room and, as a special treat, shares her family photo album with him. She finds he does speak some English and points out a photo of herself with her late husband — husband and wife. Jan turns to the photo of his own family and points to Harry and Kasia. "Husband and wife," he repeats. Oops. Nevertheless, we see Robina tucking Jan into bed. No cuddles or a goodnight kiss, but there is a war on and this is Robina. It's about as good as it gets.
---
By
for on April 19th, 2020
More to Love from Telly Visions