By
for on April 5th, 2020
'World on Fire': Episode 1 Recap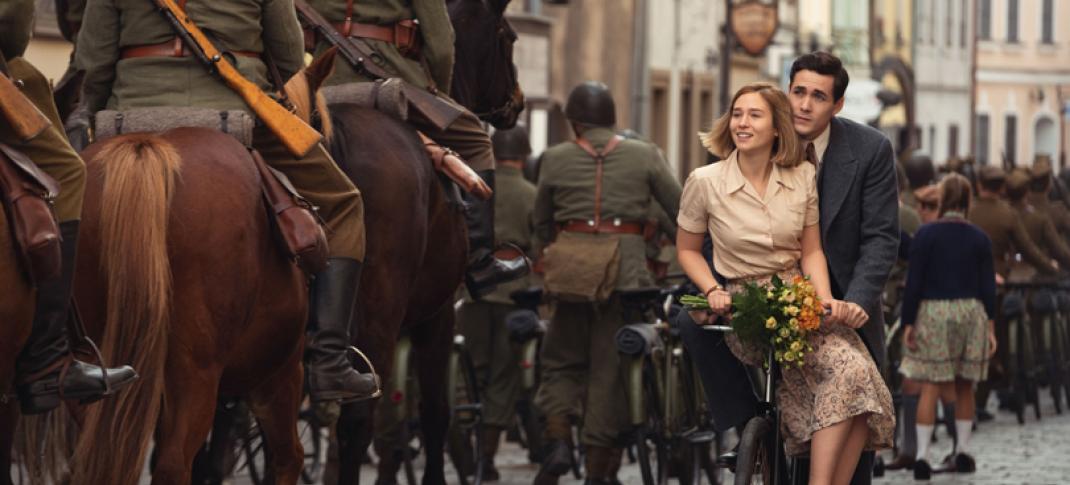 The problem with World on Fire—and it isn't really a problem—is that we know what's going to happen. The Second World War has been covered so many times in documentaries, notably the BBC documentary series World at War which served as inspiration to writer Peter Bowker (The A Word), and in thousands of fictionalized accounts. 
So it's a massive credit to Bowker and his international cast that he succeeds so well in his goal of bringing the war to a personal level, moving across Europe and slicing through class lines, telling the stories of ordinary people. It's no accident that much of his research included reading diaries of private citizens (recording ordinary experiences was something the British government encouraged). The approach can seem chaotic, particularly when sound effects from one scene blend into the next; or we jump suddenly to different characters hundreds of miles away, and the series demands the viewer's attention shift accordingly. But war is chaotic, brutal and unsettling, and again it's to the series' credit that so much of this works, even if it isn't always easy viewing.
The first episode opens on the brink of war in Manchester, U.K, where two young idealists, Harry Chase (Jonah Hauer-King, Laurie in the 2017 Masterpiece Little Women) and Lois Bennett (Julia Brown) heckle a rally held by Oswald Mosley, leader of the British Union of Fascists. They are promptly thrown out and arrested. When their respective parents turn up at the police station to bail them out, we realize this couple are from very different social spheres; Harry's mother, Robina Chase (Lesley Manville, worlds away from her sympathetic role in Mum) is upper class, snide, and contemptuous of her son's political involvement and his entanglement with a mill worker. She and Lois's working-class father Douglas Bennett (Sean Bean, Game of Thrones, Sharpe) immediately sum up each other's social status and ignore each other.
Douglas. a World War I veteran, is ashamed of his PTSD and is now a pacifist (an interesting change of role for Bean who tends to fight—and be killed—a lot). Lois is a bright young woman who shares her father's views, but who is also excited that the inevitable war will open up additional opportunities for her as a singer. Her character is based on Bowker's grandmother, a singer during the war for ENSA (Entertainments National Service Association). At the same time she has to deal with her father's expectations that as the woman of a working-class family, she will be expected to take on all household tasks as well as her mill job. There's also a brother, Tom Bennett, (Ewan Mitchell) a petty criminal who's in trouble with the police and with the draft board.
Lois is smart enough to know that when Harry leaves for a posting as a translator at the British Embassy in Warsaw, their affair will likely fizzle out, even though they agree to write to each other. Harry denies it, but we know she's likely right. And wth his charm, good looks, and confidence, and the sheer adrenaline buzz of doing important work at a significant time in history, Harry is having a whale of a time in Poland, and has almost immediately started an affair with local waitress Kasia Tomaszeski (Zofia Wichlacz). The whole country is waiting for war to begin, and is totally unprepared. The repeatedly mentioned soldiers on bicycles are a dead giveaway.
American journalist Nancy Campbell (Helen Hunt) witnesses civilians being executed by German troops near the border, on the Polish side. Hunt's character is based on journalist Clare Hollingsworth, who scooped a similar scene leading to Britain's declaration of war. A very young and nervous German soldier opens fire as she drives away, and we find that she's borrowed her friend Harry's car. In his usual breezy way, Harry complains about the damage to his car, but won't take seriously her insistence that he take Kasia to England.
Nancy reported on the Spanish Civil War, and she knows what happens to women in an invasion. It's not pretty.
Nancy also tells her nephew Webster O'Connor (Brian J. Smith), a doctor at an American hospital in Paris, to leave. But he's another young man enchanted by a foreign city and all too ready to fall in love, and when he and a saxophonist share a silent, heated look in a jazz club, you know that going back to the US is the last thing he wants to do. They meet again when the musician, Albert Fallou (Parker Sawyers who played the young Barack Obama in Southside with You), shows up at Webster's hospital with a head injury after an attack by a far-right French group.
In Warsaw, the bombs start to drop. Harry rushes to Kasia's cafe as it's blasted and he is knocked unconscious. As she leans over him to ask if he's hurt, he opens his eyes and proposes marriage to her. It's the only way he can get her out of the country safely. But when he calls his mother to tell him that he's coming home, he omits to mention that he's married. Robina naturally wants to know his arrival date, since she's planning social events and a surprise arrival will upset her seating plans. Yes, truly a woman who has her finger on the pulse of world events.
Lois visits Robina to find out if she's heard from her son recently. Robina embarks on a patronizing series of statements about how men tend to lose interest in a woman who's their social inferior, and Lois should try to find herself a nice clerk. Lois tells Robina she's "a bloody snob," and Robina announces proudly that no, she's an elitist.
Meanwhile there's a last get-together with Kasia's family, as her father Stefan Tomaszeski (Tomazs Kot), another World War I veteran, and brother Grzegorz (Mateusz Więcławek) are preparing to go to Danzig to fight. Harry takes a photograph of himself and the whole family together and everyone is putting on a brave face, partly because they believe the their allies the British will support them. But Harry can't get a straight answer from other Embassy staff on this question.
It's all too clear when Stefan and Grzegorz arrive in Danzig that their country is in trouble. They join a group of men, most of whom are postal employees, in the basement of the city's post office. There aren't enough weapons to go around, and when they open fire on the trained, well-equipped and disciplined German troops, they don't stand a chance. The Germans pour gasoline into the basement, and keep firing. Forced out by the flames, Stefan takes a white flag out to surrender, and is shot dead. Those still alive, including Grzegorz, run and are pursued through the city. There are no British, the streets are crawling with German troops, and they're on their own.
Elsewhere, Harry waits anxiously at the crowded Warsaw railroad station for Kasia to join him to leave for England. She turns up late with her little brother Jan (Eryk Biedunkiew) in tow, who's apparently come to say goodbye. But at the last moment, she pushes him onto the train into Harry's care and urges her new husband to take care of him. She has chosen to stay and fight.
There's a lot going on in this first episode. We've met most of the major players, and we're left with a lot of questions since just about everyone is in some sort of deep trouble. What will happen to Kasia and the rest of her family? How will Lois react to Harry's return, and will she face opposition from her family when she leaves for a singing career? Will Harry's charm be enough to get little Jan across borders? And how will Robina react to her new family member?
What did you think of Episode 1? Let's discuss in the comments!
---
By
for on April 5th, 2020
More to Love from Telly Visions