By
for on March 9th, 2023
'Ted Lasso' Season 3 Is "The End of This Story," But Also Sets Up Spinoffs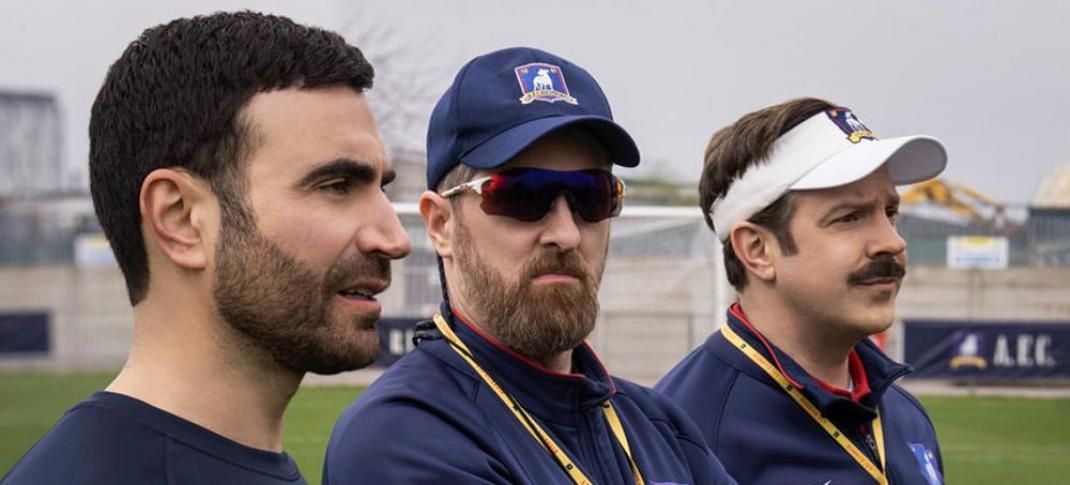 Most British dramas do not run on an open-ended format like American ones. It can cause problems, for example, Killing Eve, where the British team behind it was not prepared for AMC to constantly renew the series, and it eventually went off the rails. However, most of the time, this means shows are allowed to come to a satisfying conclusion, for example, Happy Valley, which can then return many years later when the creator conceives of a new story. Ted Lasso, as a hybrid American-British production, was conceived as a closed-ended three-season story. Had it stayed a small-time hit, it would have been left there; however, as Apple's biggest series, its American overlords want more.
Series creator Jason Sudeikis, who plays the titular American football coach Ted Lasso, who takes over British soccer team AFC Richmond, says he's flattered at how much fans want more of the story, but the show was conceived as a three-season arc and the writers stuck to that. However, as an American, he's aware that audiences over here expect them to keep going. So when speaking to Deadline, he hedged: "This is the end of this story that we wanted to tell, that we were hoping to tell, that we loved to tell," he said when asked if the show would continue.
But knowing the pressures from Apple and not wanting to disappoint, he said it would be up to the fan reaction to decide whether or not the show continues. "Maybe once all 12 episodes of the season [have been released], they're like, 'Man, you know what, we get it, we're fine. We don't need anymore.'"
Sudeikis did add that the Season 3 ending would leave the door open for spinoffs, "we've set the table for all sorts of folks." Brendan Hunt and Brett Goldstein, his co-writers/creators on the series as well as co-stars, had ideas for that. "It would be all about Beard in a new band he starts, and they go to a different tropical location each episode," Hunt, who plays Ted Lasso's assistant Coach Beard, joked. "I talked to Tim Cook about it, and he's pretty excited, so I think that's going to happen."
As for Goldstein, who plays ex-Richmond star turned mentor Roy Kent, he spun a positively Agatha Christie-esque spinoff: "Five of the lead characters die in the end," he declared. "I think one of the reasons it's like, 'Is this the final season?' is because it depends on whether Jason is open to doing ghost Ted. I have pitched him this, and he said he'd think about it, but I'm not sure how Apple will feel about the idea. I think what we've done as a creative team is constantly surprising people, and I don't think anyone thinks Season 4 will have a ghost Ted haunting the lockers."
Thankfully, Hannah Waddingham, who plays AFC Richmond owner Rebecca, was more serious when asked the same question: "To be honest, I'm not even sure that at this moment Jason even knows what he wants to do," she said, "There's the opportunity and the fodder for several of the characters to spin off in their own direction. And I think the characters are so beloved that it would be reasonable for them to do so. But I know for a fact that there's no plans of anything like that at the moment."
Even if this is the end, as Sudeikis noted, fans still have a dozen episodes heading this way. Here's the synopsis for this season:
The newly-promoted AFC Richmond faces ridicule as media predictions widely peg them as last in the Premier League, and Nate, now hailed as the 'wonder kid,' has gone to work for Rupert at West Ham United. In the wake of Nate's contentious departure from Richmond, Roy Kent steps up as assistant coach alongside Beard. Meanwhile, while Ted deals with pressures at work, he continues to wrestle with his own personal issues back home, Rebecca is focused on defeating Rupert, and Keeley navigates being the boss of her own PR agency. Things seem to be falling apart both on and off the pitch, but Team Lasso is set to give it their best shot anyway.
Season 3 will again see Sudeikis, Hunt, Goldstein, and Waddingham returning in their respective lead roles. They'll be joined by fellow ensemble cast members Juno Temple as Rebecca's BFF Keeley Jones, Nick Mohammed as now-ex-assistant coach Nate, and Anthony Head as Rebecca's ex-husband Rupert and owner of the rival team Nate coaches. Also back for Season 3: Jeremy Swift as Leslie Higgins, Phil Dunster as Jamie Tartt, Sarah Niles as Dr. Sharon Fieldstone, Toheeb Jimoh as Sam Obisanya, Cristo Fernandez as Dani Rojas, Kola Bokinni as Isaac McAdoo, Billy Harris as Colin Hughes, and James Lance as Trent Crimm.
Ted Lasso Season 3 premieres on Apple TV+ on Wednesday, March 15, with episodes streaming weekly every Wednesday to follow through May 31, 2023.
---
By
for on March 9th, 2023
More to Love from Telly Visions