By
for on July 31st, 2023
Neil Gaiman Gives Hope for 'Good Omens' Season 3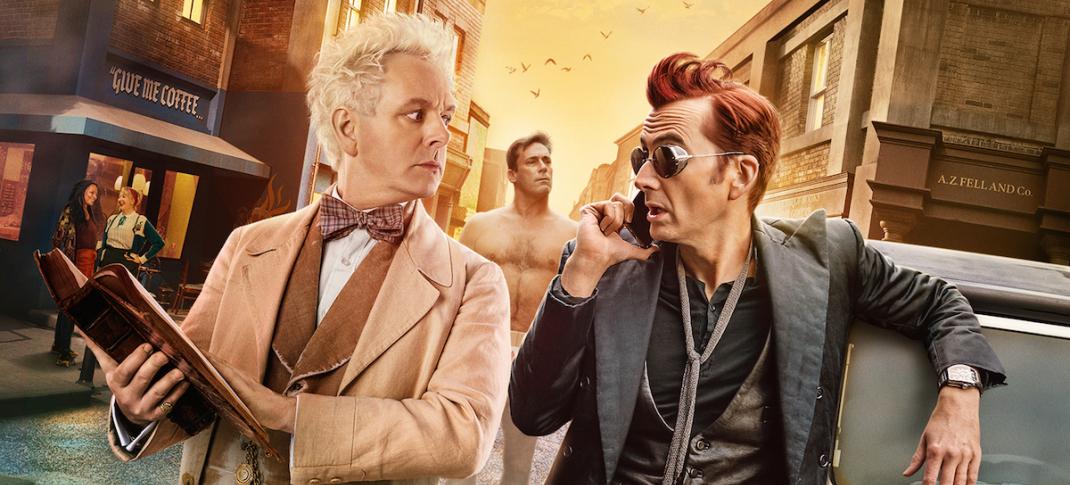 For fans of Good Omens looking for a sign from above about the future of the show, benevolent writer and showrunner Neil Gaiman has answers. The ending of the second season, which premiered on Amazon Prime on July 28, is the mother of all emotional cliffhangers, leaving viewers clamoring for information about a possible third season. No third season has been confirmed by Amazon, but Neil Gaiman has been answering fans' questions prolifically on his personal Tumblr. So, will we get a third season? The short answer is, it's too soon to tell. But the long answer is far more complicated… and more hopeful.
It has long been rumored that Neil Gaiman and the late, great Terry Pratchett had made plans for a sequel to the Good Omens novel, but now we know (via The RadioTimes) that Season 2 of the TV series is just a bridge to that planned follow-up. Gaiman has been working to turn his and Pratchett's ideas into a three-season story, and for any viewers left heartbroken by the finale, the best may be yet to come.
The timeline of a third season will likely be heavily affected by the WGA and SAG-AFTRA strike. The studios' refusal to meet writers' and actors' demands has already caused several losses for Good Omens viewers. Even though Good Omens is a British show, it is produced by Amazon, which is a struck studio. The Good Omens press tour was cut short, as many of the show's actors, including stars David Tennant and Michael Sheen, are SAG actors. On top of that, according to Gaiman, he would have been able to correct the myriad inaccuracies in the show's captions had he not been on strike.
Gaiman has revealed (via his Tumblr)  that were it not for the strike, he would be working on scripts for a third season at this very moment. In a unique window into the life of a striking writer, Gaimain shared that when the strike began, he "took the post-it notes with the Season 3 episode breakdowns off the walls and put them sadly away." He explained that the reason writers have ceased working on projects like Good Omens, even in private, is because otherwise, a studio could quietly ask a writer to work on scripts in order to hit the ground running when the strike ends, thus defeating the purpose of the strike.
In response to another question, he clarified that before the strike began, he had already written a first draft of Episode 1 and the last fifteen pages of Episode 6, "in case I get hit by a bus" (new fear unlocked, anyone?). And yes, he confirmed in another response that Season 3 would be 6 episodes, like the two seasons preceding it.
Gaiman reasoned that since Season 2 was shot in October 2021 and released in August 2023, the soonest Season 3 could shoot would be 2024. In the best-case scenario, as far as Gaiman can guess, the soonest we could expect to see Season 3 would be early 2026.
Gaiman has urged fans to watch the show in order to bring up Amazon's viewing numbers and increase the show's chance at renewal for a third season. He has said that were it not for the strike, he would expect to know very soon if the show had been renewed. Alas, it's the Wild West in the TV industry these days, so fans will have to be patient and settle for savoring every second of the first two (miraculously good) seasons for now.
---
By
for on July 31st, 2023
More to Love from Telly Visions