By
for on May 31st, 2019
'Good Omens' Sees All The Signs & Stars Align For A Great Series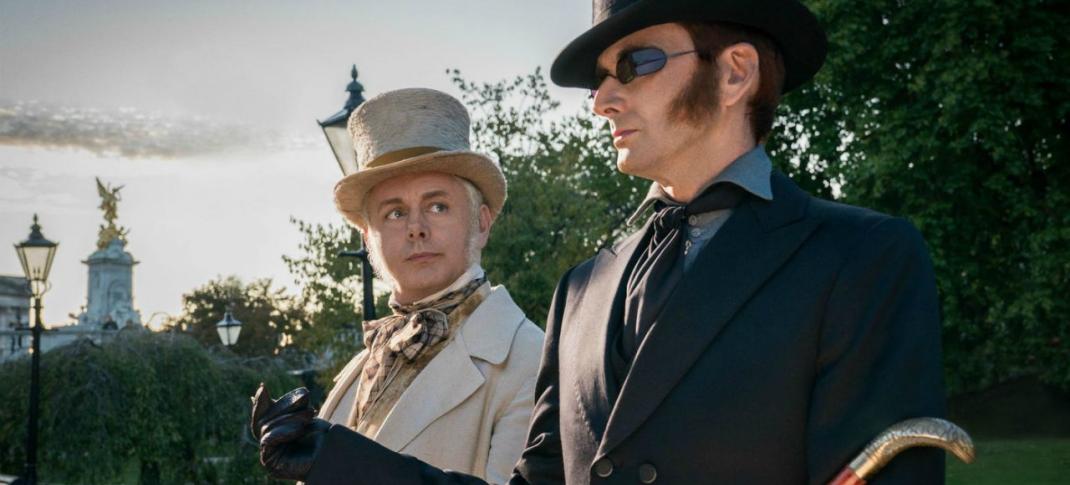 Amazon's Good Omens has arrived, and the fates are smiling down on everyone.
Author Neil Gaiman is one of the U.K's more popular exports, with hit titles ranging from comics such as The Sandman series to books like American Gods. In between, his biggest cult hit came in the form of a collaboration with fellow author, the late Terry Pratchett, with the 1990 parody take on the apocalypse called Good Omens. In recent years, Gaiman has moved from having his work turned into films like Coraline to prestige TV series. American Gods was the first, arriving in 2017 on STARZ. Now comes an adaptation of Good Omens on Amazon, and the auguries are here to let you know, it's just about perfect.
The series is based on the Bible and Revelations, and sort of assumes, Christian culture being of the air in most western countries, that no real introduction on that score is necessary. Oh sure, there's a quick nod to apples and flaming swords, but that's all dispensed with early on so our protagonists, Aziraphale (Michael Sheen) and Crowley (David Tennant) can get on with discovering the end of the world is nigh, and they're really not so down with that as they might have once been.
The fact is, everyone, upstairs and down, is raring to have a go at this whole Revelations section, a biblical sequel that's been stuck in development hell for several millennia now. Not just because they need a new form of entertainment for the kids or because it might drive up sales of related merchandise ahead of the fourth quarter holiday reports, but because they're all convinced they're going to win. Everyone that is except our primary angel and devil, who have been hanging out on Earth this whole time, and realize it's really rather lovely here, and honestly, where will one go for tea if everything gets destroyed in famine and pestilence and what not. It's not like Heaven has a pub one can just pop round to down the corner to meet their best demon friend.
The heart of the series is, like in the book, the relationship between Sheen's Aziraphale and Tennant's Crowley, and the unlikely long term relationship they have found themselves in. Both actors are absolutely at the top of their game here, from Sheen's nebbish angel to Crowley's grinning demon, erm, angel who sauntered vaguely downward. The show does slow down considerably when they aren't on screen. But even so, the supporting cast are all fantastic in their own right, with both Adria Arjona and Jack Whitehall doing yeoman's work as the humans Anathema Device and Newton Pulsifer, descendants of witch and witch-hunters respectively, who are also banding together to do what they can the cancel the apocalypse. Jon Hamm is particularly funny as Middle Manager Archangel Gabriel, one of Heaven's endless senior vice presidents, and Anna Maxwell Martin makes a great foil to him as Beelzebub, his counterpart down under. Though perhaps the most credit should be given to Frances McDormand, who as "The Voice of God" does double duty proving David Bowie correct about God being an American, and acting as the "Voice of the Book" on top of it. Her monologues recall nothing so much as the old 1970s Hitchhiker's Guide to the Galaxy miniseries.
But most importantly, Good Omens comes at an auspicious moment in pop culture. The end of the world is everywhere, in case you haven't noticed. Whether it be some large purple person snapping his fingers and disappearing half the population or a Night King who can conveniently raise his arms and declare all your dead are belong to us, it's been a season of apocalyptic scenarios for screens big and small. What was once a novel of singular religious interest has discovered itself exactly in step with the times. Can one really blame Amazon for taking advantage and letting the coming Armageddon arrive "like a cinematic graphic show you wish to sell in as many countries as possible"? Aziraphale might find it all a bit unseemly, but really, have you seen how expensive Amazon series look? For heaven sakes, they took The Marvelous Mrs. Maisel to Paris for no good reason in Season 2. The least they could do for this vanity project is to make Doomsday look as impressive as possible.
And make no mistake, this is a vanity project, in the best sense of the word.
Gaiman didn't just allow his novel to be adapted, he oversaw the entire project, including agreeing to be showrunner on it, an unusual step for any author. That's because this show was a labor of love, all done in the name of Pratchett's dying wish to see the novel make it to the screen. One can see Gaiman's fingerprints all over every aspect of the series' six episodes. After all, who better to find ways to update the references within the story? Not that drawing everything into the present has lost any of the original's touches. Crowley may be taking down entire mobile networks now, but the cassettes left in his car still all turn into "The Best of Queen" when left there long enough.
But most importantly, this is the kind of one-and-done style show Amazon should be sinking piles of money into. Good Omens is doing its best work precisely because it has a defined beginning, middle, and end, and zero plans or interest in extending to a Season 2, no matter how large a hit it might be. (American Gods Season 2, in comparison, suffered because it was nothing but endless middle.) It's a rare series that's content to have the apocalypse pass like a pleasant evening before moving on to other things. (And Gaiman's deal with Amazon promises there will be other things.) Hopefully, both fans of the novel and curiosity seekers will settle down and enjoy this too.
Good Omens is available on Amazon Prime starting Friday, May 31, 2019.
---
By
for on May 31st, 2019
More to Love from Telly Visions